If you are interested in the story of the winery, click here.
Muškát žltý 2015
Intense elderflower and lemon on the nose. Light, fresh and lean on the palate with flavours of salty, minerality and a long lemon and lime finish. Would be perfect in a spritzer.
Lipovina (semi dry) 2012
Mature nose of linden blossom and petrol. Smooth acidity with flavours of fruit, flowers, petrol and a little corn, rounded off nicely with a touch of residual sugar. Vanilla and some tannin on the finish.
Lipovina (semi dry) 2011
Aromas of linden tea, honey and mandarin. Medium body with rounded acidity and flavours of tea, propolis, apricot and linden with a long, spicy finish.
Provokácia 2012
Restrained nose of honey, herbs and citrus fruit. Smooth acidity and a tight structure, with the palate reflecting the nose. Very drinkable.
Muškát žltý (sweet) 2013
Intense aromas of perfume and peach. Vibrant acidity and a salty, peach and lemon palate. Very drinkable. You hardly feel the 100g of residual sugar. There is a slight petrol note on the finish. Wow!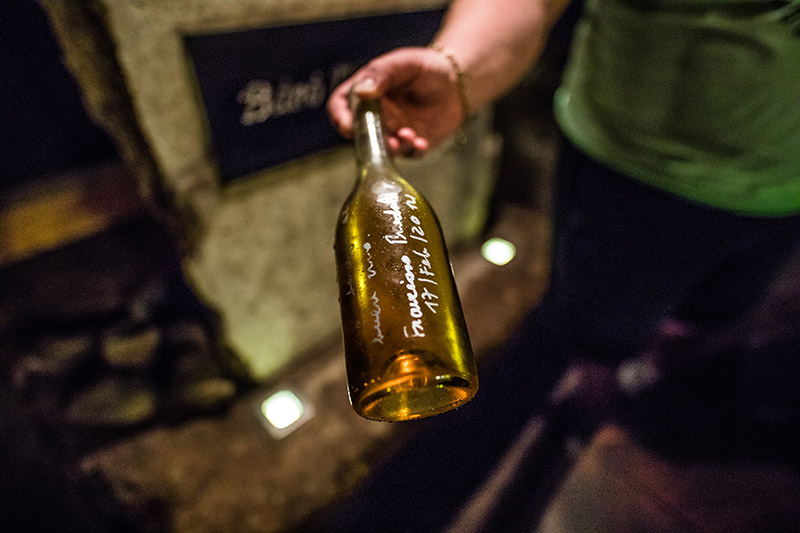 The first bottle of 6 putňa Tokajský výber which is signed by a Vécsey descendant by @PixelTaster
Tokajský výber 6p Lada 2012
Dried peach, apricot compote, mango, citrus fruit and white flowers on the nose. Full body, refreshing acidity and flavours of citrus fruit, rosehip and dried fruit on the palate along with a long finish.
Muškát žltý výberová esencia 2014 (not yet on the market, 245g residual sugar)
Amazing aroma. It's no accident that Tokaj still celebrates with 100% muscat, considered exceptional both in the past and still now! An abundance of flowers, apricots, a little honey and some perfume on the nose. On the palate, full bodied, mouth filling and incredibly intense. Flavours of dried apricot, vibrant acidity, citrus fruits and flowers, with an endless finish. Wow!