Bodegas Barbadillo's atmospheric old cellars are located in Sanlúcar de Barrameda, close to the sea and its fresh breezes. The climate is crucial for the biological ageing required for fino and manzanilla, in which a layer of flor, a special type of yeast, grows on top of the developing wine, imparting special characteristics and flavour to the finished sherry. Sanlúcar is cooler than the other two towns in the region. However, not only the climate itself is important, the site within the town also plays a role, as the wind from the sea is important in the summer, and the barrio alto, where their bodegas are located, is exposed to a greater amount of the cooling poniente wind. Indeed, bodegas are specifically oriented in order to take advantage of this. Biological ageing of sherry is said to have been invented in Sanlúcar, around 250 years along with the concept of solera, which took 100 years to develop. The bodegas themselves were born around 150 years ago.
Barbadillo first bottled its manzanilla sherry in 1821 and is now a producer of quality sherry, wine, sparkling wine and brandy. They have 500 hectares of their own vineyards and 16 ageing cellars in Sanlúcar; they count as one of the largest wineries in the Jerez region.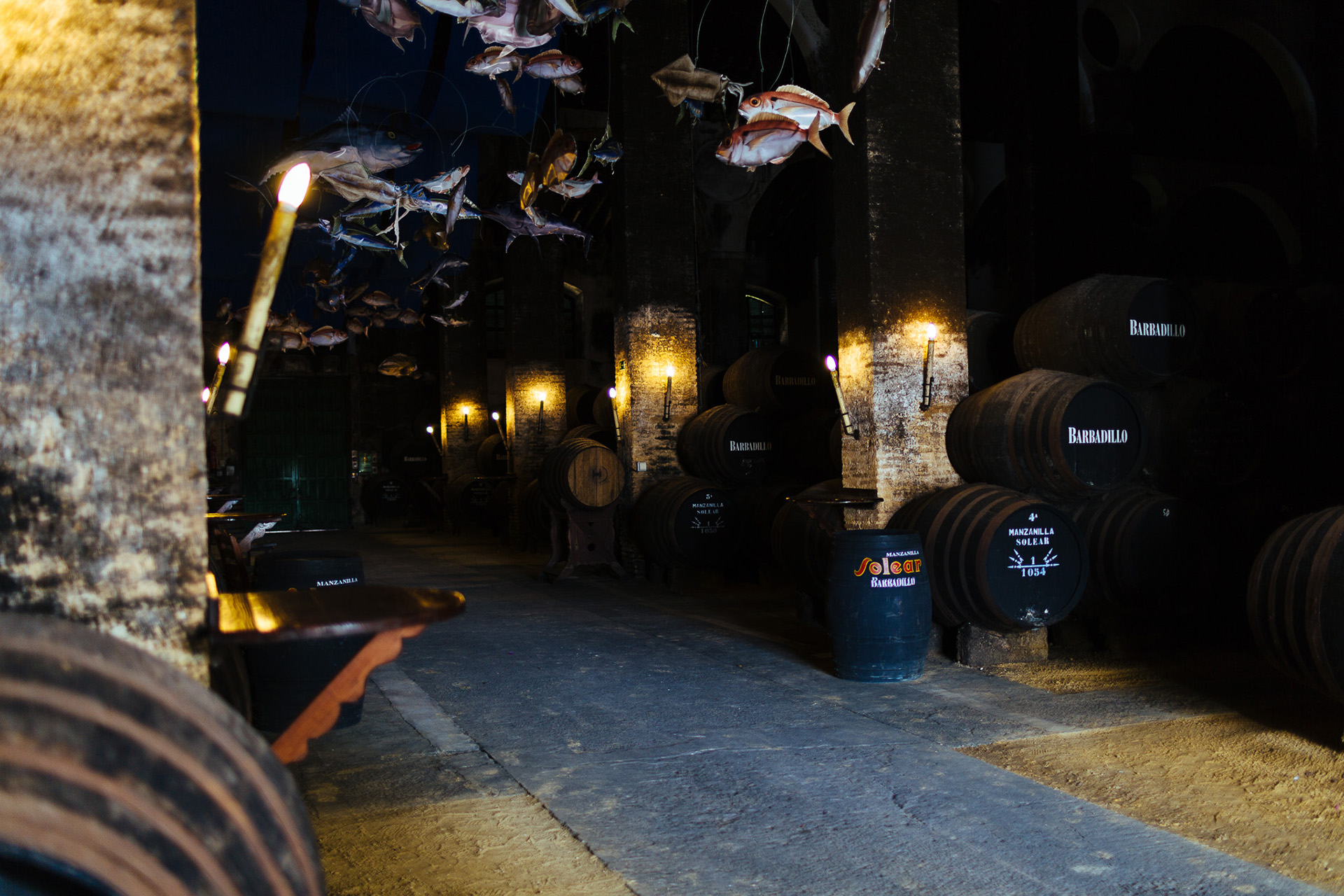 Barbadillo are innovative, undertaking new projects, such as dry white and red wine and sparkling wine, yet also show respect for tradition as well as reviving old traditions which had fallen out of fashion. Many of their buildings are 200-300 years old, at the time when bodegas in the area created cellars like cathedrals, souring upwards to the sky, used mostly for biological ageing of traditional sherry. Their first cellar built, Bodega del Toro, also has a well, which was crucial in the summer, when no rain falls.
Although nowadays the area is mostly known for sherry, produced from the white Palomino grape, before phylloxera, there were also black grapes in the area, an indigenous variety called Tintilla del rota (genetically the same as Graciano), which was used to make a wine like port. The berries are small, with plenty of colour. If this variety is only fermented and does not undergo any additional treatment, it has a deep violet colour just like Graciano, with bright red and black fruit, cherry, blueberry, plum, blackberry, with good acidity and soft tannins. It does not take to wood well and when young, it is fresh and fruity and feels like it has been produced using carbonic maceration, although it has not.
In the last century, they had sparkling wines in Jerez, so they are also experimenting with traditional method sparkling wine made from Palomino and Chardonnay, which spends nine months on its lees and a further six months in bottle. The chief winemaker says they can't get a good expression of the grapes at low levels of alcohol, so the wine is 13% ABV with 18-20g of residual sugar. It ages quite well in bottle, she tells us, giving sherry flavours if aged longer. They produced 80,000 bottles of this crisp, fresh, fruity wine with a touch of salt in 2014.
Palomino also produces good still wines. Their new 100% Palomino from 2014, not yet on the market, will be named Mirablas, after a type of Flamenco. The grapes come from a low-yielding vineyard planted in 1974. They are then dried in the sun, fermented in 666l manzanilla barrels which gives a salty, nutty, lemon, apple, pear and slightly floral touch, then put into tank, and finally some will be bottled and some will end up in the manzanilla criadera.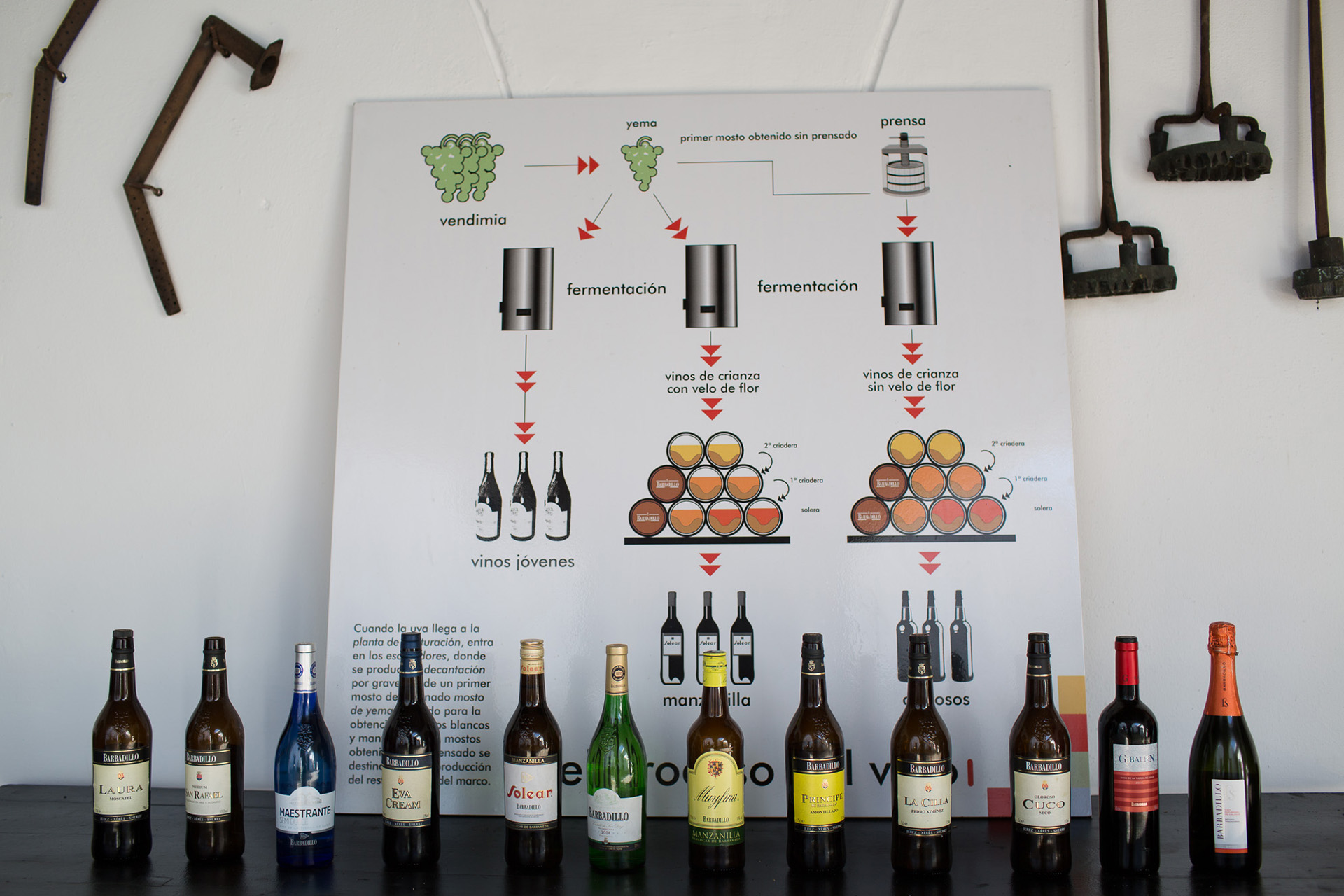 Of course, they also produce sherry and have the largest amounts of the traditional manzanilla in Sanlúcar in the barrio alto, where it develops more flor.
One curiosity, and a highlight of our tasting, was a vermouth, which comes from the history of the bodega. Indeed, in the previous century, they used to produce all sorts of things, right up until 1960, including vermouth. This wine has been in cask till now – almost 50 years. It will only be a limited edition as it is almost impossible to recreate this. After 50 years, the aromatic plants are not as strong as the barrel influence, which is now quite strong – there was no movement between barrels. Dark brown and concentrated, bitter yet sweet, aromatic, rich and chewy, herbal, coffee, toffee, molasses, orange, sweet, chocolate, nut, vanilla, orange zest, sandalwood, cinnamon and crème brulée. Amazing end to the tasting.