Bianco Breg 2009 will be one of the last vintages produced by the winery.
Since 2012 probably the most famous wine producer in Italy, Joško Gravner has been focusing only on native varieties and on a new project, a vineyard in Dedno.
Great decisions take time and develop silently and Joško Gravner, founder of Gravner winery, began his career as a winemaker who employed the most up-to-date cellar technology and then moved slowly towards a natural approach. This meant going back to ancestral techniques: indigenous yeasts, fermentation with no temperature control, long skin maceration, amphora ageing and lunar calendar rhythms.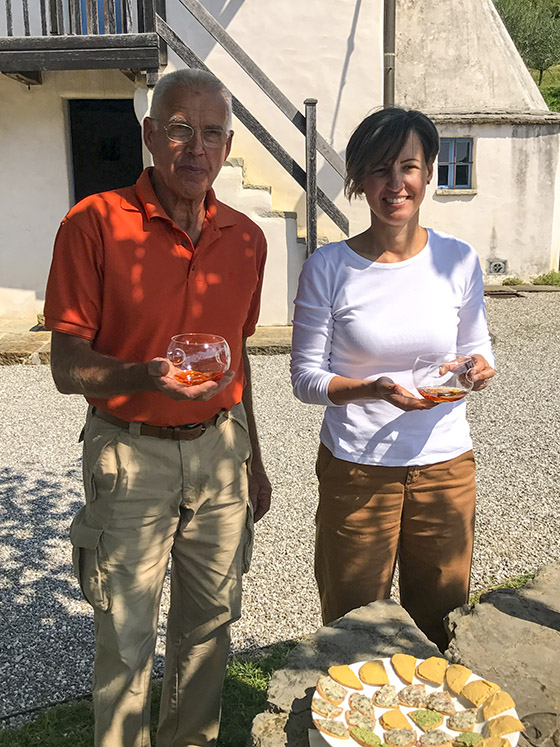 Five years ago, Joško also moved forward with a decision he had been mulling over for many years. He stopped cultivating international grape varieties to focus more on two great native interpreters of the territory, the white Ribolla and black Pignolo varieties. This was 2012 and the decision marked the end of Bianco Breg.
Bianco Breg 2009, released recently, is a blend of Sauvignon, Pinot Grigio, Chardonnay and Riesling Italico (aka Grasevina or Welschriesling). "It was a very dry vintage," recollects Joško Gravner, "with a limited amount of rain during the autumn which did not allow botrytris to develop extensively on the grapes".
"On the contrary, 2005 was a well-balanced vintage with regular rainfall throughout the summer and autumn,"
explains Joško. The vintage is well portrayed by Rosso Breg 2005, now on sale. Ribolla Riserva 2003 has now also been launched. Gravner's Ribolla Reserve 2003 is a selection made with the last grapes harvested from the two vineyards in Runk (Oslavia) from vines planted in 1915 and 1950. The wine is only available in magnum and is suitable for long ageing. Both these vineyards were grubbed up immediately after harvesting to make space for new Ribolla vines. A decision needed because the ground is very stony, a very compact clay. This makes it difficult, if not impossible, to plant new vines without first working the soil.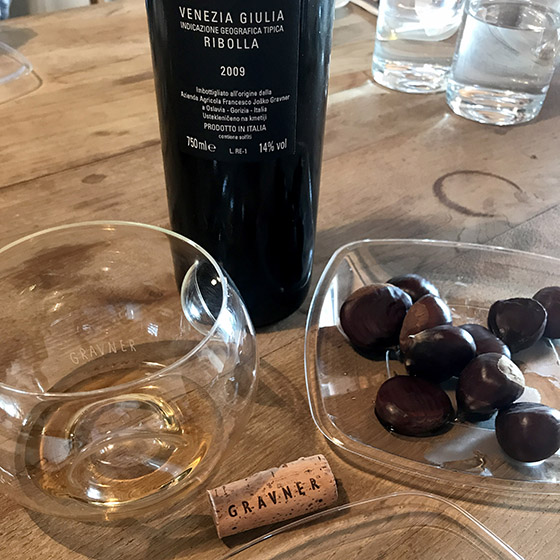 The Ribolla 2003 stayed in amphora for more than ten months and, for the first time with Gravner's wines, it aged six years in barrel before the bottling took place in 2010. Another six years of aging in bottle and the Ribolla 2003 is now ready for the market.
"Even 2017," continues Gravner, "was a particular vintage with weather conditions that did not work in our favour: too much rain in late September and early October caused the grapes to rot before they were ripe."
Twenty years after his first small fermentation in amphora which revolutionised the company's way of making and understanding wine, Gravner only harvested botrytised grapes this year with few grapes left intact. A very small harvest, probably for the first time in the company's history, of only sweet Ribolla.
"Even in this case," concludes Gravner, "only time will tell if we have made the right decision."
In the meantime, work on the new vineyard is underway. It covers eight hectares (about 20 acres) in Dedno, Slovenia and has been under preparation for 17 years. Dedication and tenacity are the key words for this visionary project. The Dedno vineyard encompasses three artificial ponds and has required significant landscaping effort to create a vineyard endowed with many tree species and a number of artificial bird nests, compared to the more usual plantation of only vines. The steep slopes have often forced Joško to work by hand and a landslip in 2001 further slowed down work.
Finally, the project is reaching its final stages. Rootstock vines were planted last spring and grafting will likely be carried out in a two years' time, once the root system is sufficiently developed.