Photos: Homola Pincészet / Heim Alexandra
Szabolcs Homola established his winery in Paloznak on the northern shore of the Balaton in 2009 and since then has been slowly but surely building his wine brand and now also a cultural space. He currently has around 15 hectares of vines and buys in fruit from a further 10-15 hectares, but would like to expand further. He jokes that it has taken him 5 years to purchase all the land he has acquired so far, from around 30-40 different owners, not an easy task. You may already be familiar with the Homola Winery through its excellent wines crafted by winemaker Attila Homonna or the Jazz Picnic and DJ in the Vineyard series of events hosted on the Homola Wine Terrace (Homola Borterasz). Incidentally, the Jazz Picnic will take place in Paloznak this year 3-5 August, while DJ in the Vineyard will be on 15 July on the Homola Wine Terrace.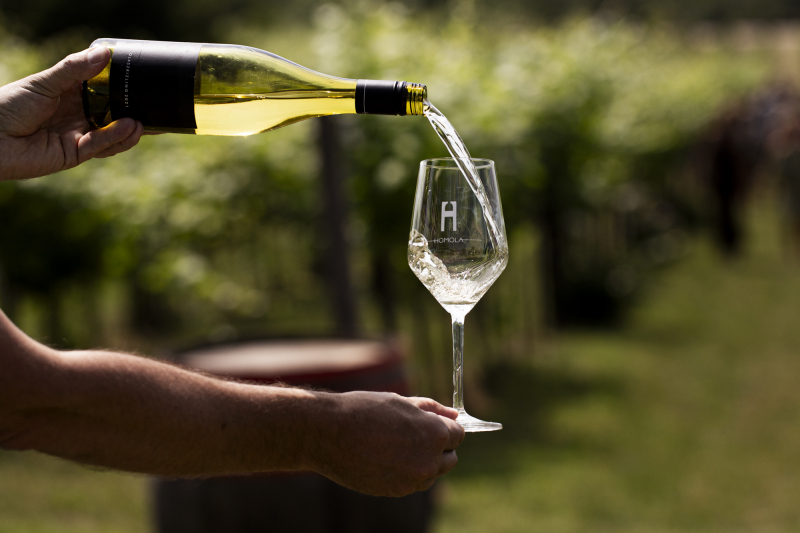 A lifestyle space on the hill
Bigger plans are afoot though. Szabolcs would like to create a lifestyle space up on the hill here. He asks us whether the area is a holiday destination or a wine region. Well, in fact, it's both – you just need to connect them. This is what he is aiming to do with his new winery taking shape further down the hill. The state-of-the-art winemaking facilities, three floors underground, are already functional, with Olaszrizling, Riesling, Sauvignon Blanc, Kékfrankos and Syrah resting and developing in its barrels, shiny tanks and white concrete egg – the source of a limited edition, skin-macerated Sauvignon Blanc. Visiting on a scorching hot day, the progressively cooler floors were a welcome break from the baking sun. The new winemaking facilities boast a capacity of 500,000 bottles per year, enabling it to increase production fivefold. However, these facilities will not only be behind the scenes, as Szabolcs envisages holding fashion shows and light installations among the gleaming tanks too. Above the winery will be a vinoteque and an indoor event room with large windows overlooking the vines as well as two outdoor stages. The whole area will be landscaped and returned to nature. The idea is to enrich the cultural palette of the northern shore of the Balaton and better connect wine and culture, gastronomy and the Balaton throughout the entire year, not just the summer season. The multifunctional space will offer guest performances, exhibitions and wine tastings set amid the unique atmosphere and scenery of the Balaton Highlands.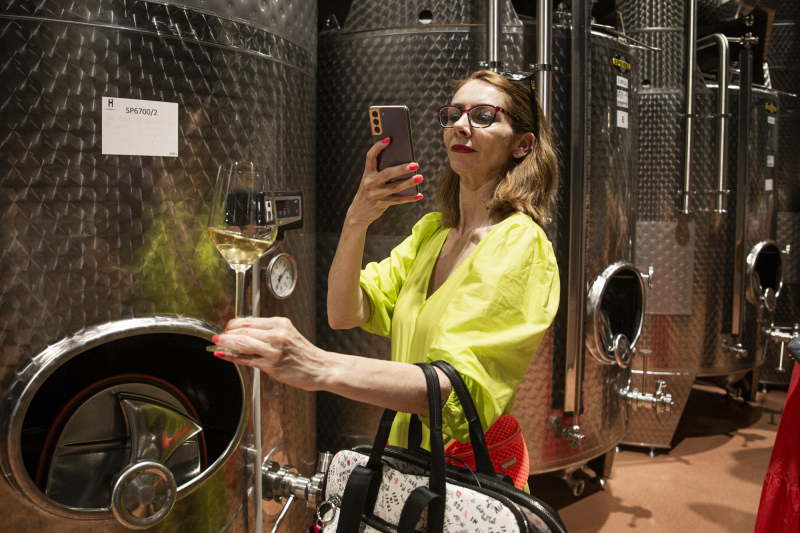 A warm-up year of events
The new developments will not be ready until 2025, so Szabolcs is not content to wait till then to enrich the cultural scene in the area, seeing this year as a warm-up year, to build the Homola brand. The panoramic wine terrace will continue to offer plenty of cultural programmes, with events getting underway on 30 June with a day focussing on wine and gastronomic trends in Hungary, wine branding, sustainability and the local protection of origin – the Csopak Codex. This event will be free of charge and feature key personalities of the Hungarian food and wine scene as well as a chance to taste the region's wines and maybe pick up a picnic basket from the food truck on the terrace. Another spotlight will not only be on food and wine but also fine art. A new series will bring art, gastronomy and Lake Balaton together, beginning with a unique gastronomic evening on 1 July presenting the life and work of József Egry, Lake Balaton's painter in the picturesque garden of the St Joseph House in Paloznak, followed by culinary treats at the Sáfránkert Restaurant. Three more fine art events are planned during the summer.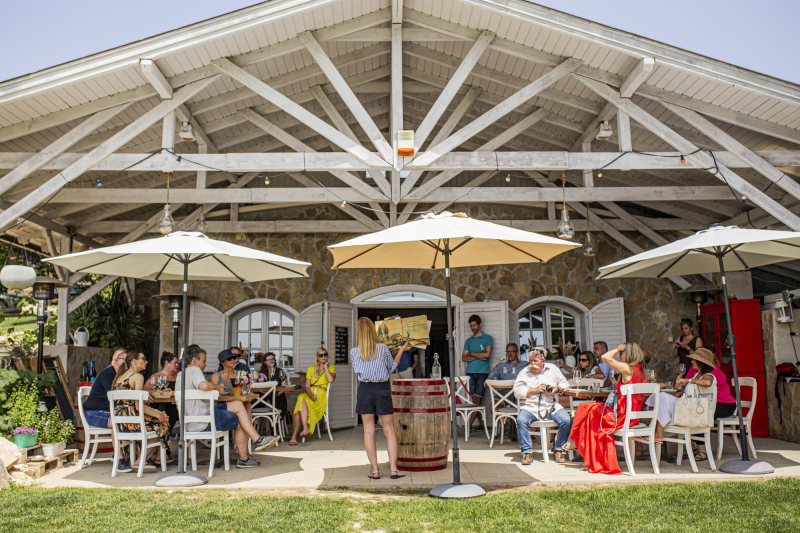 A sustainable future
The winery is also looking to a sustainable future and is now starting to convert all its vines in the Sáfránkert and Hajnóczy vineyards in Paloznak, the Gölye-mál in Alsóörs and the Lapi in Tihany – the source of their elegant Kékfrankos Selection - to organic viticulture. Moreover, they plan to streamline their current portfolio of 15 wines to around 5 or 6. Naturalness is also key to their winemaking philosophy, with most wines now being made with minimal intervention, spontaneous fermentation and no fining or filtering. However, sustainability is not only environmental, but also economic. So, in keeping with the growing popularity of sparkling wine, the winery has also been turning its hand to high-quality traditional method sparkling wine based on Furmint and Chardonnay. The sparkle is currently added by Szigeti in Austria, but its own sparkling wine cellar is already in the pipeline, which will enable it to up its production. They also plan to add a rosé based on Kékfrankos. In the same vein, Szabolcs stresses the importance of making wine more attractive to young people, who are not drawn to wine in the same way as in the past. With unorthodox ideas if need be. Wine cocktails, chilled red wine and even Siller on the rocks, which we enjoyed with lunch, are all on the menu. Goodbye to fuddy duddy rules about wine drinking. If you get it right, they'll come. Szabolcs points out that over 10% of attendees at the Jazz Picnic last year were under 20, while DJ in the Vineyard drew over 300 people with its Ibizan vibes.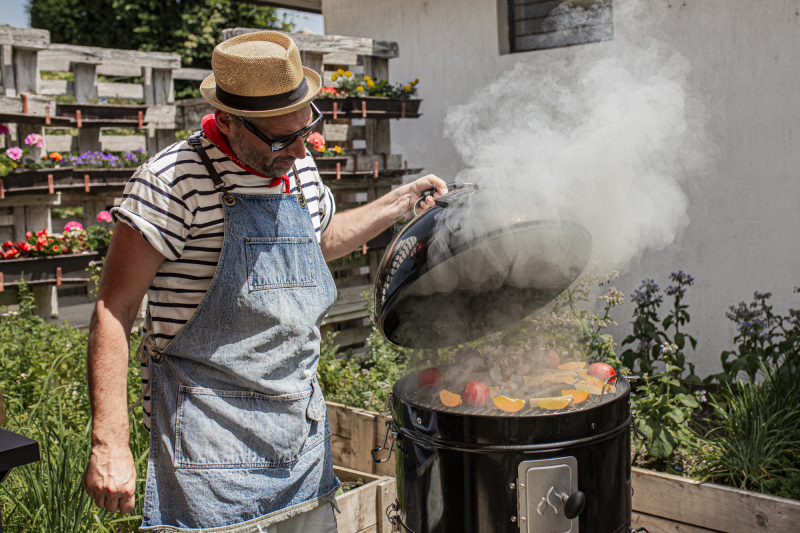 Chill out and enjoy local food in the Sáfránkert Restaurant
Our visit to Paloznak was rounded off with lunch at the Sáfránkert Restaurant in the centre of Paloznak village. Gastronomic director József 'Domi' Lovász places great emphasis on locally sourced products and freshly barbecued food as well as, of course, a wide selection of Homola wines. The food is traditional, evoking the atmosphere of the Balaton with grilled fish and fresh herbs from their kitchen garden. The atmosphere is friendly and informal, with dishes meant for sharing, tapas style. When things slow down, Domi and the chef may well sit down and chat to the guests too. As Domi put it, it's a 'protocol free' place. Current specialities include a white fish soup made from Keszthely sturgeon, chicken paprikash with noodles, grilled cheese with caramelised and pickled figs and whole barbecued trout with lemon.