North shore of the Balaton can play an important role in the Riesling scene within Europe
What kind of wines do you drink during Christmas and New Years' Eve?
During Christmas days we usually enjoy our latest vintage that comes to the market, this year this would be 2017. 2017 was an extraordinary vintage, our wines show themselves extremely elegant, with vivid acidity and extremely length. The wines were produced without using any sulfur during the winemaking process, no additions during the must clearing and just spontaneous fermentation. Just after wrecking the wines from the yeast and before bottling a low amount of sulfur was added. The "drinking-flow" of all 2017 wines is amazing. I would like to recommend our new white blend called "Tenger" and the new, reborn red blend "Névtelen", both of them will be available early 2019 at Bortársaság. The whole Villa Tolnay wines will present themselves with our all new labels, representing our wines in a completely new appearance, underlining their elegance, purity and noblesse.
On Christmas eve and Christmas day we usually return back to our favorites; German Sparkling wine from Reichsrat von Buhl, Rieslings from the Pfalz and Burgundy Pinot Noirs. Most probably it will be von Buhl Rosé Prestige 2013, Bürklin Wolfs Riesling "Forster" 2016 and Arnoud-Lachaux Pinot Noir " Vosne-Romanée – Les Haut Mazieres" 2012 and a "Romanée-Saint-Vivant" 2012. After the meals and probably with a cigar, I'm looking forward to a bottle of "Barbár" 2011 from Heimann Zoli (imaging me himself doing the same with a bottle of our Cabernet Franc :-) ). When the years-end finally is closing in, we approach the Champagnes; usually Magnums (a perfect bottle for two wine lovers, provided one of them only drinks very little :-) ).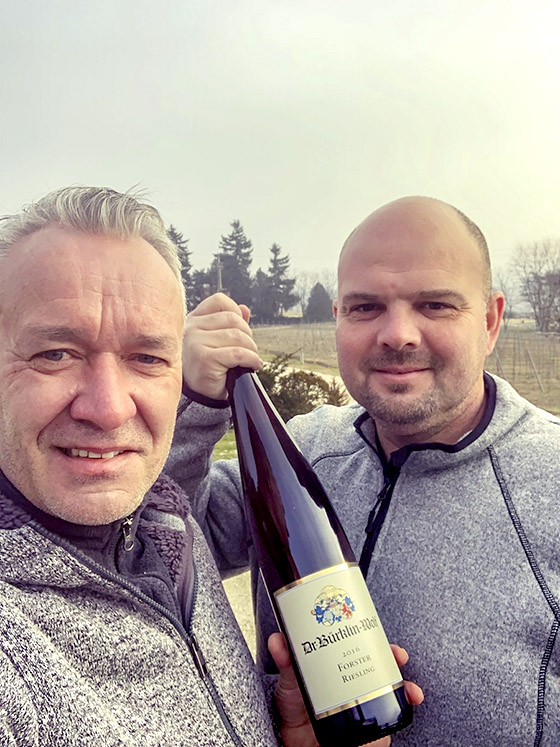 Philipp & Laci
Do you have a traditional Christmas meal? What type of wine you serve it together?
At Christmas eve we use to lean on old Swiss tradition; we celebrate a "Fondue Bourguignonne", paired with a Villa Tolnay Cabernet Franc 2016 and Pinot Noir 2009. It is our tradition not only to use beef meat for the fondue, but also filet from pork and veal, this assures the right amount of variation. On Christmas day we plan to prepare a fresh pike-perch from the Balaton. This dish we prepare quiet basically. The pike-perch is slightly pre-cooked sous-vide, after the fish has been marinated at least 24 hours before cooking. After 15 minutes in the sous-vide bath we fry the slices sharply on the skin, add a little bit of fleur-de-sel and serve it with potato-cubes and lemon sauce. A perfect pairing for this dish is our cuvée "Tenger", consisting of 50% Chardonnay and 50% Riesling/Grüner Veltliner/Olaszrizling.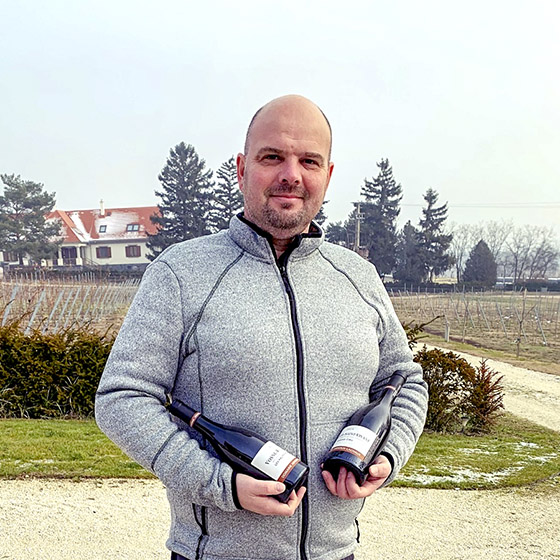 Nagy Laci
Which winery has inspired you as a role model lately?
Nagy Laci, our Winery Estate Manager and I have been in the Pfalz region twice this year. We visited Hansjörg Rebholz, Müller-Catoir, Reichsrat von Buhl, von Winning, Werner Knipser and Bürklin Wolf. At all places we had the opportunity to make a barrel tasting together with the winemaker and discuss their approach, philosophy and experiences. All colleagues have been extremely open and informative. We have been able to take several "secrets" back with us and some of them have been applied during the 2018 vintage. The Pfalz and its wines are definitely among my and Laci's favorites within Europe. Especially in Riesling, Pfalz is the world's headlight in our opinion. But we also are convinced, that the north shore of the Balaton can play an important role in the Riesling scene within Europe, provided, that the developments in quality during the last years proceed and even will increase.
We wish all wine lovers and Villa Tolnay fans a merry Christmas and a happy and prosperous new year! We'll see each other in 2019 again…