The seventh VinCE Budapest was held at the Corinthia Hotel in Budapest between 3 and 5 March. It boasted its usual wide selection of exhibitors from around Hungary and elsewhere, as well as a host of informative masterclasses. There was also a good choice of food to line the stomachs of hungry tasters, including freshly sliced ham with crusty bread, burgers, cheese and salami, and chocolates.
The event limited the numbers of visitors compared to previous years. So, although it was sold out, it did not feel as overcrowded as in previous years. Most definitely an improvement.
VinCE was attended not only by Hungarian visitors, but many wine enthusiasts and professionals from around the world also descended on Budapest for the event, including a good number of Masters of Wine, who led or participated in the panels of many of the masterclasses, and of course also spent some time wandering around sampling the many wines on offer.
It was great to see exhibitors from Israel, Turkey and the Rhône scattered among the majority of Hungarian producers, along with local representatives presenting a selection of Loire wines, Italian and Spanish wines as well as Cava and Champagne.
The masterclasses had a wide variety of themes both international, Hungarian and Hungarian in an international context. This year, I had decided to attend quite a number of masterclasses and spend less time on the walk-around tasting, although naturally I caught up with a number of winemakers and sampled their latest vintages.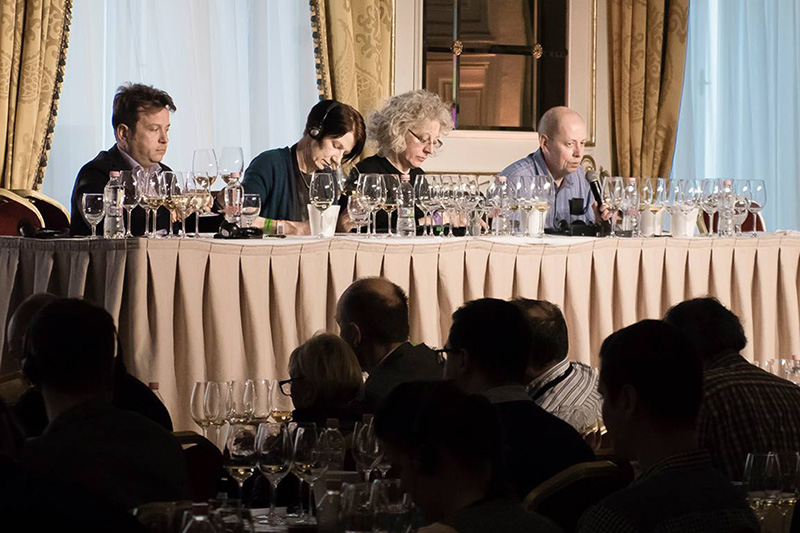 'At home'
Elizabeth Gabay MW and Csilla Sebestyén presented thirteen wines from Szekszárd and delved into what the Szekszárd winemakers are currently doing to improve the quality and image of their wines and what the future for the wine region could bring, including what their flagship wine should be. The wines most associated with the region are Kadarka, Kékfrankos and Bikavér, so that is what we tasted. It is clear that the Szekszárd winemakers are trying to move away from the rather rustic image that 'Bull's Blood', as Bikavér is known in English-speaking countries, gave to the region and focus on a more elegant style. They have replanted many of the vineyards and rebuilt many of the wineries. They had invited Elizabeth down to Szekszárd to show how the style of Szekszárd wines has changed over the last 10-15 years, developing more elegance and a more internationally attractive style. One of the points that came out of the discussion was the fact that Szekszárd has always been a region of blends, thus it seems logical for Bikavér to be its flagship wine, although Kékfrankos, with its flexibility, fresh acidity and tannins, also has the possibility to become a cult grape variety. Kadarka is a unique variety, yet it is difficult to work with, is thin-skinned and sensitive, and rots easily if there is rain, hence perhaps not the best choice.
Cabernet Franc is one of the twenty most planted varieties in the world and half of the plantings in France are to be found in the Loire, indeed Bourgeuil, St Nicholas de Bourgeuil and Chinon are considered to represent the spiritual home of Cabernet Franc. Cabernet Franc is often simply a component of a blend and if it is not, its name does not even find its way onto the label of the bottle. Villány is perhaps one of the few places where it is able to proudly state its name, rather than that of the appellation. A panel composed of Rod Smith MW, representatives from Villány, including Erhard Heumann and Jozsef Bock, Anne-Charlotte Genet from Chinon and Yotam Sharon from Israel presented a range of Villány Franc wines, which held their own very competently against some examples of Cabernet Franc from the Chinon and one from Israel. We tasted two from Domaine Charles Joguet in Chinon, one from Alona in Israel and eight from Villány. It was most interesting to compare the styles of wines from the regions. Cabernet Franc in the Loire giving lighter-bodied and more vegetal wines and Hungary and Israel more full-bodied wines with rich, ripe fruit. Villány threw down the gauntlet to the Loire and issued a challenge as to which wine region would be the Cabernet Franc region in the future. So, the question remains, has Cabernet Franc also found its home in Villány? Following the tasting, it would certainly seem that Cabernet Franc does feel at home in Villány, producing big, ripe, fruity wines which still retained fresh acidity, with darker fruit than the soft, fruity Loire wines. Rod also pointed out that people in the British market, for example, can say Cabernet Franc, although they are unable to pronounce Hárslevelű or Szamorodni, so there is certainly potential for it in the export market too.
Further afield
I also had the opportunity to taste some of Ornellaia's wines, but given that, bar one, relatively young vintages were presented, I felt it was a little too soon to really appreciate them. I tasted a range of prestigious sparkling wines, learnt about Cava and Veuve Clicquot Champagne, and followed in the footsteps of Alexander the Great as far as India, tasting unusual wine along the way from countries as diverse as Israel, Turkey, Cyprus, Greece, Lebanon and Armenia. It was interesting how all the participating countries tried to outdo each other in having the oldest viticultural history or the vineyards at highest altitude. We tried little known grape varieties such as Marawi, Papaskarasi, Xynisteri and Areni Noir as well as more internationally recognised varieties.
Unfortunately, customs thwarted us from trying several wines during the masterclasses, as a Serbian sparkling and a Macedonian red from Alexander's trail were still languishing either in their warehouses or with DHL.
As always, there was so much to experience, taste and learn, and it was impossible to fit in all I would have liked to. Oh well, there's always next year.