Cover pic: Villa Sandahl FB
Swedish siblings, a brooding black basalt volcanic butte to the north of the Balaton and Riesling, not 'Italian' but Rhine. Strange bedfellows, you might think, but maybe not! The allure and quality of Hungarian vineyards have drawn vintners and estate owners from around the globe, from France, Switzerland, Japan, England, Spain, Germany and Sweden, to name but a few.
The historic appeal of Tokaj has perhaps enticed the greatest number to invest or put down roots in Hungarian vineyards. Yet, the Swedish Sandahl brothers fell for the majestic charm of Badacsony Hill. And who wouldn't, when you glimpse it from across the emerald waters of the Balaton, its characteristic flat-topped form standing out from the other volcanic buttes and cones which make up the Badacsony wine region. This is exactly what happened to the Sandahl brothers, Christer and Thord on a visit to Hungary while they were toying with the idea of buying a vineyard in Hungary. Why Hungary? Christer pointed out, 'the same vineyard in France would have cost 1,000 times more!' The main prerequisites were that it had to be beautiful and it had to be world class. They saw the hill from the southern shores and knew that this was the place they had to be.
And by spring 2004, they were! Christer says that they didn't really know what they had started. They made some good wines, admittedly not very high quality nor made in a very sophisticated way, he concedes. They inherited Riesling and Sauvignon Blanc growing side by side in the Genesis vineyard, their first, hence its name, and it is still one of the best they have. The first years were a time of experimentation, with different winemakers and in different winemaking facilities. There were, of course, failures and mistakes, but there is no need to dwell on those!!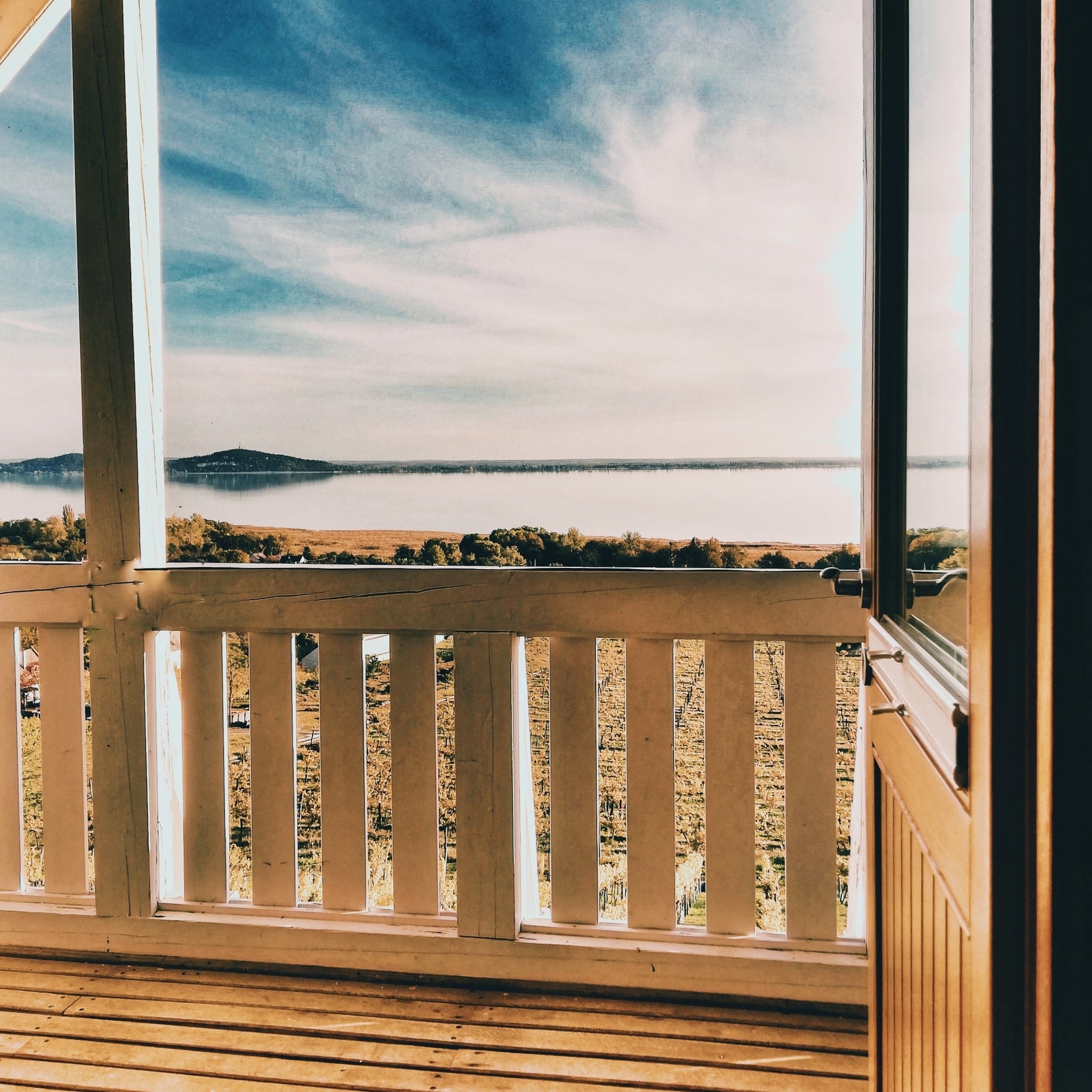 Photo: Villa Sandahl FB
They had a big disadvantage by 2008 when they built the house in the midst of the vineyards, now the estate centre boasting a tasting room and four lovely rooms overlooking the vineyards - Sandahl Rezidencia. They could now settle down in Badacsony and feel more part of it. In 2010, they acquired some new vineyards from the nearby Szeremley Estate. Whenever they take over new vineyards, they try to renovate them, replacing poles and virused vines, and retraining them, so that they are now cultivating in a much more modern way. The other key thing is to replace the vines with Riesling and by now around 90% of the vines are Riesling – the Sauvignon Blanc is long gone. Since 2013, the winery has only produced Riesling, selling their Olaszrizling fruit to other wineries as it doesn't suit the style of wine they want to produce.
Alsatian, Hungarian, New World Riesling
Why Riesling? Their vineyards lie on quite steep slopes, which face due south, so when the sun is high in summer, it's very hot. Christer therefore felt that there was a risk that grapes which ripened too early would result in wines that were sharp and dilute, so he looked for a variety that could be harvested late and Riesling was the perfect match – it ripens late and retains its high acidity very well. However, they make their wines in a very different style to the tradition in Hungary - based on the description of the Alsatian vinification process Christer acquired from a winemaker in Alsace. So, their wines reflect this perfect trinity of Alsace vinification, Hungarian soil and a softer, more fruit-forward, New World style.
Finally in 2015, says Christer, when they rented one of the buildings on the Szeremley Estate and converted it into a winery, rather than using other wineries' facilities, they understood how to make wine – ten years on!! But coming from a family of entrepreneurs, Christer and Thord had learnt not to give up. "We love brute reality, we don't want to make a softer reality. The harder the problem, the sooner we want to fix it. We fix the difficult problems before we do anything else."
It's better to be outside the box where it's less crowded
If you've ever seen Villa Sandahl's labels, you'll know that the Sandahls are most definitely 'not in the Box' and are perhaps even a little crazy. Christer explains that everyone else is in the box, so it's better to be outside this crowded space and be able to make something of your own. Christer himself was born outside the box; he was never in it, he says. He feels that the times he tries to play the game and is inside the box, trying to be normal, are when he fails, as that's just not him!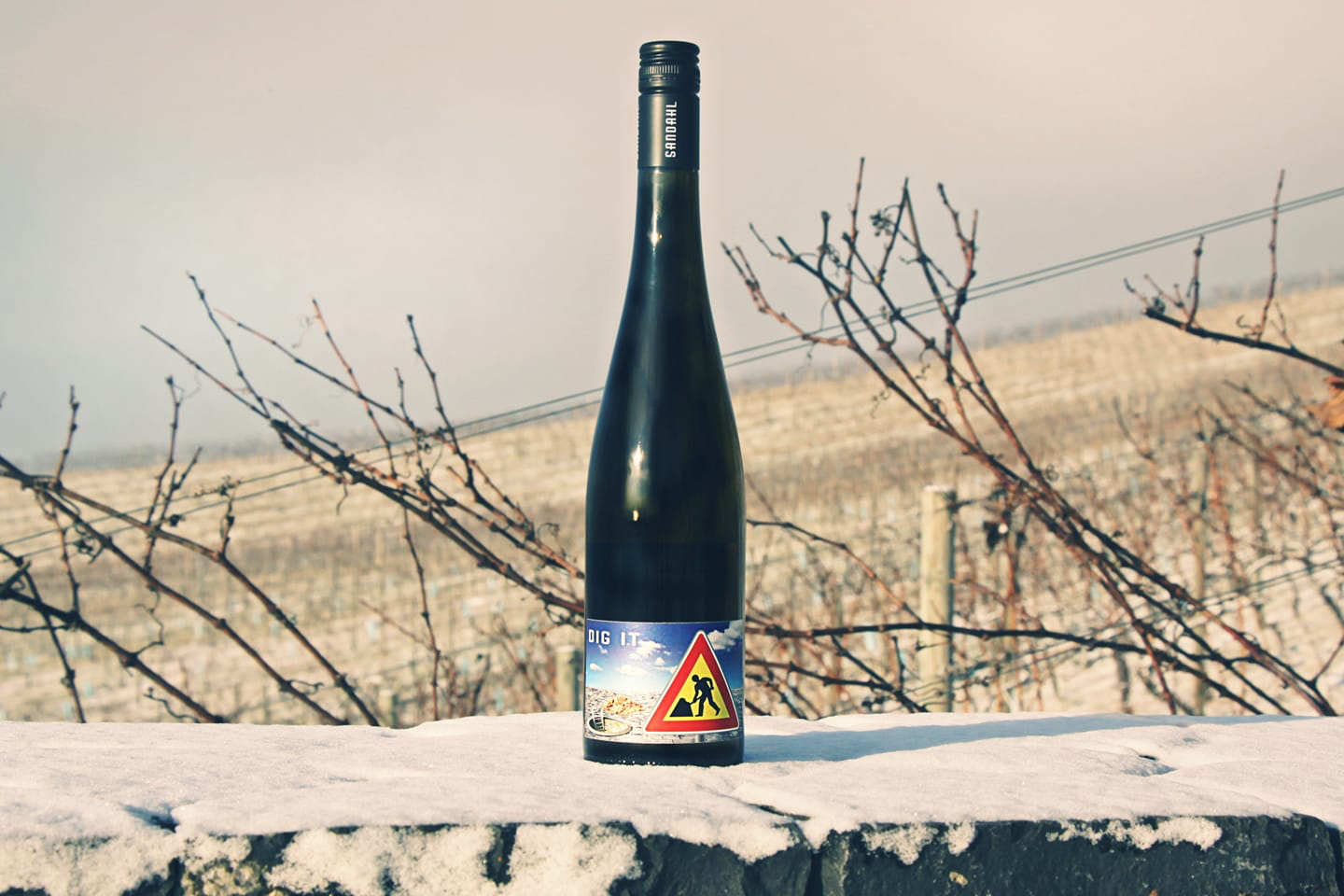 Photo: Villa Sandahl FB
But back to the labels. They are designed by him and his wife, Gunnel, using the following process: open a couple of bottles and then have a brain dump of what's going on in their heads, resulting in some crazy, funny ideas that are personal and reflect the vintage and what it represents. Names thus far have included 'The Stamp', 'Cappuccino Oil', 'Magic Rain', 'Oh Deer' and 'Bella Sunrise'. If you look at their website (www.villasandahl.com), you'll find extremely comprehensive information on each vintage – Christer is an engineer by trade, giving you great insight into how they came up with the names – minus the couple of bottles they opened, of course! And you can see their crazy labels, which generally prompt either very positive or very negative reactions.
Zsolt Palkó, estate manager and winemaker for the last seven years, takes us on a tour of the rather wet and evocatively named vineyards – Genesis (Kezdet), Earl Ridge (Gróf-domb), Bishop Garden (Püspökkert), Bishop Backyard (Püspökudvar), Gemstone (Ékkő) and Solitude (Magány) – and gives us some insight into the changes they have made to ensure quality on these steep southern slopes, where slow ripening is important to retain balance and acidity. Pruning and canopy management are key here. And to prevent the birds, which fly up from the reeds, gobbling up all their grapes, which are often the last on the vines in the wine region. Indeed, last year, they decided not to continue on to Africa and hoovered up 50% of Villa Sandahl's grapes, "even crawling within the nets like acrobats to eat our beautiful ripe grapes!"
Engineering precision in winemaking and marketing
Their nine hectares of Riesling produce three categories of wine, which target different consumption categories – Solid ground (drinking to get a feeling), Mid range (drinking for an experience) and Rare peak (drinking as a passion) – and are differentiated by different technical divisions. Solid ground is bottled under screw cap, while the higher two categories are under cork, and each tier has a different capsule with different coloured lettering.
Every parcel is harvested and vinified separately, whole clusters are pressed, and the resulting must divided into fractions, with better, cleaner quality and greater dry extract resulting from the 2nd must fraction. Fermentations are cool, long and slow to retain ripe fruit character. None of the wines see any oak, so bottle maturation is key.
Swedish, Alsatian, Hungarian, New World hybrids in the glass
We begin with a couple of Solid ground wines, which generally have slightly higher residual sugar.
Solid ground (no name as yet..) 2019
A freshly bottled blend of 3rd must fractions from recently grafted or young vines. Bright, approachable and fruit forward with refreshing acidity but noticeable alcohol. Attractive notes of green apple, lemon curd, white peach, apricot and a hint of menthol.
Dig it 2018
A lemony blast of piercing acidity with concentrated fresh and dried apricot, herbs, peach and candied lemon. Beautiful stony, mineral notes add some complexity.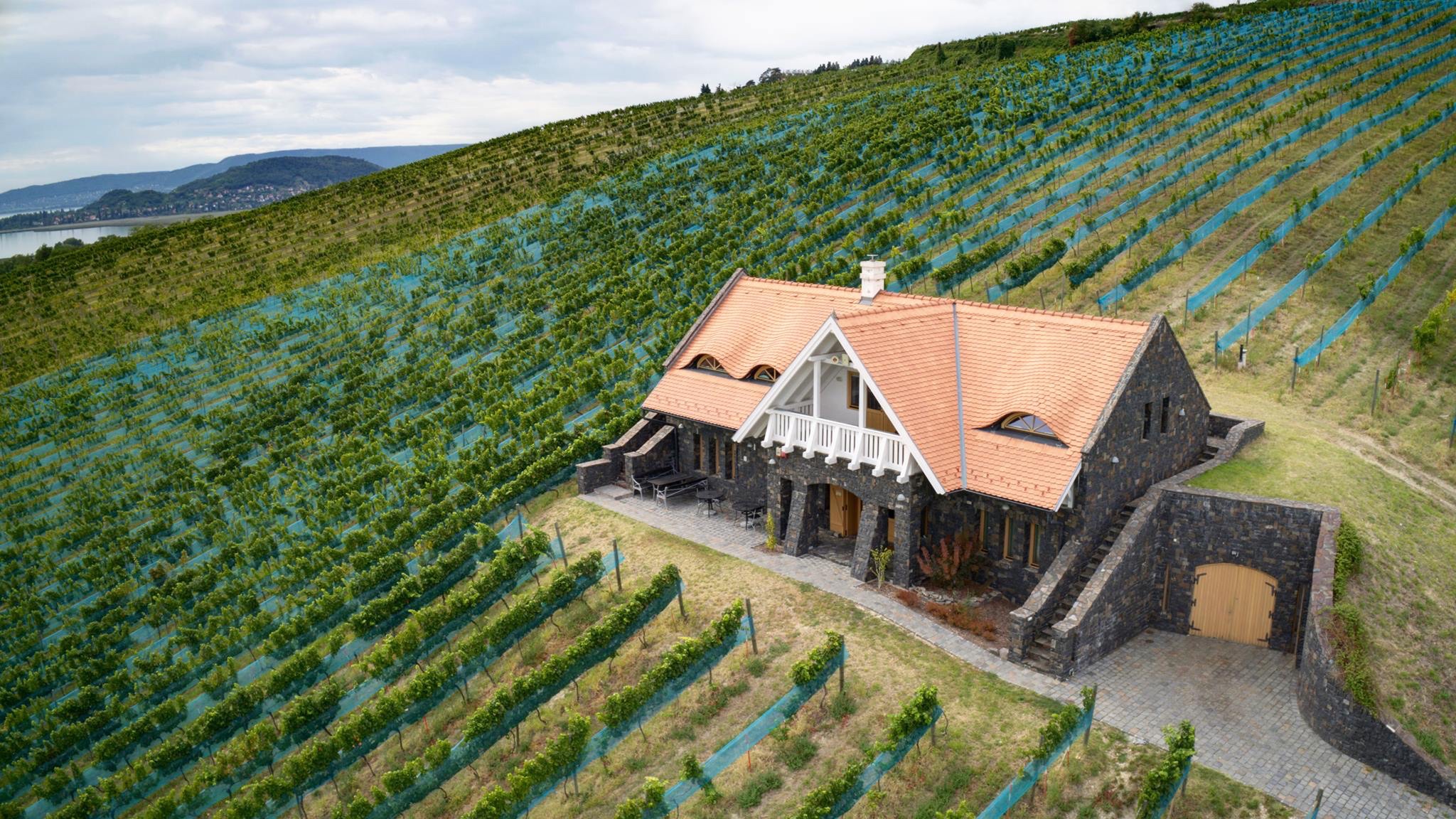 Photo: Villa Sandahl FB
Mid range wines are blends of 1st and 2nd must fractions and different vineyards.
Not yet 2018
Creamy palate with lemon pith, pure citrus fruit, peach and pear. Zesty acidity and a lovely herbal streak. Smoky volcanic basalt notes.
Rabbit periscope 2017
A very hot, dry year resulted in mineral, savoury palate with candied lemon, grainy acidity and a slight characteristic petrol note. Long stony finish.
Rare peak wines are single vineyard wines, using the 1st must fraction, with great concentration and long ageing potential
Rare peak 2019 (no name as yet, from the top parcel of Kezdet)
Intense nose of honey, tropical fruit, apricot, peach, candied lemon and touch of petrol. Zesty, juicy acidity, elegant and textured with a lingering, mineral finish.
Oh deer 2018 (top parcel of Kezdet)
Somewhat restrained on the nose with pithy lemon peel, yellow apple and white peach. Elegant, savoury and textured on the full-bodied palate, with a lingering herbal, sage finish.
Sign up 2018 (Püspökudvar)
Yellow apple, white peach and flinty on the nose, with a textured, elegant palate of lemon curd, ripe fruit and bright acidity. Balanced, smoky and long.
Ball of fame 2017 (top parcel of Kezdet)
Elegant, structured and textured with zesty lemon curd, herbs, stone and a hint of petrol. Long, salty finish.
Dry honey 2015 (Püspökudvar)
Concentrated yet elegant with candied lemon and citrus fruit, dried apricot and lemon curd. Smoky and savoury with notes of marmalade (from 10% botrytised berries) and petrol. Long saline, mineral finish.
The Stamp 2010
Pale gold in colour. Intense, complex and textured with plenty of honey, dried fruit and petrol. Refreshing zippy acidity and a long smoky, savoury finish.