In February I was invited by ICE to Belgrade, and as I was there, it was almost certain that I would meet some friends. And that is what happened, although I had not been expecting that besides Serb friends (Mirjana Maksimovic, Tomislav Ivanonic, Igor Lukovic and Dusan Jelic), I would also be able to greet Galina Todorova Niforou (Bulgaria, the motor behind BIWC) and Horia Hasnas (Romania, the editor-in-chief of vinul.ro). It was not enough that we had such a great get-together and were able to taste southern Italian wines together, but I was also invited to an impromptu Serbian wine tasting that evening.
First in Sava, we went onto a boat for coffee (it's amazing how much life there is on the river in Belgrade!), then on to the tasting where we sampled gold-medal-winning Serbian wines from the last few years.
So, here are the 'dirty dozen', or rather the tasting notes:
Zvonko Bogdan, Pinot Grigio 2015 I 86-88 points
Aromas of white-fleshed fruit, apricot, apple, a little lychee and white flowers. Medium body, good acidity, taut structure, fresh and fruity. On the palate, fruit, apple, a little nettle and again lovely floral notes. Very drinkable, with attractive mineral character on the finish.
Aleksić Arno, Sauvignon Blanc 2015 I 87-89 points
Nettle and cut grass on the nose, with tropical fruit and gooseberry in the background. Medium body, rounded acidity, plenty of fruit and honeyed minerality. Lovely varietal character with a long finish. Elegant.
Deurić, Enigma 2015 I 85-87 points
Big, buttery nose; if tasting blind, I'd guess it were a pure Chardonnay (in fact it's 50% Sauvignon Blanc and 50% Chardonnay). Full-bodied with a mineral character with the fruit remaining in the background, rather citrus fruit and a touch of almond dominate the palate. Long, lean wine.
Bjelica, Saga 2015 I 85-87 points
Clear Sauvignon Blanc nose (although the blend also contains 20% Sémillon) with pineapple and other tropical fruit. Full body and lovely acidity, but the alcohol sticks out a little. On the palate, plenty of fruit, ripe and overripe pineapple and lychee. Long finish, but the balance veers a little towards alcohol.
Zvonko Bogdan, Rosé sec 2014 I 87-88 points
Restrained nose of red berries and lovely Mediterranean herbs. Full body, broad and sprawling structure with good acidity. Southern style rosé with lovely acidity and serious minerality.
Virtus, Credo Beli 2015 I 84-86 points
Initially plenty of wood on the nose, with brittle, coconut and vanilla along with overripe apple, apricot and melon in the background. Full bodied, reminiscent of battonage, butter, popcorn, wood, vanilla and apricot compote. Long finish with notes of brittle.
Bjelica, Babaroga Chardonnay 2015 I 86-87 points
Restrained nose with bitter, raw wood, citrus and a touch of sweetcorn. Full-bodied on the palate with smooth acidity and an attractive structure. The wood unfortunately covers the flavours, but this may change later, so it's worth waiting with this.
Deurić, Pinot Noir 2015 I 84-85 points
Red berries, prune and smoke on the nose. Medium to full-bodied on the palate. Mediterranean character, mouth-filling, fruity, but with slightly flabby acidity. Very drinkable with a medium finish.
Despotica, Zmajeriti 2015 I 83-84 points
Restrained nose of pepper and sour cherry. Full body, lively acidity and plenty of red berries on the palate. Unfortunately, the acidity becomes sharper and tips the balance, and a touch of bitterness appears on the finish.
Virtus, Cuvée Virtus 2015 I 86-88 points
Slightly raw nose of pepper, stewed sour cherry and green reflexes. Medium to full body, rounded acidity and silky tannins. Seems very young with plenty of fruit and spice on the palate too. I would lay it down as it has good ageing potential.
Aleksić, Kardaš 2013 I 85-87 points
Wet card, smoke and cassis; the nose is not completely clean. Full body, mouth-filling yet taut, pepper and black fruit on the palate, and a touch of bitterness on the finish.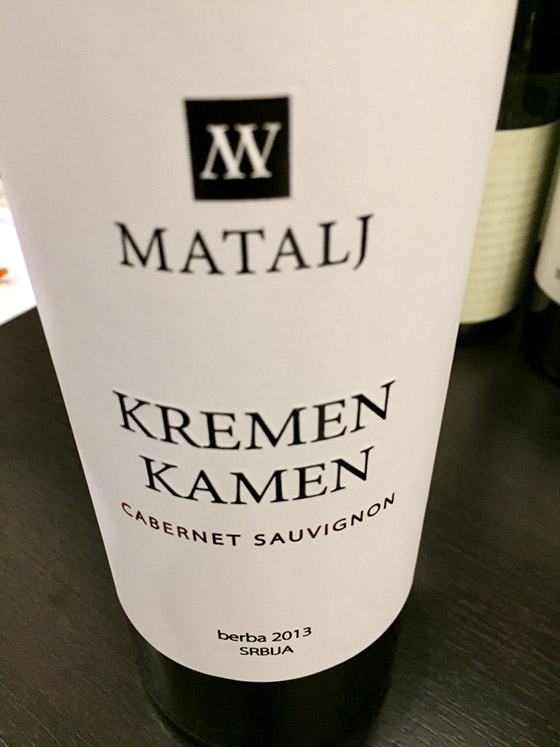 Matalj, Kremen Kamen 2013 I 89-91 points
Blueberry, cassis, plum dumpling, blackberry and eucalyptus on the nose. Full body, with loads of ripe and overripe fruit on the palate. Elegant acidity and a long finish. Super! (will still be drinking in at least ten years, has potential)
All in all, what can be said is that although the Serbian wines were really very lovely, the fact that a wine is a gold-medal winner does not mean very much. This may also be a criticism of wine competitions, but what also matters is when the wine in question received the medal. Technically, serious, lovely wines can be produced anytime and anywhere in the world, but it's worth adapting to the climate (it's no coincidence that the lovely ripe Cabernet Sauvignon, which the last wine was made from, comes from a warmer climate) and it's also important to position native varieties such as Prokupac. Many thanks to Igor Lukovic for the invitation!