In honour of the first International Prokupac Day, we decided to support our Serbian friends with an informal tasting here in Budapest. Fellow #winelover Tomislav Ivanovic of Vinopedia kindly supplied us with six bottles of Prokupac, dispatched with a friend, another winelover it turned out, who was coming to Budapest for a dental conference.
Although I had tried Prokupac on one or two occasions, I realised that I knew very little about the grape. The Oxford Companion to Wine says very little beyond the fact that it is an old red grape variety grown in its stronghold of southern Serbia as well as Kosovo and Macedonia and that it is often made into a dark rosé or used in blends (with international varieties). Tomislav had also told me that it was the grandfather of Kadarka (known as Gamza in Bulgaria), a variety close the hearts of the Hungarians, apparently taken to Hungary in the 17th century by Serbians fleeing the Turks, but that was about it. So I went in search of slightly more information, which was not easy to come by.
I learnt in addition that Prokupac's presence in Serbia dates back to the Middle Ages and is thus considered to be one of the country's most ancient varieties; it's most at home in the Župa Valley south of Belgrade and is often dubbed the 'King of Župa'. According to Wines of Balkans, It is generally planted bush trained in sandy, pebbly soil in order to control its high yields and subdue its vigour. As a late-ripening variety, it tends to prefer sun-drenched southern slopes.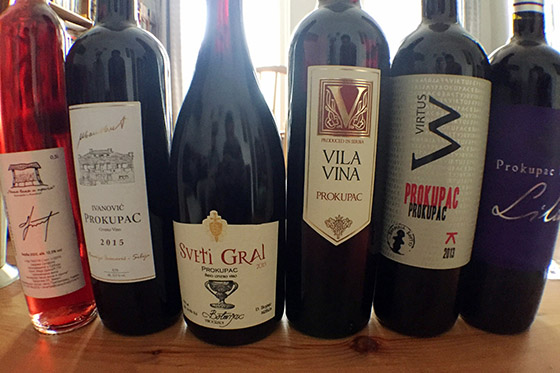 It's known for its high sugar levels, therefore high potential alcohol level. It is a powerful, chewy wine with high levels of tannin, perhaps best consumed after a few years of bottle ageing to allow those tannins to soften, tending to show red fruit, such as cherry, raspberry and plum. It is said that some compare it to Shiraz. Its distinct tannic structure should therefore give the variety excellent ageing potential. The rosés it produces are deep in colour, darker than a traditional pink wine, somewhat similar in colour to a Hungarian Siller we noted, with flavours of strawberry and rose.
In common with many other varieties, just to muddy the waters, it too has a long list of synonyms - Crnka, Darchin, Kamenicarka, Kamenilarka, Kamenitscharka, Majski Cornii, Negotinsko Crno, Nichevka, Nikodimka, Nisevka, Procoupatz, Procupac, Prokoupatz, Prokupats, Prokupatz, Prokupec, Prokupka, Rekavac, Rekovacka Crnka, Rskavac, Rskavats, Rskavaty, Scopsko Cherno, Skopsko Crno, Skopsko Tsrno, Tsrnina, Zachinok, Zaichin, Zarchin, Zarcin, Zartchin, Zartchine.
So, armed with a small amount of further information, it was time to taste on 14 October!
Čaša vina i priča, ProRoze 2015 (100% Prokupac) I 84 points
From a young winery in Ražanj. A dry wine, a traditional style of darker coloured rose wine called Ružica in Serbia. You can find out more about Ružica in Tomislav's article on Serbian rosé.
An attractive deep pink, cherry colour, reminiscent of Hungarian Siller. Intense strawberry jam on the nose with perhaps a hint of rose water. Driven by ripe fruit on the palate with pomegranate, cherry bonbons, raspberry and rich strawberry jam. Smooth acidity, but perhaps a touch flabby. Wine in a simple, popular style, but very drinkable.
Ivanović, Prokupac 2015 (90% Prokupac, 10% Merlot and Cabernet Sauvignon) I 82 points
Crafted by Dragoslav Ivanović, who is considered to be the pioneer of modern Prokupac and its return to the Serbian wine scene. The winery is located in Župa, Prokupac's historic stronghold, which preserves the variety's vineyards until the present day. The winery uses a combination of Serbian, American and French oak.
Medium purple turning to ruby. Medium intensity on the nose with aromas of raspberry, blueberry, violet and red fruits. Notes of forest floor, scorched earth and tar complement the fruit. Less fruity on the medium-bodied palate, with flavours of cherry, liquorice, dried leaves, toast and a touch of spice. Rather grainy, rustic tannins and slightly flabby acidity. The finish is characterised by earthiness and is perhaps a little drying.
Botunjac, Sveti Gral 2015 (100% Prokupac) I 84 points
A small winery from the Župa region with less than two hectares of vineyards. The winemaker Kosta Botunjac is a painter, an artist who makes his wines with natural (wild) yeast, without the use of electrical pumps. The wine is aged in large barrels.
Fresh, cool fruit on the nose with crunchy raspberry, plum and cranberry. There is also an animal, earthy character. Grainy tannins and fresh, slightly sharp acidity and noticeably high alcohol. The medium-bodied palate is dominated by red fruits along with a herbal note and some earthiness. Attractive, very drinkable wine.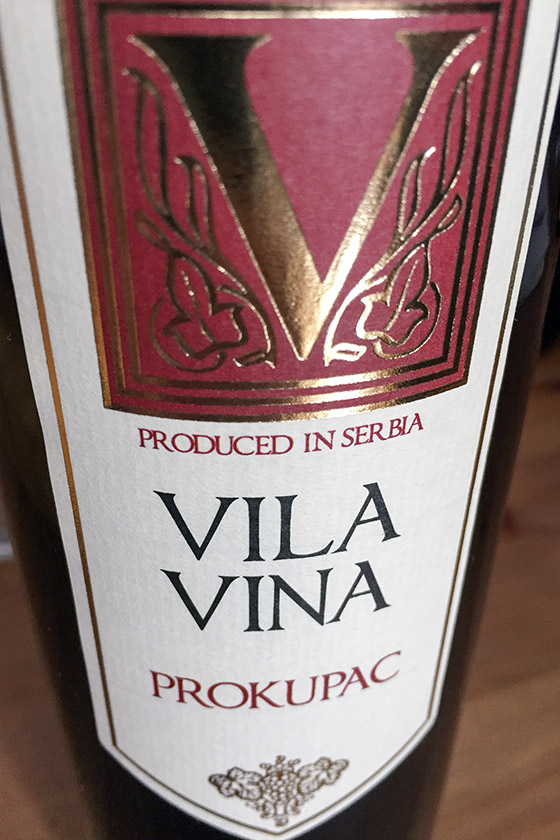 Milosavljević, Vila Vina Prokupac 2014 (100% Prokupac) I 78 points
Milomir Milosavljević lived and worked for a while in Switzerland, working at Rebbaugenossenschaft Spiez. On his return to his home country, he set up a family winery on the periphery of the Župa region. Although not certified organic, he uses organic viticulture practices in both the vineyards and the cellar. The 2014 Vintage in Serbia, like in Hungary, was a difficult year for red wines in general and unfortunately this came across in the wine.
Medium ruby in colour, with burnt rubber and polish on the nose, somewhat lacking in fruit. Sharp acidity and rustic, chalky tannins on the thin palate with a rather vegetal character of beetroot and a touch of sauerkraut. An unfortunate reflection on the poor vintage.
Virtus, Prokupac 2013 (100% Prokupac) I 87 points
A new winery in Žabari (central Serbia). First harvest from a young vineyard. Fermented in large barrels, with ageing partly in stainless steel and partly in barrique (French oak).
An attractive, complex wine with intense aromas of cherry, raspberry, plum, toast, forest floor and sweet spice. Crunchy, ripe fruit on the palate with sour cherry, rosehip and red berry fruit. Well-balanced, medium-bodied wine with fresh acidity, silky tannins, well-integrated oak and a relatively long finish.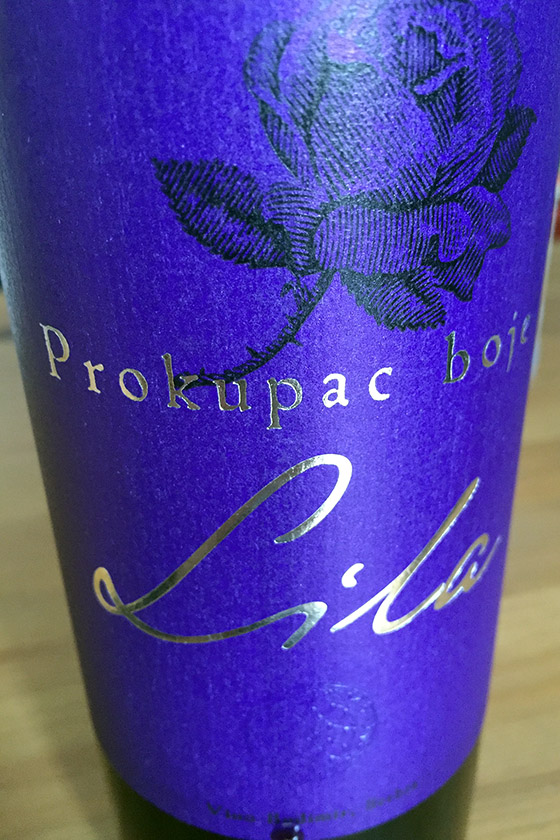 Budimir, Prokupac boje lila 2009 (100% Prokupac) I 89 points
A single-vineyard wine from the Gubovac Hill, vines are estimated to be 110-130 years' old, so most likely the oldest in Serbia. Previously grapes from this vineyard were used predominantly for Sub Rosa, a premium blend with Cabernet Sauvignon. Fermented in stainless steel, macerated for almost a month, followed by 18 months in Serbian barrique, 36 months in large Serbian oak and 12 months in bottle. A special wine.
Medium ruby in colour. An intense, complex nose combining both fresh primary fruit and tertiary notes. Cherry, plum, violet, herbs, pepper and spice are complemented by earthy notes, tobacco and chocolate. Full bodied with fresh, crunchy acidity and velvety tannins. Complex and mouth filling with bright fruit flavours of blackberry and rosehip along with some leather and tobacco leaf. Multi-layered wine with a long finish. Delivered what it promised and showed what Prokupac is capable of.