I cannot write in an unbiased way about Mád's Géza Lenkey winery in the Tokaj wine region. I've talked with him on numerous occasions in the last few years, generally not only about wines, but also about everything else, with a glass of wine in my hand. About history, literature and the great things in life.
Now, however, something has happened at the Lenkey cellar, which is unusual for them too, and is not customary elsewhere either. The new vintage has come onto the market. From 2006! And we're talking about dry, white wines here…
Géza has been known for some time for bringing wines to market that overcome his strict personal hurdle and that have been aged for some time. However, his 2007, 2008 and 2009 are already on the market, so this move could be taken as somewhat radical. As he himself puts it,
This is actually an expression of confidence on my part regarding Tokaj. I'm singing the praises of the world's best wine region with these wines.
Furmint Kishegy 2006 (12%) I 85-86 points
Sweet oriental spices, petrol, cloves, quince, tea, nutmeg and chamomile on the nose. Medium body, with bright, citrusy acidity, apple and cloves, bread crust and a slight bitter taste with punch and tonic water on the finish. Very interesting experience, a little as if you were tasting a dry Aszú.
Furmint Holdvölgy 2006 (12%) I 82-84 points
At first glance, face powder and smoke on the nose. However, given a little time, this disappears and is replaced by apple, dried herbs and cayenne pepper. Tight and elegant, with nervy acidity and citrus-herbal flavours. Lean, but very drinkable.
Furmint Bomboly 2006 (13.5%) I 80-81 points
Powdered stone, flint, phosphorus, medicine, horehound and humus on the nose. Medium body, well balanced, with slightly scratchy tannins. Rather aggressive wine, with warming alcohol on the finish too.
Furmint Úrágya 2006 (12%) I 88-90 points
Tea, gingerbread and dried fruit on the nose. On the palate, lively acidity, medium to full bodied with flavours of mandarin, orange and a nice range of spices. Broad and fluid wine, rather like a river, with a very long finish.
We before we move onto the two Hárslevelű, let's straighten out a few things. These wines are all vineyard selected, all the above vineyards are in the Tokaj wine region, more precisely on the outskirts of Mád. Unfortunately, I had to leave the tasting at this point, so Mia Kodela wrote the last two tasting notes for us. Many thanks for this!
Hárslevelű Bomboly 2006 (13.5%)
Apple, greengage, honey, chestnut, salinity, citrus zest, herbs and touch of bitterness. The residual sugar suits the variety better than with the Bomboly Furmint, but very similar characteristics. The alcohol is a slightly warming, but the high acidity gives the wine freshness. A lean wine. You can feel the quality of the grapes and the character of the vineyard. Tasting the varieties side by side, this is clear and recognisable.
Hárslevelű Kishegy 2006 (12.5%)
Buttery, smoky aromas at the beginning, followed by honey, apple sauce, apple peel, sweet spices, salinity, the bitterness of citrus zest, stoniness, and tertiary aromas of mushroom and caramel. Good balance and structure. A complex wine. The residual sugar suits it, rounding it off nicely. A wonderful, solid Hárslevelű with a unique character and a long finish.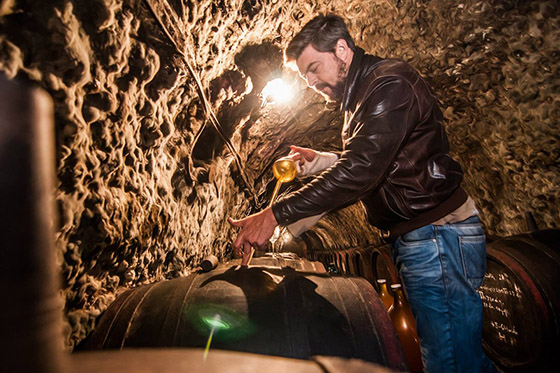 Photo by Gábor Nagy
In conclusion, here some of Géza Lenkey's thoughts:
If Tokaj wants put itself back into the forefront of the world wine map, then we will need wines with long ageing. In my opinion, time doesn't detract, it adds. Only mature wines, for me at least, give a real experience.
Dear Géza, we would just like to add: Amen!