The St Andrea Vineyard has 45 hectares under vine in the Eger wine region. It endeavours to express the uniqueness of the area with its blends, its Egri Bikavér (Bull's Blood) and its Egri Csillag (Star of Eger). It has vines spanning four villages and nine vineyard parcels. These are Magyalos, Paptag, Ferenc-hegy, Kovászó, Boldogságos, Kis-Eged, Nagy-Eged, Hangács and the Nagy-Eged-hegy vineyard, capable of attaining particularly fine quality.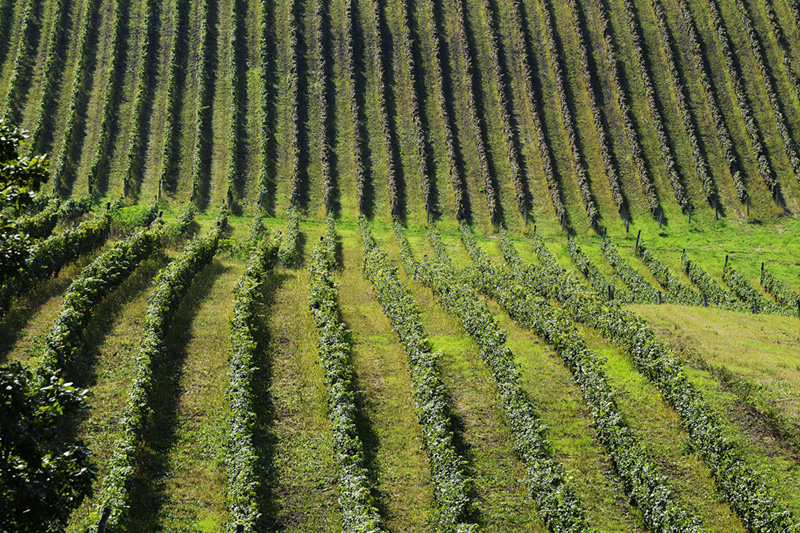 We can participate in a vertical tasting of Napbor to learn about items no longer available on shop selves. The religious Lőrincz family told the attendees that the name Napbor refers to the "woman clothed with the sun" that is Virgin Mary. As for the past of the wine, the viticulturist said:
"In 2003 our first wine was Napbor representing a full-bodied, dark-toned, ripe fruity style with some minerality appearing. In the recent years, the style of wine has greatly changed: compared to the 2003 version, Napbor in 2015 is characterized primarily by freshness, lightness, dynamic and crispy acids as well as fruits."
Young wine with the smell of apple blossom and pears. It is fresh, light and crispy with little carbon-dioxide. Tasty and delicious – as Carolina Gilby, Master of Wine, one of the most acknowledged British connoisseur of Hungarian wines put it when describing Napbor of 2015 at a recent wine show in England.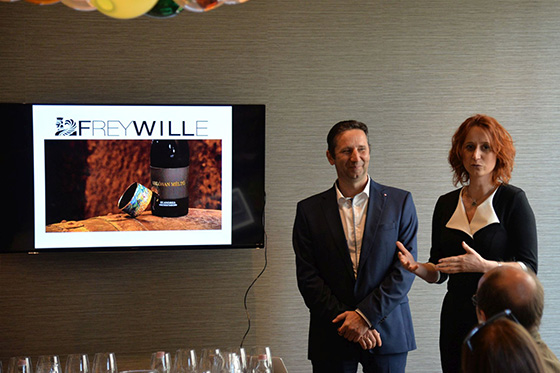 Mónika Sztankó, the Manager of Frey Wille Boutique learnt about the winery when she received a bottle of St. Andrea "Csakegyszóval" as a gift. Since then she has been a devoted fan of the Egerszalók winery, and thanks to her the Austrian colleagues are also enthusiastic about the high-quality Bull's Blood from Eger.
I believe making wine is a kind of art; winemakers express their creativity and their passion about wine in the products they make. Winemaking is indeed a creative process – as Dr Friedrich Wille, the owner of Frey Wille, Vienna-based jewellery manufacturer said in an interview earlier.
In addition to the love of wine, Frey Wille and St. Andrea wines are linked by beauty, elegance, dedication and artistic inspiration. Mónika Sztankó told the journalists that the creative artists of Frey Wille would seek inspiration in wines and dress a few hundred bottles of 2014 Napbor and 2012 Merengő on Frey Wille designs. Those interested should keep their eyes open in Frey Wille stores starting from November.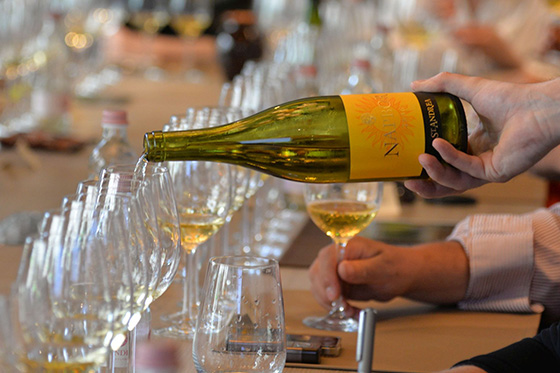 Tasting notes:
Napbor 2015 I 84-86 points
Bright nose of ripe yellow citrus fruit and white flowers. Medium-bodied, displays aromas of ripe peach, lemon, green apple. It is fresh, light and crispy with little carbon-dioxide. Needs a bit more time to really shine. 24% Pinot Blanc, 16% Chardonnay, 15% Welschriesling, 13% Sauvignon Blanc, 10% Leányka (Fetească albă), 9% Riesling, 7% Hárslevelű, 4% Viognier, 2% Pinot Gris
Napbor 2014 I 85-87 points
A classic 'Egri Csillag' (the white pair of the Bull's Blood of Eger is the Star of Eger) white wine. This white wine of Eger gives you back the harmony of the native varieties and the terroir with fruity aromas. Multi-layered, gentle, energetic and long lasting flavours with pleasant minerality at the end. 27% Chardonnay, 26% Pinot Blanc, 24% Sauvignon Blanc, 12% Leányka (Fetească albă), 8% Hárslevelű, 3% Welschriesling
Napbor 2012 I 83-85 points
Fresh, fruity nose, dominated by peach, flowers, green apple. In the palate it is round, fruity, well balanced with crips acidity. The affect of barrel is very light and sofisticated.
Napbor 2011 I 83-85 points
Harmonious composition of floral notes and fruity citrus flavours, with a little touch of spice. Light, floral, pure and clean.
27% Harslevelű, 23% Pinot Blanc, 15% Welschriesling, 12% Leányka (Fetească albă), 9% Viognier, 8% Chardonnay, 3% Pinot Gris, 3% Traminer
Napbor 2006 I 84-86 points
Vibrant, well balanced acidity and scents of citrus, peach, wild flowers and mint.
You can read more about St. Andrea wines here.
Photos by Piroska Koltai