Ralf Waßmann and his wife Susann moved from Heidelberg to Villány in 1998 to set up the first organic wine estate of the region and, through it, to create something special out of the union of nature and terroir. Wassmann Winery is regularly successful at different wine competitions and their wines are becoming basic elements on the wine list of high-quality Hungarian restaurants and wine bars.
Arriving in Hungary, Ralf and Susann purchased a traditional, longish Swabian farmhouse built in the style of the Danube Swabians and, for wine growing, the best lands on a south-facing hillside in the Siklós region. On one of these small plots of a thousand square meters, interspersed with almond and apricot trees, Chardonnay and Welschriesling and on the other plot of a thousand square meters Portugieser have been grown ever since along chemical-free principles and, by today, in a biodynamic manner.
Ralf grew up in the west of the Harz mountains and, in the absence of grape, he had been making wine from cherries, rosehips and gooseberries already before commencing his specialist studies and, by his own admission, he still dotes on any fruit juice. Based on his love for fermented juices, a clear conclusion for Ralf – after having graduated from secondary school – was to follow a course of study in viticulture and beverage technology in the city of Geisenheim lying on the Rhine's right bank. Being a qualified expert, he is in charge of cellar operations in their two-people enterprise with Susann. Susann, who was brought together with Ralf by their love for nature, first chose the cultivation of law and graduated as a lawyer, then she became attracted to wines and, in particular, to the world of wine marketing while still in Germany. And by now she is also considered to be an expert and not only because, as she says, she has learnt a lot from Ralf but because she passed her wine expert tests in 2009.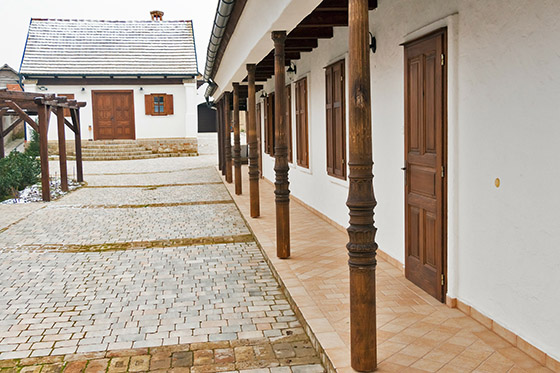 Villány Wine Region
The Villány wine region (formerly Villány-Siklós wine region) had a pioneering role in the renaissance of Hungarian winemaking. This is one of the most advanced wine-growing areas in Hungary. Some attribute its success to the great experts assembled during large-scale production while others credit it to the perseverance of Swabians who settled in the region. In the Villány wine region there are two different types of wine-growing peculiar to two large settlements. Villány is famous for its fiery red wines and its modern technology, whereas Siklós took a back seat with its white wines. Grape is produced on 2100 hectares on the southernmost wine region of Hungary. Its sub-Mediterranean climate sets exceptional circumstances for grape aging, which is also a noteworthy factor in the success of the wine region. This is the hottest and sunniest wine region in Hungary with long dry summers and growing seasons. Its soil is loess made of the combination of red clay and brown earth topsoil on the limestones of the Villány mountains.
Right from the beginning Ralf and Susann have been thinking in terms of organic plant production while producing premium quality wines. To this end, after four years, they established Wassmann Pince Bt. and in 2003 they finally obtained their bio certificate from Biokontroll Hungária Nonprofit Kft., the Hungarian certification and control authority in charge of compliance with EU law, and thus, Wassmann has been the first organic wine estate in Villány. Though outsiders may think the enterprise has been quickly set up, the owners confess they had a rather hard time in dealing with Hungarian bureaucracy. In the same year, i.e. in 2003, they began to enter their wines in competitions and the number of gold and silver medals won has been increasing ever since.
As of 2004, in addition to their own vineyards, they have started to rent and purchase new ones, and thus further red wines, such as Blaufränkisch, Merlot and Cabernet were added to their varieties. Currently they manage two hectares and provide help to other wineries in the wine region (e.g. Malatinszky Kúria, Gere Tamás & Zsolt Pincészete) in organic grape production.
Since 2011 the Wassmann Winery has been certified also by Demeter International and in 2012 their biodynamic wines were marketed under this mark.
Natural quality given by nature
Wine produced through organic plant production is not equivalent to biodynamic wine as consumers are, quite often, mistaken to think. Although biodynamic wines originate from vines cultivated along chemical-free principles, it is important that in this case viticulturists use neither selected yeast for alcoholic fermentation, nor selected bacteria for malolactic fermentation in the cellar. The total sulphur content in wines may not exceed 120 mg/l and under the applicable criteria of Biokontroll Hungária Kft. the use of all other chemical substances, such as fining agents and various stabilizing agents, is to be avoided. Bottles must be closed with chlorine-free cork and no chemicals should be used for cleaning the bottles, barrels and products.
Organic wine production is to be interpreted as the cultivation of pristine plant habitats. This does not only entail banishing the use of chemicals from the vineyards and cellars but, at the same time, plants may gain natural immunity to become more resistant to different infections. Establishing a species-rich green zone with wild plants and planted grasses and flowers strengthens and provides nutrition to vine-stocks and the roots of the different plants reaching different depths scarify the soil and facilitate its forms of life.
Through organic farming the soil can become incredibly vivid and populous as it can be observed at the Wassmann's. A handful of fertile soil may host more tiny creatures and microorganisms (fungi, algae, etc.) than the number of people living on Earth. "Soil is the cradle of fertility, says Ralf, without fertile soil life on Earth would be unimaginable."
That is the reason why Ralf and Susann are solicitous about facilitating life in the soil. With green plants above the ground level and with the nutrition offered by pollens, a stable ecosystem is created with numerous useful insects. These helpful little creatures (for example assassin bugs, ladybirds, earwigs and birds) keep intruders away from the vines. For this purpose, separate nesting baskets and hiding places are set up for the birds and the earwigs by Ralf and Susann.
As they believe, this vivid and busy small world is an ideal living space for the stocks which the stocks acknowledge with healthy and strong shoots. Vital vine stocks produce first class yield which, according to Ralf, is a precondition for superior quality and original wines with a character.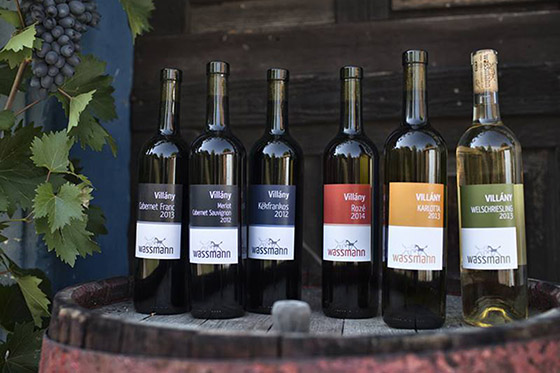 Tasting notes:
Welschriesling 2014 I 86-88 points
Smells of clean white fruits, spices then a bit of a floral scent. In the sip sufficiently low alcohol content (12.5%), nice and smooth but adequately vivid, yet warm acidity. Balanced and the taste remains in the mouth for a long time.
Portugieser 2015 I 87-89 points
The aromatic profile is characterised by a rich harmony of freshly picked blueberries, strawberries and spices. With its good proportions and surprisingly long-lasting, pulsating finish it outshines the usual Portugiesers.
Blaufränkisch 2012 I 88-90 points
A medium intensity smell with depth and built on sour cherry and cherry. The sip is made elegant by the acids; tannin is in the second place after this structural element; the body and the alcohol are average. This composition converges in one direction, it is balanced and tight, yet the berry flavours fill it with life.
Cabernet Franc 2012 I 90-92 points
Does not compare to any usual Villányi Cabernet Franc: its aroma is not surmounted by the effect of the barrel but by the fresh fruity notes of red berries, the natural spices typical of the species, a fine vegetality of mint leaves and a lush florality unfolding in the form of blue petals. After aeration, tinges of fried pastries and cinnamon also unfold. Smooth texture, tender tannin, optimum taste of alcohol and explicitly vivid acidity.