Slovart, €16.95
The first English-language guide to Slovakian wine written by renowned winemaker and sommelier Vladimír Hronský.
Slovakia boasts six viticultural regions further divided into viticultural areas. Hronský focusses first on the character of the regions and the varieties, both traditional and modern, being cultivated in each. He provides comprehensive information on geology, geography, terroir and climatic conditions of each region. What was lacking for me here though, is that there is next to no information on the history of the regions. This would help put the modern Slovak winemaking world into context.
He then takes a look at a Slovakian wine label and shows the reader how to find their way around it, considering how the Slovak wine classification works – like in other EU countries but also with traditional labelling similar to that in German-speaking countries.
He looks at traditional varieties grown in the country, with Tokaj warranting its own section, and devotes space to a number of new clones. We discover that Slovakia has many grape varieties in common with Austria and other neighbouring countries and of course has plantings of international grape varieties as elsewhere. Thus, Grüner Veltliner (Veltínske zelené) and Olaszrizling (Rizling Vlašský) are the most common whites.
The book also considers current trends in winemaking, and includes a chapter on the best Slovak wine and cheese combinations and a vintage quality overview. The bulk of the material profiles 50 wineries with contact details and a range of their wines as well as presenting an overview of the best wines in the market, ordered according to variety and divided into traditional varieties, old and new clones, terroir-respecting wine and organic wines.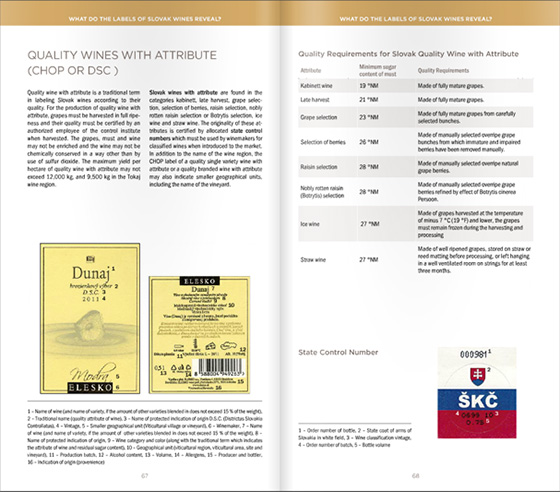 Hronský dedicates a fair amount of space to basic winemaking concepts and obvious ideas that can be found in any decent general wine book, which rather felt like padding, as it was not generally specific to Slovakia. However, it was useful to have the section on the production of Tokaj wines for those not familiar with this.
I found the text very small and somewhat difficult to read and the translation was unfortunately rather stilted and clumsy in parts making reading hard-going.
The book is a useful guide to producers, grape varieties and wines for someone looking to buy wine. However, for someone interested in gaining a greater insight into the country and its winemaking traditions, it falls rather short.