Perhaps you are familiar with the larger and better known part of the Tokaji wine region found in Hungary, but have you crossed the border to Slovakia to check out this part of the wine region? Part of the historic wine region lies across the modern-day border and it is waiting for wine lovers to discover it too.
Many people are unaware of what lies here in Slovakia. Igor Vizner has helpfully produced an updated version of his map of the wine region, which will allow you to find your way around these undiscovered settlements and vineyards.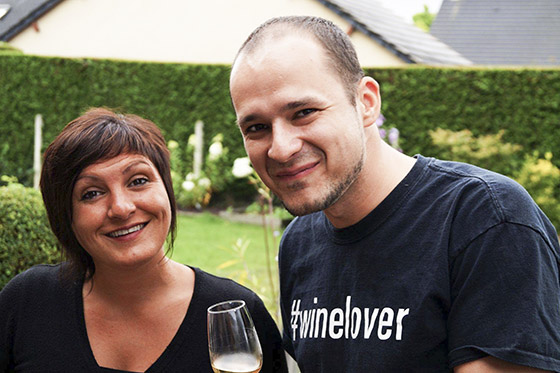 Igor and his wonderful wife Cecile
In addition to enabling you to locate the region in relation to the Hungarian side, the map pinpoints wine cellars, wine shops and possibilities for wine tasting as well as places to stay and eat. It also lays out the location of individual vineyard tracts, for the true wine geeks amongst you!
For those wishing to take a break from wine-tasting, there are also some opportunities for other activities, such as observing the stunning countryside from the viewing tower above the Domik, Tajisko and Podcestie vineyards or taking a boat trip along the river Bodrog from Viničky.
You could start your tour in Čerhov, where the tourist information office is located, and you could also get to grips with local customs here by visiting the House of Local Folklore and Traditions. You'll probably spend most of your time in and around Malá Tŕňa and Vel'ka Tŕňa, where you can find most of the wine-tasting and hospitality options, but you shouldn't miss heading south to beyond the Bodrog to visit Chateau Vécsey and perhaps also the birthplace of Ferenc Rákóczi II in Borša on your way.
So now you have no excuse not to broaden your horizons and explore the Slovak Tokaj. Na Zdravie!