Is natural the new hipster fashion, or is it really simply better? What is natural anyway? Is it the same as organic? How is biodynamic related to this? Will we all really die if there are sulphites in the wine? Has anyone actually tried these wines, or do people just write about them? We have just done so!
I'm not able to do real justice to this vinous catfight, and I have to admit that even I get lost in the rules of the natural, biodynamic and organic systems, so how must someone who simply wants to drink a good wine feel? Is it really the case that anyone who collects their waste selectively and goes shopping with a paper bag or even a cloth bag like our grannies did will definitely buy organic wine? Or that anyone with multiple food allergies and additives really seeks out natural wines? Or that anyone who puts their trust in God really keeps their gunpowder dry? Come on, no way! Life is much more complicated than that, as is wine. The point is to drink good wine, right? Whatever tastes delicious, something that you like, something which doesn't need explaining!
In light of the above, I decided to go shopping for some natural wines, and the Marlou wine bar in Budapest city centre was perfectly suited for this. It only opened last March, so people have not yet had time to discover it. However, it's a great place, both in terms of its story and appearance; it's in French ownership and run with plenty of enthusiasm. I entrusted myself with the selection of the wines, and there was even one which I chose based on its label, just as my wife would have done, but that's just what makes it authentic, meaning I wasn't influenced by expectations about its acidity, tannins and so on!
As for the wines, I don't want to over-explain, because, as I said at the beginning, if something needs to be explained, then something's not right…
Marto - Weiss 2018 I 77 points
Martin Wörner is the fixed star of Rheinhessen, at least on the natural wine scene, so I admit I was expecting a lot from this wine. I wish I hadn't been! Its pale gold colour might already ring alarm bells in a wine just three years old, but its nose immediately revealed that it had been ruined by oxidation. It does have some stewed peach and sweet spices but was essentially all about walnut and grated apple. It is medium body with vibrant acidity, as it should be, but that still didn't help, as the grated apple overwhelmed everything on the palate too.
Papp Wines - PN 2018 I 87 points
I've never visited them, although I should go down and see them at Szent György hill near the Balaton and certainly will do so soon! A truly vibrant multicultural, multi-ethnic identity DJ and chef with a vegetarian pop-up restaurant and a globetrotting past. Which definitely makes for a pretty good story! Anyway, this Pinot Noir is pale cherry in colour a nose dominated by raspberry and strawberry. Light on the palate, with bright acidity and plenty of sweet red berry fruit. Almost indiscernible tannins with a slightly sweet almost chocolatey finish. Very quaffable, appealing wine!
Wein Goutte! - Karate schlag 2019 I 79 points
This estate is Christoph and Emily's story, where the experience of a top Canadian restaurant wine buyer blends nicely with a different type of knowledge gained at the Weninger estate. Admittedly, I also chose this based on its label, which is uncluttered and pretty cool; moreover, I love such funny names. It was supposedly named after a Kékfrankos and a "karate kid baker". Ha ha. The wine is initially a little strange, with pomace, sour cherry jam and yeasty, fermentation notes on the nose. Medium-bodied on the palate, with some spritz and fresh acidity, the wine is fizzy and re-fermenting in the bottle. Sour cherry soda flavour with a medium finish. Honestly, I have no idea how to evaluate this wine. It's actually faulty, but I quite liked it.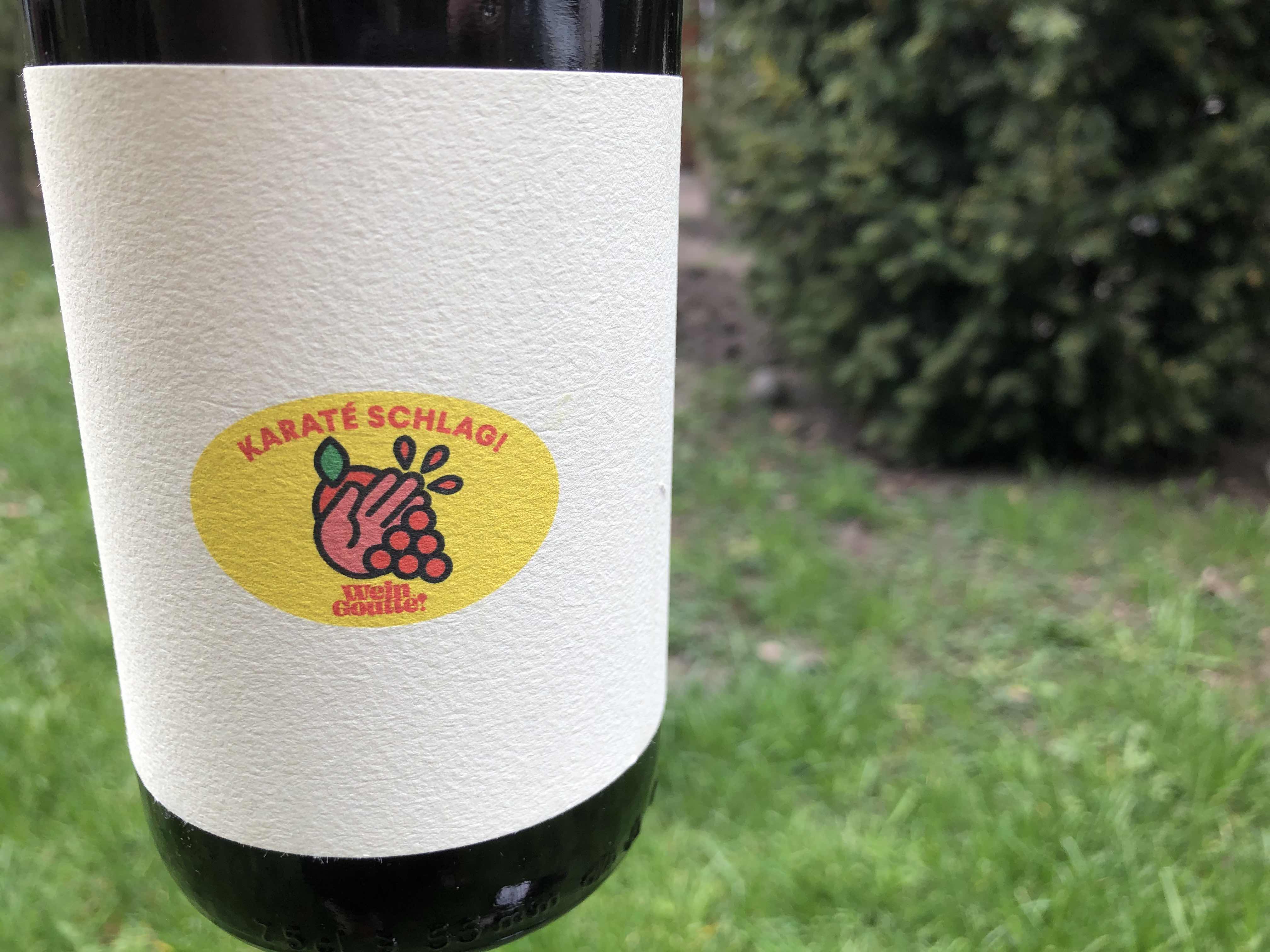 Photo: Daniel Ercsey