Is natural the new hipster fashion, or is it really simply better? What is natural anyway? Is it the same as organic? How is biodynamic related to this? Will we all really die if there are sulphites in the wine? Has anyone actually tried these wines, or do people just write about them? We have just done so!
I'm not able to do real justice to this vinous catfight, and I have to admit that even I get lost in the rules of the natural, biodynamic and organic systems, so how must someone who simply wants to drink a good wine feel? Is it really the case that anyone who collects their waste selectively and goes shopping with a paper bag or even a cloth bag like our grannies did will definitely buy organic wine? Or that anyone with multiple food allergies and additives really seeks out natural wines? Or that anyone who puts their trust in God really keeps their gunpowder dry? Come on, no way! Life is much more complicated than that, as is wine. The point is to drink good wine, right? Whatever tastes delicious, something that you like, something which doesn't need explaining!
In light of the above, I decided to go shopping for some natural wines, and the Marlou wine bar in Budapest city centre was perfectly suited for this. It only opened last March, so people have not yet had time to discover it. However, it's a great place, both in terms of its story and appearance; it's in French ownership and run with plenty of enthusiasm. I entrusted myself with the selection of the wines, and there was even one which I chose based on its label, just as my wife would have done, but that's just what makes it authentic, meaning I wasn't influenced by expectations about its acidity, tannins and so on!
As for the wines, I don't want to over-explain, because, as I said at the beginning, if something needs to be explained, then something's not right…
Slobodné Vinárstvo - Traja Boxeri 2019 I 82 points
I'm biased here, as I've known and loved the silver-tongued Miso Kuropka's wines for about five years now. However, it also has to be said that I rarely have the chance to taste them and sometimes I miss out on entire vintages. The wine is reminiscent of Sauvignon Blanc, but this is difficult to ascertain from its pinkish-orange colour. Its nose of fresh grape and white flowers with ripe apple in the background showed better than its medium-bodied palate with extremely lively acidity but boasting little more than citrus and green apple.
Čotar - Malvazija 2017 I 83 points
One of the best-known faces on the Slovenian wine scene, with an estate just a few kilometres from the sea and red soil overlying limestone. The wines from the karst are different anyway, the Bora wind tears through the vines, covering their leaves with salty spray, while the sun beats down in summer. Nevertheless, there is this organic producer here who has become thoroughly trendy over the last 30 years, and not without reason. But let's see what this wine is all about. Well, my exhilaration is already dampened by its nose, which has notes of furniture polish as well as hay. Medium-bodied on the palate, with extremely elegant acidity and flavours of pear, apple and white flowers. It's a shame about its dubious nose as it's texturally lovely!
Strekov 1075 - Fred #4 I 86 points
I may be even more biased in the case of Zsolt Sütő than with Slobodné Vinárstvo, as he is an incredibly great guy. We once spent the entire evening drinking wine together in Bratislava and Zsolt never once ran out of jokes - he's wonderful company! The Fred series is an ever-changing, very quaffable non-vintage red wine, in this case (if I can believe the internet) a blend of Alibernet and Dunaj, but as version 7 is already on the shelves, you need to pay attention! It boasts aromas of blackberry, plum, earth, beetroot and raspberry-flavoured dark chocolate. Medium-bodied on the palate with flavours reflecting its aromas. Somebody wrote somewhere that this wine should be drunk, not scored. I agree, but I simply can't help myself!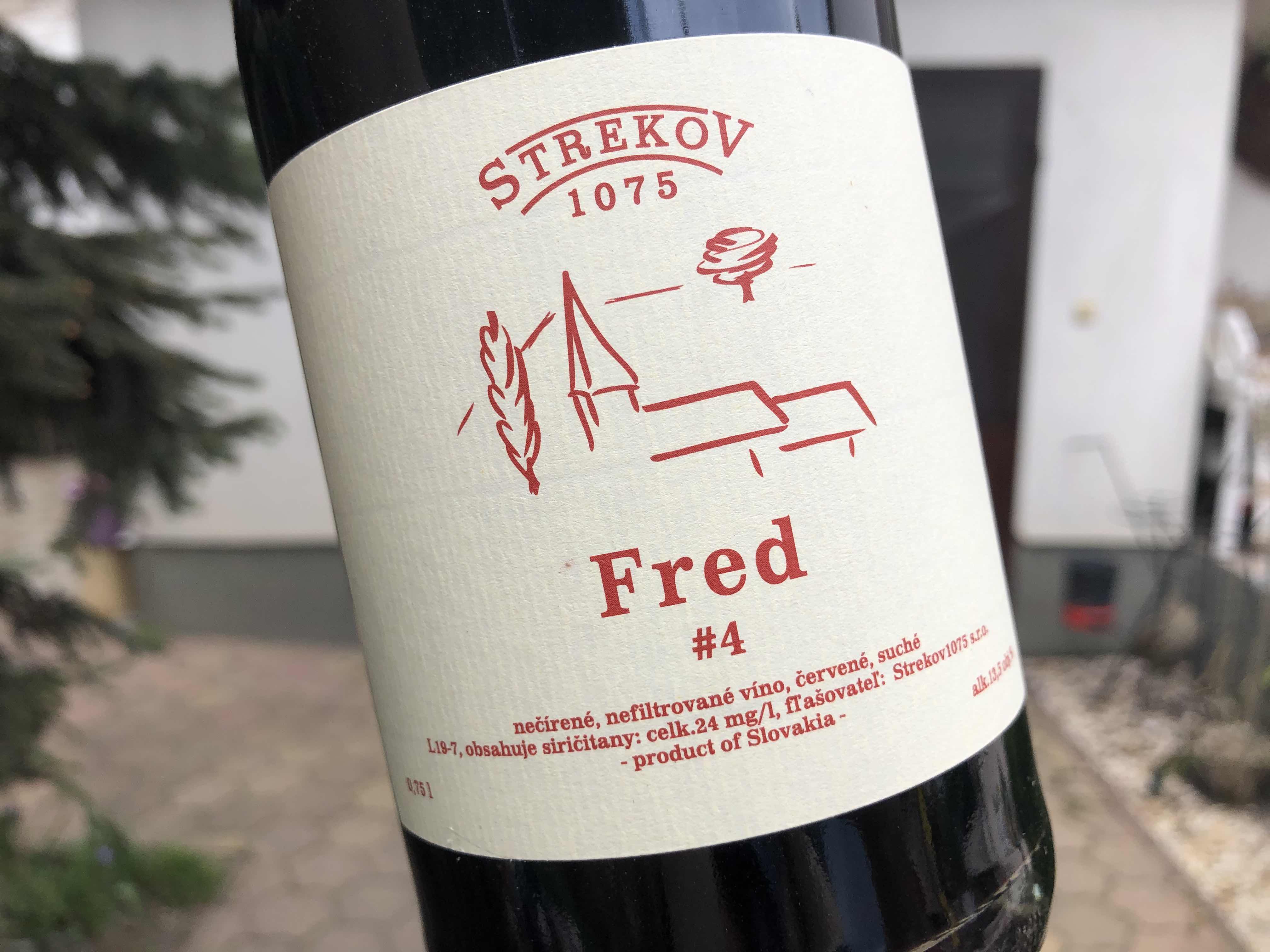 Photo: Daniel Ercsey