The wines of the Marche region of central Italy and the area itself have somewhat evaded the international spotlight, but there are some real wonders – vinous, gastronomic, natural and cultural – to be discovered in this chunk of central Italy that sits in the very pleasant land that lies between the Adriatic and the Apennines.
Cheap and cheerful Verdicchio di Castelli di Jesi was a common sight on the shelves when I was growing up in England but while it was typically a crispy, citrusy, light and perfectly quaffable white that was decent enough for the price, it never left much of a lasting impression. Fast forward to the present and it was a revelation to find out what the Verdicchio grape is capable of on a recent visit to the Marche, and to taste many wines in the Verdicchio dei Castelli di Jesi Classico Superior DOC category that offered plenty on both the pleasantly restrained yet reasonably aromatic nose and lengthy palate.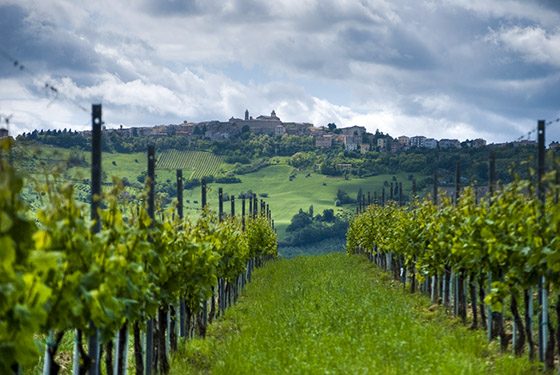 This quality was immediately apparent at our first port of call, Colognola – Tenuta Musone, where the 2016 Verdicchio dei Castelli di Jesi Classico Superior 'Via Condotto' deserved its 'Superior' badge. This category imposes a limited yield of 14 tonnes per hectare on yields. The grapes were harvested in the second half of September from 450 metres above sea level from the Colognola area and it was fermented totally in steel and kept in the tank to age for 4-6 months on the fine lees. It had a lot going on and was slightly grassy, floral and fruity simultaneously, with a hint of hazelnut, lime peel, juicy white-fleshed fruit and very zesty acidity (of 7.12 g/l).
The Castelli di Jesi Verdicchio Riserva DOCG comprises wines that are built to last and places a limit of 10 tonnes per hectare on yields. Riserva must be matured for at least 18 months, which includes six months of bottle ageing. Harvested on October 29 and receiving two-three hours of skin contact during the soft pressing, Colognola – Tenuta Musone's Labieno 2016 actually saw no oak in its vinification and was aged for 24 months in steel tanks on the fine lees. It exuded lots of late harvest richness, dried apricot and ginger and a briny note, ending reassuringly dry.
Visitors to Colognola – Tenuta Musone are greeted by a striking sculpture entitled Horse 06, which was created by the Colombian artist Fernando Botero in 2006. It was first exhibited in Berlin in 2017 and then stood at the Brandenburg gate for several years before it was acquired by the Darini family, who own Colognola – Tenuta Musone. Incidentally, it is customary to rub the horse's testicles for good luck. The next treat in store is a glass of a very solid metodo classico (traditional method) sparkling wine from 100% Verdicchio, which is made at the cellar and shows the versatility of the Verdicchio grape. Here, we got to nibble on the delicious deep-fried stuffed-olive starter olive all'ascolana. Another local classic, this time a main course, is Coniglio in porchetta, literally rabbit flavoured with porchetta.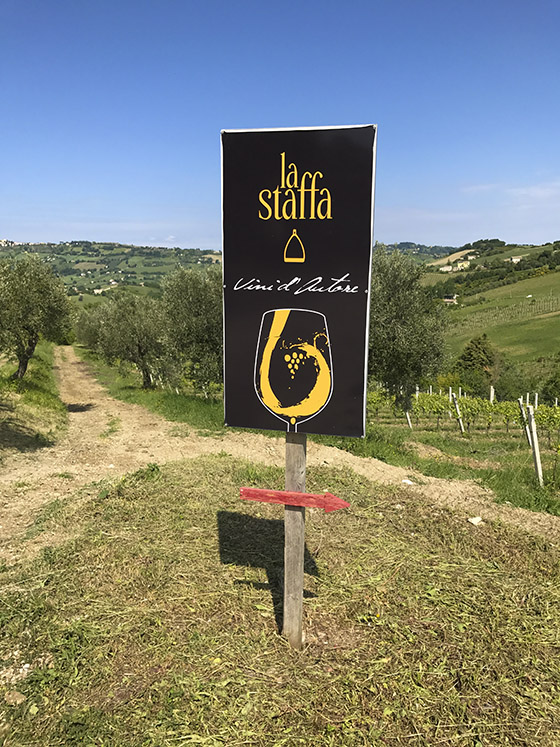 At La Staffa, near the village of Staffolo, 40km from the Adriatic in the heart of Verdicchio dei Castelli di Jesi country among stunning undulating scenery, where the soils are limestone and clay, we even ended up tasting and spitting out water from the well to determine whether a saline note could be detected. The resounding answer was yes. The spontaneously fermented 2016 La Staffa Classico Superior, made by the young talent Riccardo Baldi, struck excellent balance between freshness and complexity with peach, floral, grassy and herbal notes with a round, somewhat creamy finish that took none of the zestiness away. It was very clean given the minimal use of sulphur of 50-60 mg/l. It comes from around 400 metres above sea level. Here we were joined by the handsome Umberto Gagliardi, from Verdicchio di Matelica, a zone that runs parallel to the Adriatic which doesn't impart and influence, rendering the climate continental. Matelica has a high diurnal temperature range that preserves acidity, according to Gagliardi. His wines were made in a more oxidised style that would appeal to the natural wine crowd and they most certainly did to one of our Polish colleagues.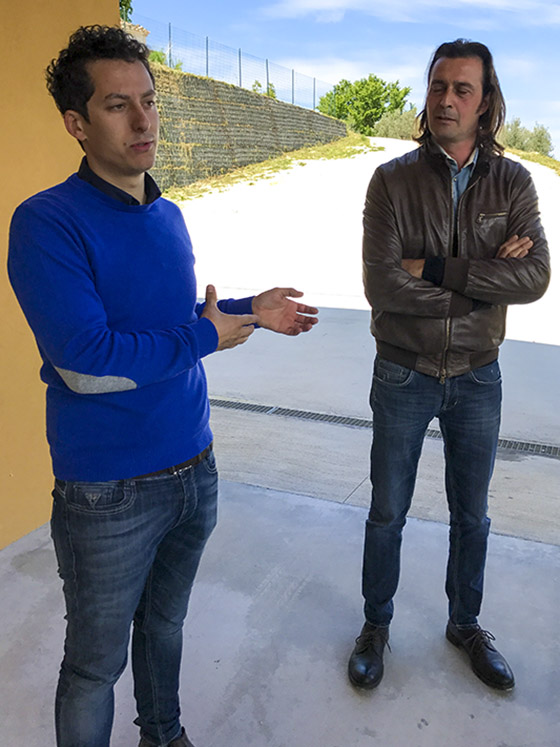 All in all, the 2016 Verdicchio Superiors showed better than the 2015s. This was apparently due to very low temperatures in September and October that enabled slow and balanced ripening and the picking of nice cold bunches. It comes as no surprise to learn that Ian d'Agata, in his book Native wine grapes of Italy, referred to Verdicchio as 'arguably Italy's greatest native white grape variety'.
Rosso Conero: the red wine of Monte Conero
At Le Terrazze, we had a welcome opportunity to take in the surroundings and get our heads around Rosso Conero, which served to put these red wines in context. Immediately, we could shape out a remarkable mesoclimate whereby the slopes of Monte Conero, the only mountain on the Adriatic coast between Trieste and Gargano, serves to provide excellent sun exposure for the grapes to ripen fully. Further, the proximity of the Adriatic Sea and its cooling influence provides for a significant diurnal temperature range, which is so important for preserving the acidity – a considerable challenge in a Mediterranean climate. We also learned that the acidity is further enhanced by the chalky clay soils.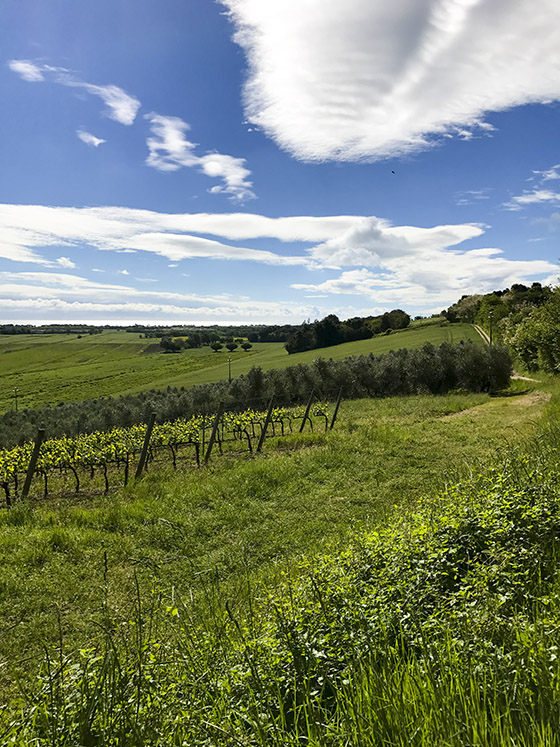 Here we tasted a range of DOC and DOCG wines by Le Terrazze, and guests Moroder, Umani Ronchi and Garofoli. The wines, which started at 2016 and went back as far as 1998, were extremely consistent, without any obvious weak link with my points ranging from the high 80s to low 90s. Everything was in the right place with good balance between alcohol, acidity, tannins, fruit and oak. Distinctive and signature aromas and flavours came through. I personally found black olive a prominent note, which sat nicely on top of the black cherry and other black fruit. The wines had nice spiciness while the purplish colour was also very appealing. They also age very nicely, picking up lots of earthy notes while retaining some level of fruitiness as the older vintages showed. The 1998 was Sassi Nera from Le Terrazze,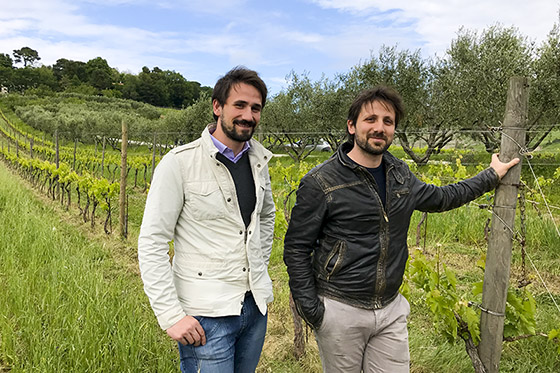 and had very pleasant tobacco and forest floor aromas with the acidity still holding it together nicely. Rosso Conero DOC wines have a maximum yield of 13 tonnes per hectare, which comes down to 9 tonnes for DOCG, the latter having an ageing requirement of 24 months. Both can contain up to 15% Sangiovese. It is surprising that Rosso Conero wines aren't more widely known given the high quality on offer.
The music of Le Marche
It was also nice to get a chance to try Le Terrazze's bulk wine, which was of a high level in both the white and red categories, the white actually being a Chardonnay. Here, also look out for the excellent Pink Fluid rosé, made from early picked Montepulciano grapes by music loving Antonio Terni, an Argentina born Italian Jew, who runs the Le Terrazze winery together with his English wife Georgina, who he ironically met around the time of the Falklands War. Bob Dylan is Terni's favourite musician and he even made a wine called Planet Waves, a Montepulciano-Merlot blend named after Dylan's 1974 album, which this year's Nobel prize winner for Literature happily received and imbibed.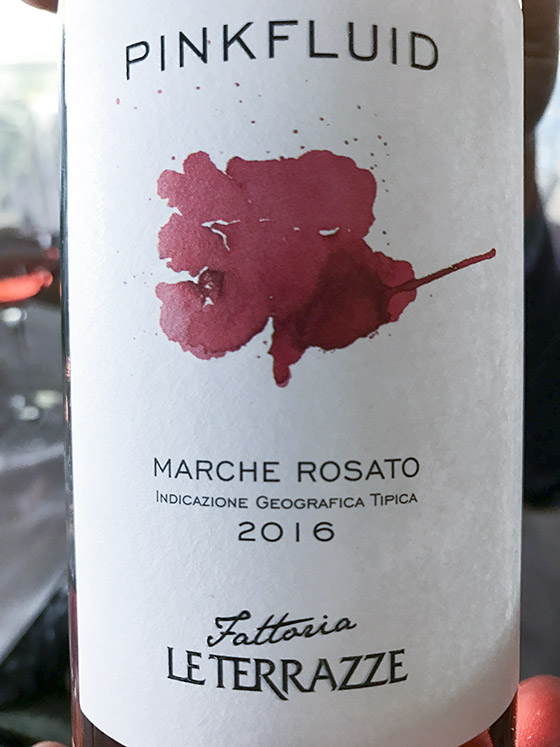 Marche's musical connection doesn't end there. The Moroder family originates from Alto Adige and is part of the very same clan as the legendary disco and electronic music producer Giorgio Moroder. The estate, which is situated in picturesque rolling countryside within the Monte Conero natural park, is a delight to wander around and the organic wines are very expressive and clean too. It didn't matter that it was pouring down when we visited as the winery building, a restored 18th century farmhouse had plenty of charming nooks and crannies to explore. The Moroder family is also among the owners of Ravaletto, which is a hip, lively bar on Ancona's attractive main square, which besides Moroder wines also has a good selection of local craft beers.
Of other wineries, Casalfarneto picked on three different dates and harnessed boyritis to good effect in Crisio 2013, a Verdicchio di Castelli di Jesi Verdicchio Reserva DOCG. The sumptuously sweet Ikon 2012, which was aged in 50-litre barrels not filled to the top to encourage oxidation, was a great example of a Verdicchio dei Castelli di Jesi DOC – Passito. Moncaro showed that cooperatives can be both cool and make complex wine and can even do organic well. In all, the Marche region produces 881,000 hectolitres of wine, according the average of the last five years.
Beyond the wine: Sirolo is a charming cliff-top seaside town on the Conero Riviera and a must for a stop off. Just beyond the town and on the way to the beach, nestled among the cliffs and perched overlooking the sea, the Da Silvio restaurant serves up delicious sea food and fish dishes with a wonderful view. Cool off in the cave complex of Grotti di Frasassi, which is packed with a striking collection of stalagmites and stalactites formed naturally over millions of years. The G Hotel – Ancona is a good option for accessing the region but as it is around 10km from Ancona city centre, it's not for those who want to be close to the nightlife of this vibrant port city.