In recent years, GV, or Grüner Veltliner to give its full and official name, has been conquering sommeliers' wine lists around the world and has taken The Big Apple by storm. The crisp, citrus, peppery wine has become synonymous with Austria and Grüner Veltliner can now certainly be considered Austria's national variety, given that it constitutes 36% of plantings in the small Central European country. However, Austria has plenty more on offer than Grüner Veltliner, and I'm not talking only about the nervy, mineral Riesling from the steep slopes overlooking the Danube in Wachau, nor the full-bodied Blaufränkisch from the Burgenland, nor the sweet botrytised wines from the vineyards surrounding Lake Neusiedl, nor even its more everyday Welschriesling, Portugieser and Zweigelt, which incidentally is Austria's second most planted variety.
Of course, Austria also has its fair share of international varieties, which are generally, confusingly, known by other names, such as Pinot Blanc, known here as Weissburgunder, Pinot Gris, Grauer Burgunder or Ruländer, Sauvignon Blanc or Chardonnay, which is called Morillon in Styria. However, Austria also has a few varieties that you may well never have heard of. Have you ever tried Blauer Wildbacher, a red grape grown almost exclusively in Western Styria and generally made into a perfumed rosé with high acidity known a Schilcher, or Sämling 88, as Scheurebe is called in Austria, which can make exciting ripe wines with rich grapefruit well balanced by racy acidity? The variety reflects the soil and mesoclimate well and can also make fantastic botrytised wines.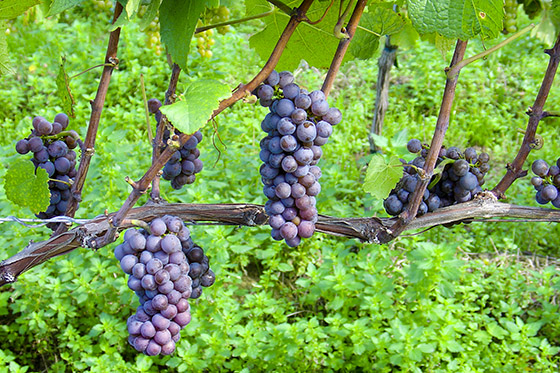 As well as Grüner Veltliner, Roter Veltliner is also cultivated. It was formerly more widespread but has now been overtaken by its green namesake, although is not related, and the little that remains of it is found mainly in Wagram and Kremstal in Lower Austria. Although its name suggests it's red, it is in fact a white variety, the red stems from the fact that the skins can turn a little red on the side facing the sun. It can make aromatic wines with high extract, which can age well, developing exotic complexity with age. It seems that it likes to sow its wild oats too, as DNA profiling has shown it to be a parent of Rotgipler, Neuburger and Frühroter Veltiner.
Two varieties are usually blended together in the town of Gumpoldskirchen in the Thermenregion. Rotgipfler and Zierfandler come together to produce a full-bodied, long-lived, spicy wine. Rotgipfler, so called as the tips of its shoots are red, is a progeny of Traminer and Roter Veltliner and produces alcoholic wines with high extract and aromatics. Zierfandler, known as Cirfandli in Hungary, ripens late, as its other name Spätrot (the berries also have a reddish hue) suggests, but retains its acidity better than Rotgipfler and has greater clarity of flavour. However, it doesn't always ripen successfully, thus it was traditionally blended with Rotgipfler. Both varieties are increasingly being vinified as varietals too.
Neuburger was widely planted and very popular after World War II as its high sugar levels and residual sugar provided essential calories, but there are only 500 hectares or so of it left now in Austria. A natural crossing of Roter Veltliner and Sylvaner, it is believed to have originated in Austria. The story goes that in the 1850s two winemakers found a wild vine near the Danube and planted it in Wachau, where it quickly became popular, despite being difficult to cultivate. Although it has declined in popularity, it can taste like a fuller-bodied Weissburgunder, developing nutty flavours with age. It is found mainly in Wachau, Thermenregion, Burgenland and in Transylvania.
Although Austria is primarily white wine country, they also produce some attractive reds, including the little-known Sankt Laurent, which can also be found in Czech Republic and Slovakia. It is believed to have been brought to Klosterneuburg from Alsace in the eighteenth century. Some wrongly claim that it is related to Pinot Noir, although in character it does have some kinship, especially after it has aged for a few years. Sankt Laurent, however, is more robust, withstanding hot weather better than Pinot Noir and never developing overly high sugar levels, hence alcohol. It still retains good acidity even after malolactic fermentation and is capable of producing deep-coloured, velvety reds with sufficient concentration to warrant ageing in oak. The variety is currently undergoing a renaissance in Austria.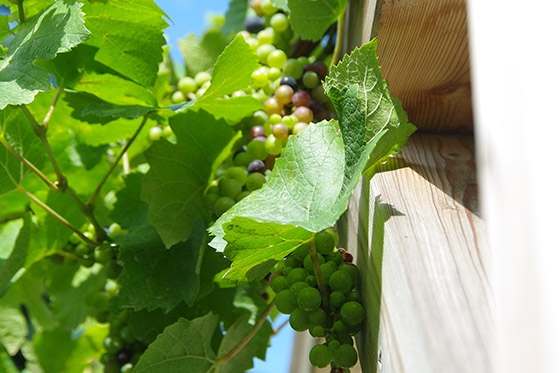 The Austrians also have a phenomenon named 'Gemischter Satz', meaning a wine produced from mixed vineyards, which was more common in the past when varieties were interplanted within a vineyard and then harvested and fermented together. Previously a more basic, quaffing wine, generally drunk in the Viennese Heurigen, in the eighties and nineties some wineries clubbed together and began to market this as a brand. It is now being taken seriously and Vienna's only DAC is Gemischter Satz, which has also aided in resurrecting and validating the style. Some contain only one or two varieties, some three and some many more.
Sometimes you also encounter varieties that you thought were something new and unusual, but their names are simply concealing wines you may know by another name, such as Roter Traminer, which is in fact Gewürztraminer, and Rivaner, better known by Müller-Thurgau, the Austrian name deriving from its Riesling x Sylvaner parentage.
Although I had tried some of these varieties a couple of years ago at VieVinum in Vienna, I had the chance recently to sample a few at a more leisurely pace at KisBécs (which means Little Vienna in Hungarian), a small wine bar and shop in the heart of leafy district XII in Budapest. The wine bar specialises in Austrian wine, as its name might imply, and organises regular informative tastings.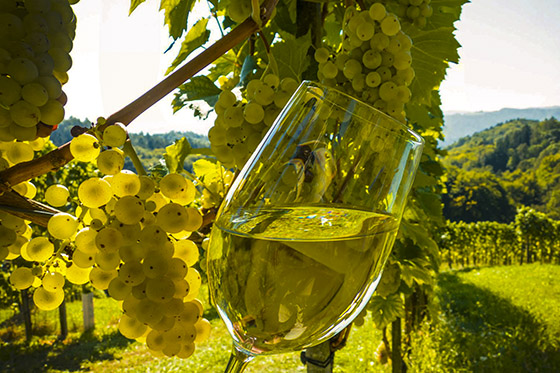 Tasting notes
Setzer, Roter Veltiner Wiener Symphoniker 2015 (Weinviertel) I 85 points
The winery's flagship wine and the official wine of the Vienna Symphonic Orchestra.
Crisp, fruity wine with aromas of ripe pear and peach and a spicy pepper note. Endowed with plenty of zippy acidity with flavours of lime, green apple and pear drop. The medium finish is characterised by salted almonds.
Wieninger, Gemischter Satz 2015 (Wien) I 84 points
One of Austria's most important biodynamic wineries. It contains 11 varieties, mostly Grüner Veltliner, Weissburgunder, Riesling and Neuburger, and spends 2-3 months on its lees in stainless steel.
Intense on the nose with perfume, blossom and stone fruits. Slightly oily on the palate, with fresh acidity, pear, bitter almond and some creaminess. Mineral and elegant with an attractive salty finish.
Johanneshof Reinisch, Gumpoldskirchner Tradition 2014 (Thermenregion) I 86 points
Blend of Rotgipfler and Zierfandler, aged partly in oak, partly in stainless steel, with 3 months on the lees.
Perfumed and aromatic on the nose with some quince and pear. Medium bodied, with creamy, ripe fruit, honey, toast, spice, caramel and butterscotch. A touch of grated apple points at a slight note of oxidation. Smoky, mineral finish.
Feilinger-Artinger, Neuburger 2015 (Rust) I 87 points
One of best-known producers in Rust, wine aged in old barrique, where it spent 3 months on its fine lees.
Complex aromatic wine with notes of ripe stone fruits, pear and lemon, complemented by vanilla, toast, butter, almond and walnut. Perhaps a slight vegetal note too. Refreshing acidity with a mineral, salty finish. An elegant wine with good balance.
Domäne Wachau, Roter Traminer Reserve 2015 (Setzberg) I 82 points
Grown on volcanic soil, right next to the Danube and spent 4-5 months on its lees.
Pungent exotic wine with mandarin, lemon, pineapple and tropical fruit. Slightly flabby acidity and a touch of residual sugar. Light bodied with exotic flavours combined with salty minerality. More a Wachau wine than a typical Gewürztraminer.
Just Rust, Rivaner Kabinett 2013 (Rust) I 81 points
Attractive, complex wine for a Müller-Thurgau with pear, peach, tropical fruit and perfume, underlain by toast, oak, nut and smoke. A slight bitterness, some flabbiness and a drying, slightly salty finish detract from its ripe, fresh fruit.
Heinrich, Sankt Laurent 2013 (Burgenland) I 87 points
Complex wine with bright red cranberry and raspberry fruit mingled with toast and coffee. Medium bodied with fine-grained tannins, lively acidity and mineral notes. Crunchy cherry and plum with some mushroom, leather and forest floor notes. Slightly floral. Long, lingering finish.