We were planning this bike tour to Wachau, around the Kremstal and Wachau wine regions for quite a while and after the lengthy preparation, finally we set off last summer. Why did it take so long to put the plan into practice? We did the organization ourselves, taking low budget solutions–such as cooking our own meals– as well as bicycle and dog logistics into consideration. All this required thorough preparatory work. First and foremost, we bought the booklet entitled Cycling Guide – Danube Bike Trail Austria. It contains a detailed map and is full of really useful descriptions, recommended tours, sights and other bits of information and advice. Then we studied the map carefully and collated distances and accommodations. Being amateur cyclists, we had to plan the daily distances with caution (at around a daily average of 20–25 kms). A bit of family holiday with a bit of relaxation, some hiking in vineyards and cycling on the top of it all. We took turns driving the car so that everybody could ride the bike, and as the two dogs coming with us did not feel like running alongside the bicycles in the heat, we could also give them a lift.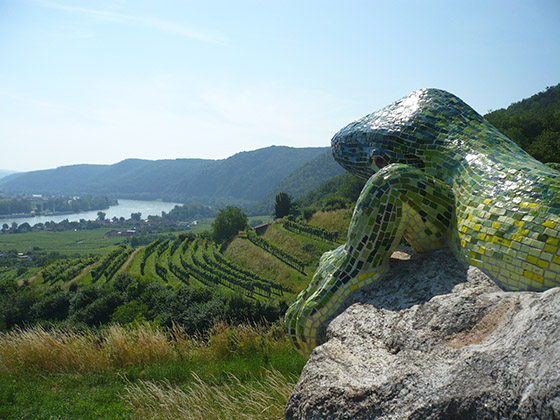 We had everything we needed for camping. In Austria cycling culture is well-developed as well as the related services, For accommodation, we have selected camping sites because of their price range and atmosphere (they are clean, safe with good infrastructure, loads of tourist information; prices are around 40 Euros for four persons, two tents and one car per day). Full comfort is typical around here. For the starting point of our journey we chose Melk and travelled back from east to the west up until Altenwörth on the southern bank of the Danube.
The camping sites we stayed at are located in Schönbühel, Rossatz, Rohrendorf bei Krems. All three places were comfortable, homely and perfect for families. In Schönbühel the Stumpfer family operates a guesthouse and a restaurant offering wine dinners on Fridays. Homemade jams prepared by the wife, artisan beers and wines from the nearby wineries are all available there. Rossatz lies right in the middle of vineyards and a stone lizard (the name giver of Smaragd–Emerald–wines) rests its eyes on the Danube bend. At our last accommodation, the Ettenauers have been preparing wines since the 18th century. Guests have a separate kitchen equipped with a huge wine fridge full of local wines. The consumed amount had to be recorded on a piece of paper and paid upon leave.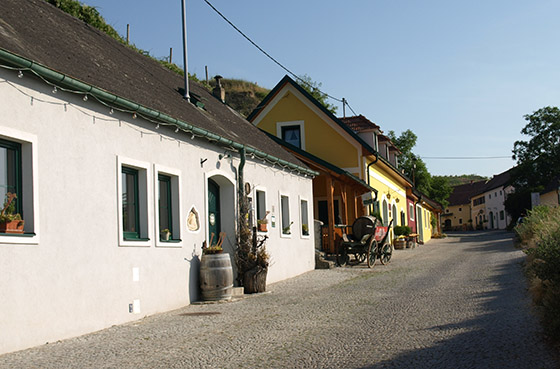 The bicycles were fitted on the car but renting is an option is larger towns. Even using public transportation does not hinder cycling as bikes can be transported on trains, buses and even on the underground and suburban trains (U- and S-Bahn Wien) in Vienna.
Bicycle roads are in good condition, and even though they are not too wide, there is an extensive road network with most paths asphalted and dedicated to cycling. Fortunately, main roads had to be crossed or used only few times. As trees line these routes, it was really enjoyable to cycle even in the heat. The large number of information signs guarantee that we do not get lost. Resting areas with benches and trashcans are also everywhere.
Wachau Wine Region gives only a small percentage of Austrian wine production but it is the most-well known area thanks to the quality of its wines. The landscape we saw most often was the hills towering over the Danube with beautifully cultivated vineyards. This is a sight for sore eyes and not only for winelovers; the countryside is truly wonderful.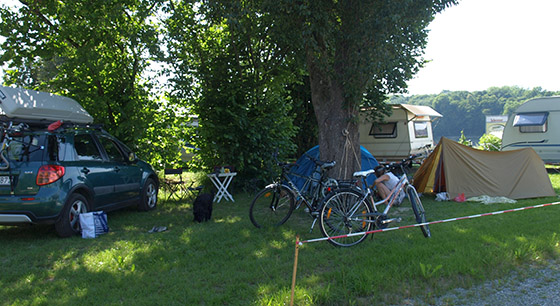 The Danube valley between Melk and Krems is a UNESCO World Heritage Site. Humans live in this area since the prehistoric age as the nearly 30 thousand year-old statuettes of Venus of Galgenberg and Willendorf prove it so. The region is famous not only for its excellent wines but also of the apricot grown here (we could see many information boards in various locations and learn about different types, cultivation and culture related to apricot). We did not consume any alcohol while cycling but in the evenings we really enjoyed sitting on the terraces of wineries sipping local wines, especially Grüner Veltiner and Riesling. There are several wineries and beautiful cellar rows but we found only some places open. According to local residents, those wishing to drink some wine are luckier if they come at the weekends. It is also customary that (between April and November) owners open their cellars only at previously announced times. Our last place of stay offered us a real treat. The terraced vineyards of Rohrendorf bei Krems have been cultivated since the 8th century providing fantastic wines, particularly for the Melk Abbey. The longest cellar row of Austria is to be found here with 72 cellars stretching along 1.65 kms.
The weather during our trip was pleasant with the sun shining and a cool breeze blowing. This is how we could cycle 20–25 kilometres daily taking a lot of photos on the way. In the afternoons and evenings we left the bikes beside the tent and drove to the sights nearby. The world-famous Melk Abbey, the Schönbühel Castle and the Göttweig Abbey in Furth all lit up when the sun goes down. The view from our camping site on the opposite bank of the Danube was especially romantic with the full moon rising. During the day, it is the vineyards that make the landscape charming. It is worth climbing or riding up the hills so that we could admire the Danube and vineyards from a different perspective, as well.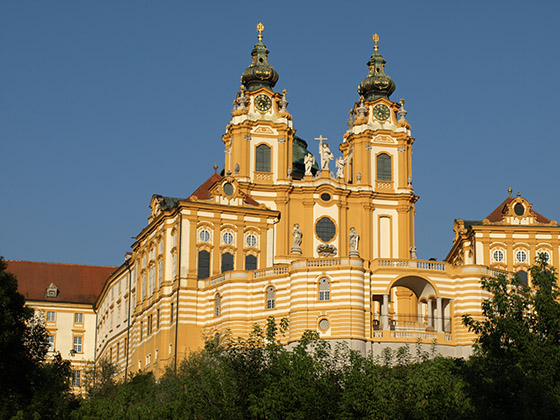 All in all, the Austrian Danube Valley is a truly fantastic place situated not far from Vienna; it takes only an hour by car. This is not a great price to pay for this wonder.