Villány has perhaps been best known over the last couple of decades for dense, muscly reds, generally from Bordeaux varieties. Indeed, it is endeavouring to make Cabernet Franc its flagship variety over time with the moniker Villányi Franc. A French winemaker came to the region in the nineties and planted Bordeaux varieties. On leaving after ten years, he said that he had never tasted such good Cabernet Franc in France. So the story goes…. However, it seems to be questionable whether there is currently enough of the variety to turn it into the flagship variety.
On the other hand, some winemakers, including Béla Jekl, currently the President of Pannon Bormíves Céh (an association of some of the top Hungarian winemakers), have shown that Villány is also capable of making outstanding juicy, lighter wines from Pinot Noir, Kadarka and the region's second flagship wine Portugieser, which has been present here for the last 300 years or so.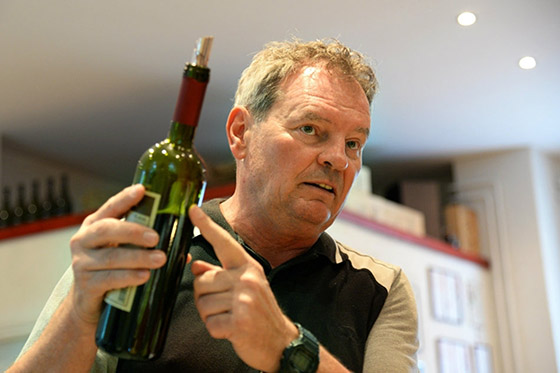 The whole family pitch in at the Jekl family winery in Villány. Béla Jekl, who founded the winery in 1996, is responsible for the viticulture and winemaking activities, his wife deals with the design, Flora, his daughter, runs marketing activities but also helps to put together the wines and Alfréd, her brother, works in the vineyard alongside his father.
The family has ten hectares under vine, which they would like to double, mostly 15-20 years' old vines, in some of Villány's best vineyards, such as Fekete-hegy (Black Hill), Jammertal, Somsich and Ördögárok. Béla's professed favourite is Ördögárok, where the old presshouse and the Kadarka can be found. Unfortunately, heavy rain prevented us from visiting the vineyard and tasting the Kadarka en situ. This heavy rain is also leading to concerns about the grapes which are still on the vines. Although they were lucky enough to escape the frosts here, the weather this year has not been too fortuitous – lots of rain, and not at the right time either! Kadarka is a particularly fickle grape, late-ripening, thin-skinned and sensitive to pretty much everything, meaning you can only make great wines in very good years, on average perhaps every three or four years or so. In poor years, if the Kadarka survives, it will often end up as rosé. This year, if they can't make a red, Béla says, it will most likely be turned into siller, meaning that it will spend about two days macerating on its skins, rather than the few hours required for rosé.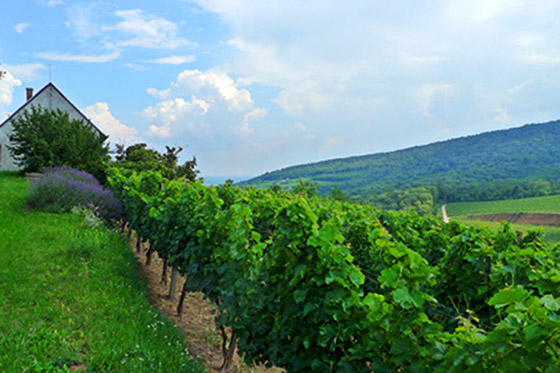 I learn there are 8000 hectares of Kadarka in Hungary and that the variety has been here in the Carpathian Basin for 300 years. Often not thought too highly of in the past, people are now starting to take Kadarka more seriously, realising its potential and uniqueness. You can also make a kind of 'szamorodni' from it if the berries are left to shrivel on the vines – but nobody really makes this in Villány. Some Kadarka initiatives include: The Kadarka International Wine Competition, which was held for the nineteenth time in Kiskörös this year; a Kadarka Szalon, now held yearly in Budapest's Vajdahunyadvár; and for the last four years, a 'Kadarka Kör' (Circle) has been active in promoting the variety. Jekl's 2009 Kadarka Premium won the Champion's prize in Kiskörös and the 2012 won gold. Incidentally, Kadarka is sometimes referred to as 'Hungary's Pinot Noir', although whether it is actually capable of equalling its French rival is something that certainly remains to be seen!
Pinot Noir is not a variety that you would tip as a star performer in this hot wine region, however, Béla has been achieving significant results with his Pinot here in the 'Devil's Cauldron'. He recently did a vertical tasting and found that the '94 and '95 are still in good shape. He started to focus on Pinot Noir in the mid-nineties when everyone else was setting their sights on Cabernet Sauvignon. As he says, it has no difficulty in ripening fully, unlike Cabernet, and it doesn't rot, so seems like a safer bet. However, it is a difficult variety in Hungary as most people are not too familiar with it and thus far has not performed overly well in Hungary either.
His philosophy with Pinot Noir is this. The variety doesn't like to be macerated too much, so he performs a cold soak, a cool ferment and is careful with his barrel selection, using 6-8-year-old barrels, as Pinot doesn't take well to new oak. His Pinot is a German clone, which yields a concentrated, higher alcohol, long-lasting wine due to its acidity and tannic structure, and he has 1.2 hectares planted on the south slopes of Fekete-hegy. It goes extremely well with blue cheese, we discovered.
Flora, representing the next generation of Jekls is also endeavouring to bring a lighter touch to the region with her range of 'Il Primo' branded wines, which, in the case of the reds, aims to make a fruity, quaffable wine that is nevertheless still full bodied. The range is named after the coffee shop which she used to run in Budapest. She still maintains her interest in coffee and served up delicious coffee for everyone after the tasting.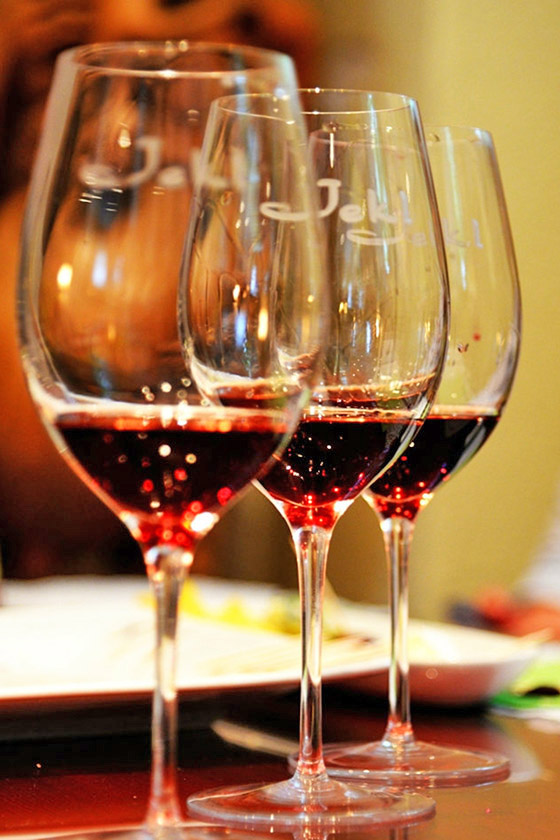 Tasting notes
Il Primo Rosé Frizzante (Pinot Noir, Kadarka and Syrah) I 83 points
Pale, elegant salmon colour. Fresh, light and fruity, with a touch of sweetness. Bright strawberry, cherry and white peach. Very quaffable, a perfect aperitif.
Portugieser 2016 (Primeur) I 82 points
Pale cherry purple colour. With aromas of cherry, cranberry and fresh blueberry. Juicy fruit with some raspberry jam, wild strawberry, a little earthiness and some floral notes. Relatively high acidity, but smooth, light tannins. The grapes were harvested early – this will be the winery's Martin Day's Wine.
Portugieser 2015 I 84 points
Medium intense wine, light-bodied with fresh acidity and fine-grained tannins. Packs a punch with plenty of primary flavours of dried raspberry, fruits of the forest, plum, cherry, beetroot and violet. This is complemented with a touch of spice, some toast and meatiness.
Kadarka Premium 2015 (south side of Ördögárok, 16-year-old vines, barrel sample) I 88 points
Lovely ruby colour with plenty of bright cherry, plum, violet and spice on the nose. Medium bodied with smooth tannins and zippy acidity but slightly warming alcohol. Plenty of cherry on the palate too with some dried raspberry, sour cherry and pomegranate, along with some paprika, cloves, toast, mushroom and meatiness. Long finish.
Kadarka Premium 2012 I 93 points
Surprisingly rich and full bodied for a Kadarka and showing some lovely signs of bottle age. Deep ruby in colour. A ripe juicy nose of black cherry, bramble, prune, dried raspberry and cranberry with some spicy paprika. The rich fruit is mirrored on the palate along with some rosehip, dried fruit, forest floor, tobacco, leather, toast and some animal notes. Complex and multi layered, with a long lingering finish.
Syrah 2013 (Fekete-hegy and Jammertal) I 89 points
Medium purple. Elegant on the nose with attractive black cherry and blueberry fruit together with Syrah's signature black pepper and a slightly floral character. Fresh acidity and slightly grippy tannins. Full bodied with plump ripe fruit, leather, stable, dried leaf and tobacco. A well balanced wine, although the alcohol is perhaps a tad on the high side. Long finish.
Pinot Noir 2011 I 89 points
Attractive pale ruby. Intense nose of cherry, plum, raspberry, mushroom, dried leaf, toast, coffee and tobacco. Very fruit forward with lovely ripe, verging on overripe, fruit. Nevertheless, retains crisp acidity, velvety tannins and feels light and elegant, despite its 14.5% alcohol.
Pinot Noir 2002 I 93 points
Attractive garnet colour. Dried fruit such as cherry, prune and rosehip along with plenty of tertiary character such as forest floor, mushroom, coffee, tobacco and leather, with some spicy clove notes. Medium bodied, with fresh acidity and fine, silky tannins. Elegant and balanced. Long finish dominated by dried fruit.
Pinot Noir 2003 I 94 points
Has maintained its primary fruit character significantly better than 2002. Pale ruby, very fresh and still extremely fruit forward. Aromas of cherry, plum, raspberry and mushroom. Nose still dominated by primary fruit. Sour cherry on the palate with ripe, juicy plum, some floral notes and a touch of coffee. Crisp, zippy acidity with fine, silky tannins. Elegant and fresh with a long finish.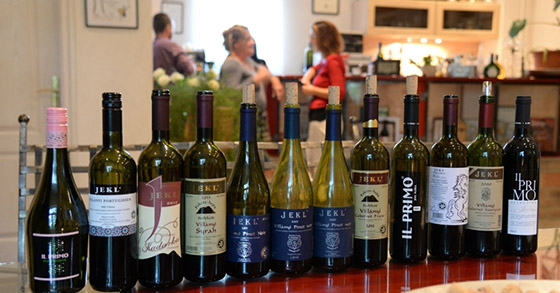 Villányi Franc 2011(selected grapes from Fekete-hegy) I 92 points
Black cherry, blueberry, violet, chocolate, spice and leather on the nose. Rich, intense and full bodied with fresh acidity and velvety tannins. Juicy bramble, fruits of the forest and toast with just a touch of green pepper. Attractive, elegant wine with a long finish.
Il Primo 2012 (Cabernet Franc, Merlot, Cabernet Sauvignon) I 88 points
Intense on the nose with cherry, bramble, sloe, plum, dark chocolate and prune. Very fruit forward with plenty of dark forest fruits, rounded out with smoke, leather and cedar. Rich and intense with fresh acidity, grainy tannins and slightly warming alcohol. Elegant wine with relatively long finish, although tannins are perhaps still a little grippy.
Unicornis Fekete-hegy Merlot Selection 2012 I 90 points
Intense nose of dark plum, prune, cherry, bramble, chocolate, leather, smoke, tobacco and coffee. Full bodied with fresh acidity and smooth tannins. Rich and fruity with damson and rosehip on the palate. Elegant and balanced but alcohol dominates a little on the finish.
Cabernet Sauvignon 2000 (6-year-old vines, 2 years in oak) I 92 points
Nectar of black, black fruit. Cherry, blackcurrant, blackberry and sloes rounded off with toast, cedar, leather and pencil shavings. Oak is a little dominant on the nose. A complex wine with fresh acidity and velvety tannins. Plenty of overripe fruit and liquorice. Still very fruit forward despite its age. Very long finish.
Cabernet Sauvignon 2013 I 86 points
Dark plum and cherry fruit with some chocolate and a touch of cedar and toast. On the palate, smooth, velvety tannins and lively acidity. Earthy notes of fallen leaves, smoky bacon and leather, with a whiff of perfume.
Il Primo Cabernet Franc and Merlot Selection 2012 I 84 points
Ripe blueberry and plum with some floral notes. Lively acidity with ripe, smooth tannins. Fresh and fruity on the palate with a touch of leafiness. Balanced and very drinkable.
Photos by Piroska Koltai