It's quite a rarity here in Hungary to be able to taste wines from its neighbouring countries and further east, so I jumped at the chance to attend a tasting at the Central European Wine Institute focussing on Balkan wines and wines from the Middle East, in this case Lebanon and Israel. Moreover, there was going to be a specialist guest speaker, which also piqued my interest, and it turned out to be no other than Daniel Ercsey!
As it happened, the description 'Head East' turned out to be a little misleading in part, as to my mind Croatia and Montenegro lie to the south of Hungary, not to the East, and Georgia is in the Caucasus rather than the Balkans. But that would be pit picking…. Anyhow the tasting promised to be interesting, with wines from Croatia, Montenegro, Romania, Georgia, Lebanon and Israel.
These aren't countries the average consumer would associate with serious wines. Maybe you've quaffed some local wine whilst on holiday in Croatia, or had some cheap Romanian wine from the supermarket, but probably you've never set foot in Montenegro and certainly don't imagine they make wine there. Whilst only the wine geeks know anything about wine from Georgia, Lebanon and Israel. However, there's plenty going on there!
Our whistle-stop tour began in Croatia with a wine from the Pelješac Peninsular in the Dingač region in southern Croatia. A region which often gives wines with a salty flavour due to its proximity to the sea. There is always plenty of sun, but not much rain, with the vines rather obtaining their moisture from the mists rolling in from the sea. The wine was made from the Plavac Mali variety, which we discovered was cultivated everywhere in Dalmatia and the Croatian islands.
Skaramuč Winery, Plavac Mali 2013 I 86 points
Pale ruby wine, relatively intense on the nose with aromas of blueberry, black cherry, spice, cognac cherry and noticeable alcohol. Medium-bodied with fresh acidity, grainy tannins and flavours of plum, prune, cherry and some sweet spice. Alcohol persists a little on the finish. A lighter style of Plavac Mali.
Moving onto Montenegro, another even more undiscovered wine land, we taste a wine composed mainly of Vranac (also found spelled as Vranec), Montenegro's main variety. Apparently, it's difficult to get your hands on 100% varietal wine, so we tried a blend. The winery is located near Lake Skadar and consists of one of the biggest continuous vineyard areas in Europe, covering about 2300 hectares with about 115 million vines!
Plantaže Winery, Vladika 2013 (80% Vranac, 10% Cabernet Sauvignon, 10% Merlot) I 85 points
Dark ruby, with intense aromas of black fruit, black cherry and blackcurrant, smoke, chocolate and a slightly animal note. A little woody on the palate, with slightly grippy tannins and flavours of prune, black cherry, cloves, toast and coffee. Although relatively fruit forward, there was an alcohol burn due to the high alcohol (14.5%) and a slightly metallic, bitter finish.
Now we do head East, to Romania, Hungary's neighbour immediately to the east. Although many people are not aware of this, Romania is perhaps the most important wine producer in Eastern Europe, quantitively speaking, with immense unrealised potential. Although they produce vast amounts of varietally labelled wines, they also have some varieties of their own, in many cases, in common with Hungary, including the Fetească family (in Hungarian, Leányka). We taste a Fetească Neagră (Fekete Leányka) from the Recas winery in the Banat region, one of the biggest in Romania and certainly one of the largest exporters, including to the UK, owned by Englishman, Philip Cox.
Recas, La Putere Fetească neagră 2015 I 84 points
Medium purple in colour. Floral and fruit notes of cherry, raspberry and plum on the nose with some coffee undertones. Rather dominant alcohol on the palate along with slightly grippy tannins and rather flabby acidity. Flavours of cherry, raspberry ham, bubble gum, pomegranate, dried fruit and milk chocolate. Oak rather dominant and somewhat warming on finish.
Now onto Georgia, which many claim to be the cradle of wine-making. Certainly, the country sells itself as having 8000 vintages to its name along with 5000 or so autochtonous varieties. A melting pot where Turkish, Persian and Russian gastronomy meet. Georgia wine is currently in fashion and high on the bucket list of wine geeks, partly thanks to its orange wines, its wines produced with skin and stem contact in qvevri. The Khaketi region, originally its own kingdom, is responsible for 70% of the country's wine. Our first wine, from the Rkatsiteli variety, comes from here.
Koncho&Co, Rkatsiteli Qvevri 2012 I 89 points
Pale golden wine. Very aromatic and perfumed on the nose with jasmine, frankincense, pine resin, ginger and mandarin. Complex on the palate with a touch of tannic grip, crisp acidity and flavours of apricot, candied lemon peel, ash, honey, ginger, hay, peach, herbs and a long spicy finish.
Another key grape in Georgia is the Saperavi variety, and our next wine also comes from the Khaketi region, from the Mukuzani Specific Viticultural Area, where most wines are 100% Saperavi.
Marani, Mukuzani 2013 I 87 points
Dark purple, smoky black fruit, cherry, chocolate, toast, vanilla and charcoal on the nose. Again high alcohol, full-bodied with robust tannins and generous fruit. Flavours of black cherry, herbs, oregano, chocolate, leather, sweet spice and a touch of leather. Slight bitterness on the finish.
We leave Europe behind and head to two other countries with ancient viticultural traditions: Lebanon and Israel.
Lebanon has 6000 years of viticultural traditions although the wine culture did disappear for four or five centuries before being reintroduced by the French in the 1800s, making Lebanon the food and wine 'workshop' of the Middle East until civil war broke out in the country in 1975. Before the war, the country cultivated mostly Rhône varieties, whereas afterwards Bordeaux varieties came to the forefront. Only one winery, Chateau Musar in the Bekaa Valley, the country's best known winery, founded in the 1920s, harvested throughout the war. We tasted two of their wines.
Chateau Musar, Jeune White 2015 (30% Chardonnay, 30% Viognier, 40% Vermentino) I 89 points
Complex perfumed wine with aromas of peach, yellow apple, honey, pear, quince, lemon, apple, apricot, blossom and a slight nuttiness. Full-bodied with warming alcohol, the palate reflects the nose together with a touch of salt. Long, lingering finish and a hint of tannic grip.
Chateau Musar, Hochar Père et Fils 2011 (50% Cinsault, 30% Grenache, 10% Carignan, 10% Cabernet Sauvignon) I 88 points
Intense on nose with black cherry, plum, toast, coffee and dried leaves. Full-bodied with fresh acidity, slightly grippy tannins and spicy flavours of dried and cognac cherry, prune, tobacco and forest floor. Noticeably high alcohol and a rather drying finish.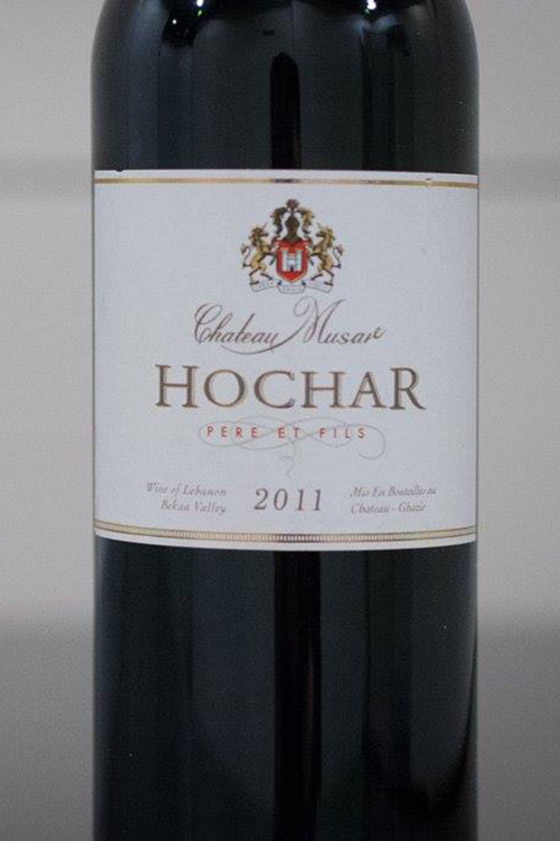 Israel may also seem like a strange place to cultivate vines, but they are grown in areas that are high and cool such as Upper Galilee and Golan Heights. Production is dominated by Cabernet Sauvignon and wineries build brands like in the new world. There are about 40 wineries in total, three big players and lots of small 'garagistes'. We tasted two wines from the Dalton Winery in Upper Galilee, whose wines rather represent the new world style.
Dalton Alma White 2014 (66% Sémillon, 18% Pinot Gris, 16% Viognier) I 86 points
Pale lemon. Toasty, nutty and smoky on the nose, with hints of blossom and lemon. Crisp acidity but rather high alcohol with flavours of green apple, blossom and a medium, salty finish with perhaps a touch of residual sugar. Very quaffable.
Dalton Red Canaan 2014 (Cabernet Sauvignon, Merlot, Petit Sirah, Mourvèdre, Shiraz) I 87 points
Black and red fruit bomb with some pepper, tar, chocolate, liquorice and mint. Full-bodied and fruit-driven with plenty of ripe blackcurrant and cherry, a touch of green pepper, menthol, sweet spice and some sweetness on the finish.
An eclectic range of wines and an informative presentation, many thanks to Daniel Ercsey and András Horkay. A follow-up magical mystery tour is planned for next year, this time around the lands previously under the control of the Austro-Hungarian Empire.
Photos by Attila Kovács