I began my series of Austrian tastings this April, but life turned out in such a way that I only found time to publish them now. There's a mountain, or rather a hill, that the national border cut down the middle. Nowadays, Vashegy is Hungary's westernmost wine region whereas Eisenberg DAC is Austria's easternmost. Anyway, the best areas, Iron Hill (Vashegy in Hungarian) itself, is the only promontory that the border actually cuts in two.
Numerous anecdotes circulate about the relatives and family members left on the two sides of the freshly drawn border, although this probably didn't really hurt at the end of WWI but rather after 1945 when the Iron Curtain prevented communication and travel to neighbouring countries. So, family members might well have shouted over to the neighbouring country while working in the vineyard to enquire about their granny's health…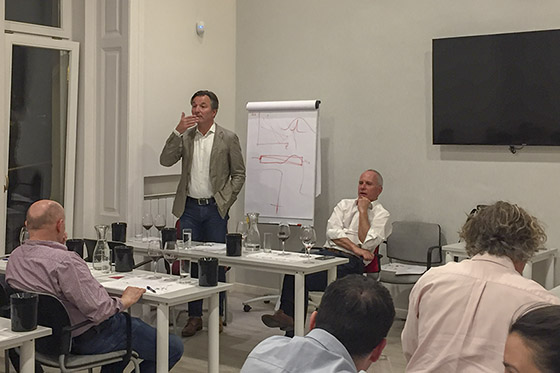 Photo: Daniel Ercsey
If there is one important black grape variety in Austria, then it has to be Blaufränkisch. At least in the Burgenland, elsewhere Zweigelt actually reigns. Well, the Burgenland originally (for 1000 years) was part of the Kingdom of Hungary; Hungarians, Austrians (Germans), Croatians and, to a lesser extent, Slovenes lived there too; and the region's capital was Odenburg, nowadays the city of Sopron in Hungary. Therefore, once the borders were drawn, the Burgenland was left without a capital. However, the vines remained there! (Of course, around Sopron too, the city still calls itself the capital of Kékfrankos, as Blaufränkisch is known in Hungary!)
Thanks to the Austrian marketing machine, Blaufränkisch is now considered an Austrian variety, although there are only 3,000 hectares in Austria as opposed to 7,300 in Hungary! Following this short thought-provoking introduction, I should add that Blaufränkisch is well ahead of Hungarian Kékfrankos in uniformity of style, communication as well as concerning respect and price.
Imre Garger has been working with wine since 2004. He planted vines in Vashegy at that time and then his Viennese cousin Rainer Garger joined him. Imre has 2.5 hectares, Rainer has 4. They made their first wine in 2007; Imre does everything in the vineyard whereas most of the wines are produced in Austria, either in the Krutzler winery or on the Wachter-Wiesler estate. Until 2009, bottling was done jointly with Thomas Wachter, so the 2007 and 2009 Garger wines also contain some of Thomas's grapes.
Vashegy – Green slate, mica, overlaid with clay. There is also some brown forest topsoil.
Garger Rosé 2017 I 85 points
Restrained nose of purple flowers and some salty notes; no aping fashion and no tutti-frutti notes here. Medium-bodied with lovely acidity and restrained fruitiness – rather floral with the bitterness of tonic water.
I don't know what the exact definition of artisanal wine is, I simply know that I did plenty of work by hand.
Imre Garger
Garger Kékfrankos 2015 I 86 points
Sweet fruitiness, a touch of yoghurt, sour cherry yoghurt and cherry. Medium to full-bodied with intense mature fruit, warming with fine tannins, tight structure and fresh acidity. Slight note of bitterness on the finish. Still very young.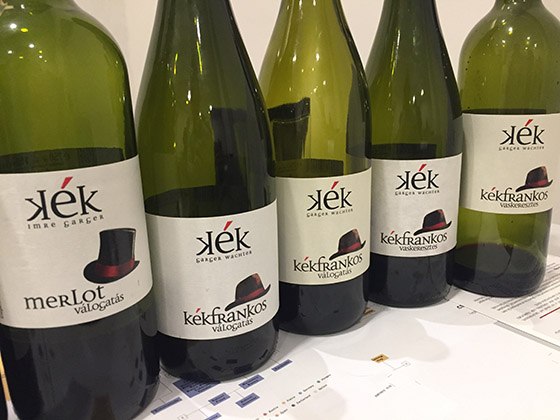 Photo: Daniel Ercsey
Vashegy was already cut in half by the border in 1922 because Sopron was returned to Hungary as the result of a referendum, i.e. the entire hill had belonged to Austria from 1918 to 1922. Most of the vineyards are in the village of Vaskeresztes, around 200 hectares, of which 100 hectares are on the old Vas Hill.
Garger Kékfrankos 2014 I 88 points
Restrained on the nose with a slight herbal note. Tight, fresh and coolly elegant on the palate with plenty of sour cherry and some plum and cherry. Extremely complex with good acidity. An elegant wine with a medium to long finish. Opens slowly.
History of the label: the first was designed by Thomas Wachter. The hat is the main motif. He worked in a wine shop in Vienna for eight years, the hat did not feature on the first label.
Garger Kékfrankos 2012 I 90 points
Enticing nose, full, warming yet elegant Austrian style with plenty of fruit. Lovely execution on the palate too with bright acidity, a full body, dense fabric and attractive tannins. Long finish.
Garger Kékfrankos 2010 I 91 points
A touch of "wetness" on the nose, like a hillside after rain with straw, flowers, herbs and sour cherry. Medium-bodied with vibrant acidity. The entire wine is intoxicating, it has a kind of restrained exhibitionist tendency. Long finish. Wow!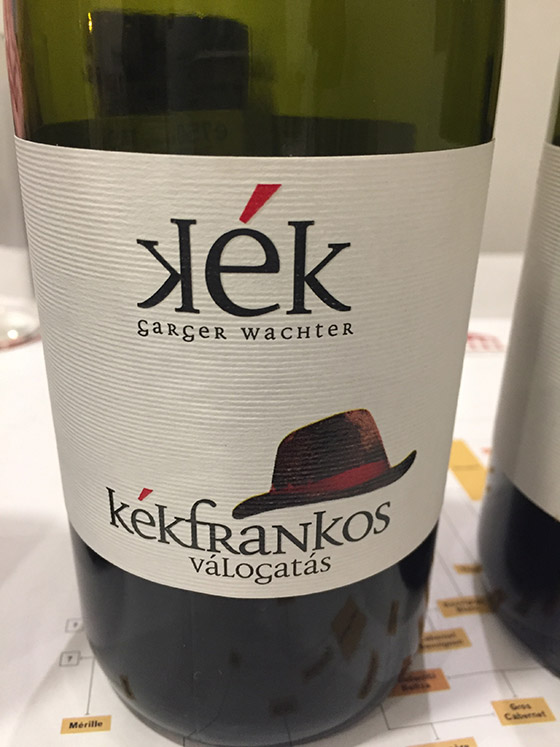 Photo: Daniel Ercsey
Garger Kékfrankos 2009 I 89 points
Lovely maturity with plenty of sweet spice, red berry fruit and a touch of black berries in the background too. Full-bodied with bright acidity, firm tannins, enticing spiciness, mint and cherry. Long and muscular with complexity of flavour.
Garger Kékfrankos 2007 I 91 points
Lovely maturity on the nose with the fruitiness already playing a secondary role, a little strawberry jam and some spice in the background. Medium-bodied on the palate with fresh acidity and flavours of mint, a pinch of anise, strawberry jam and balsamic vinegar. It's in wonderful shape. Medium to long finish, packed with spice and sour cherry stone.
Garger Cuvée 2010 I 88 points (Merlot, Kékfrankos 50-50%)
The nose is a little dubious at the beginning, but later shows lots of fruit. Medium to full-bodied on the palate with lively acidity, sour cherry and cherry; unfortunately, however some green notes also appear, later some spiciness and elegant tannins. Nevertheless, vibrancy and intensity dominate as does attractive fruitiness. It may be worth waiting a while with it.
Garger Merlot 2012 I 87 points
Deep almost opaque in colour. The nose shows clear varietal character with serious fruitiness, black berry fruit, some dark chocolate and a pinch of pipe tobacco. Dense structure, full body and warming, Mediterranean character with bright acidity and the tannins holding it all together. Black berry fruit lingers on the long finish.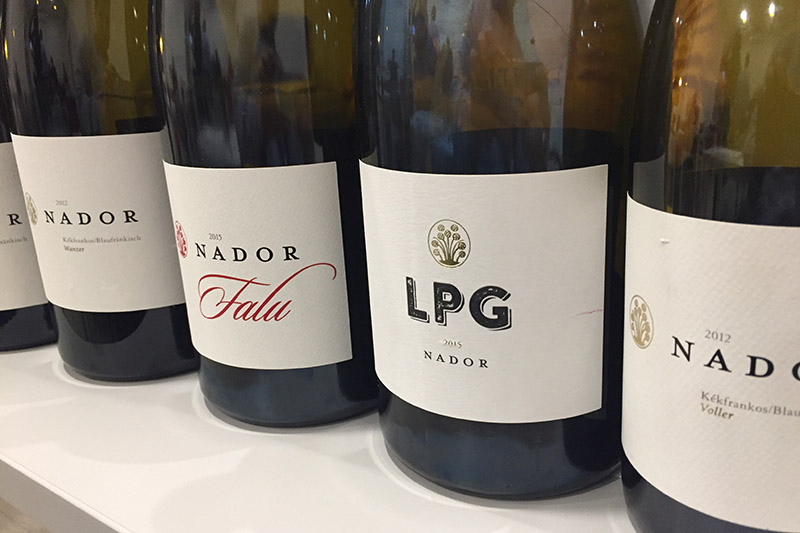 Photo: Daniel Ercsey
"Nádor is my passion" said Rainer Garger.
Vashegy has such marvellously mineral terroir that it's almost only possible to produce such wine here. Its wines are not like any other wines. The Hungarian vineyards are not just copies of those on the Austrian side, the microclimate and soil are different on the two sides.
Nador "Cuvée" 2015 Falu I 87 points (100% Kékfrankos, from various vineyards)
Youthful nose with plenty of sour cherry and laxity. Very drinkable, with silky tannins, lovely fruitiness and super acidity. A wine you could easily get hooked on! This is how you can come to love Kékfrankos!
Nador LPG Selektion 2015 I 90 points (1 year's maceration on the skins in amphora)
Lovely spiciness and flowers on the slowly opening nose. Amazingly elegant on the palate with smooth tannins, tingling acidity, deep, ripe fruitiness and purple flowers. Long finish. Still very young.
Nador Wanzer Kékfrankos 2012 I 88 points (this is a higher vineyard)
Restrained nose (magnum) with a mineral character and lots of red berry fruit, flowers and spice. Salty minerality on the palate, plenty of fruit, elegant structure, fresh acidity and medium plus body. The finish is also long and fruity. The tannins are still very tight.
Nador Voller Kékfrankos 2012 I 90 points
An almost lush nose compared to the previous wine, warm with ripe fruitiness, sour cherry, cherry and plum. Medium to full-bodied with plenty of fruit, ripe and succulent with great acidity. Very, very drinkable, with a long finish.
Nador Kékfrankos 2010 I 87 points
Slightly barnyardy nose, somewhat reminiscent of Syrah, then some intransient forest floor, then violet and sour cherry, now seems more like Pinot. Lively acidity on the palate with plenty of grippy tannins and fruit. The acidity prolongs the finish. Would be worth laying this down a little longer.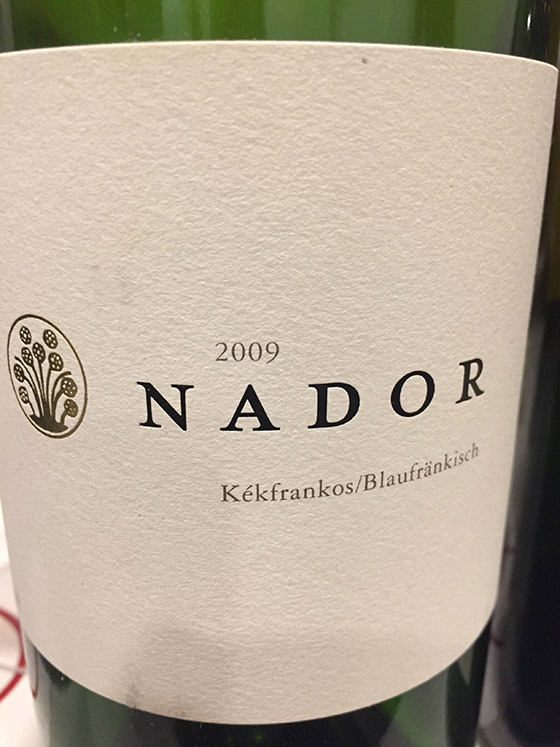 Photo: Daniel Ercsey
Nador Kékfrankos 2011 I 86 points
Overripe blackberry, some blackcurrant, fruits of the forest on the nose, all very Mediterranean. Full-bodied on the palate with bright acidity and an enticing character with flavours of black berry fruit dominating. A much warmer wine than those before, more robust, with a medium finish.
Nador Kékfrankos 2009 I 91 points
Intoxicating nose with lovely maturity, minerality ripe fruit, mature jam and bacon. Full-bodied on the palate with medium acidity and lovely tannins. Dominated by flavours of fruit like strawberry, sour cherry, cherry and redcurrant with a background of spice as if the tannins had just become supple. As if it had just come of age. Long, it's in wonderful shape now.
It was interesting to see and taste that such different kinds of wines can also be produced by a split-identity family on Eisenberg's Hungarian side too, wines which are extremely successful in both Austria and Hungary. This is the case when the former Austro-Hungarian Monarchy is resurrected, or if you prefer, when something that belongs together grows together. Way to go, Garger family!