October is the time to celebrate Hungary's iconic red blend and hungaricum, Egri Bikavér. The warm days of summer have gone and even this year's Indian summer is coming to end, so time to switch from refreshing white Egri Csillag, whose place is firmly in the summer months, to its older, fuller-bodied spicier red sibling.
The siege of Eger Castle by the Ottomans ended on 17 October 1552, and as the name of Egri Bikavér is closely entwined with this emblem of patriotic heroism in Hungary, it is only fitting that the wine should be celebrated around this time too. This year, Eger's legendary wine was celebrated for ten days in the region beginning on 18 October, Egri Bikavér Day, with events including a gala dinner, cellar tours and exhibitions, as well as the Grand Egri Bikavér Tasting on 21 October. This took place in the imposing Banquet Hall of the Liceum of the Eszterházy Károly Catholic University in Eger's historic city centre, with over 20 winemakers personally pouring their best Bikavér wines for visitors.
Age worthiness of Egri Bikavér
Simultaneous to the walkaround tasting, a masterclass led by Dr Gabriella Mészáros, author of numerous books on Hungarian wine, walked professionals through 13 Egri Bikavér wines from Eger's best wineries. It was a great chance to taste Bikavér with a few years' bottle age. Like elsewhere, these wines are often drunk too young and are no longer available after a few years, when they would potentially be in a better drinking window. In this case, we were lucky enough to taste some wines which are no longer on the market and see how they have held up (and improved) after several years in bottle.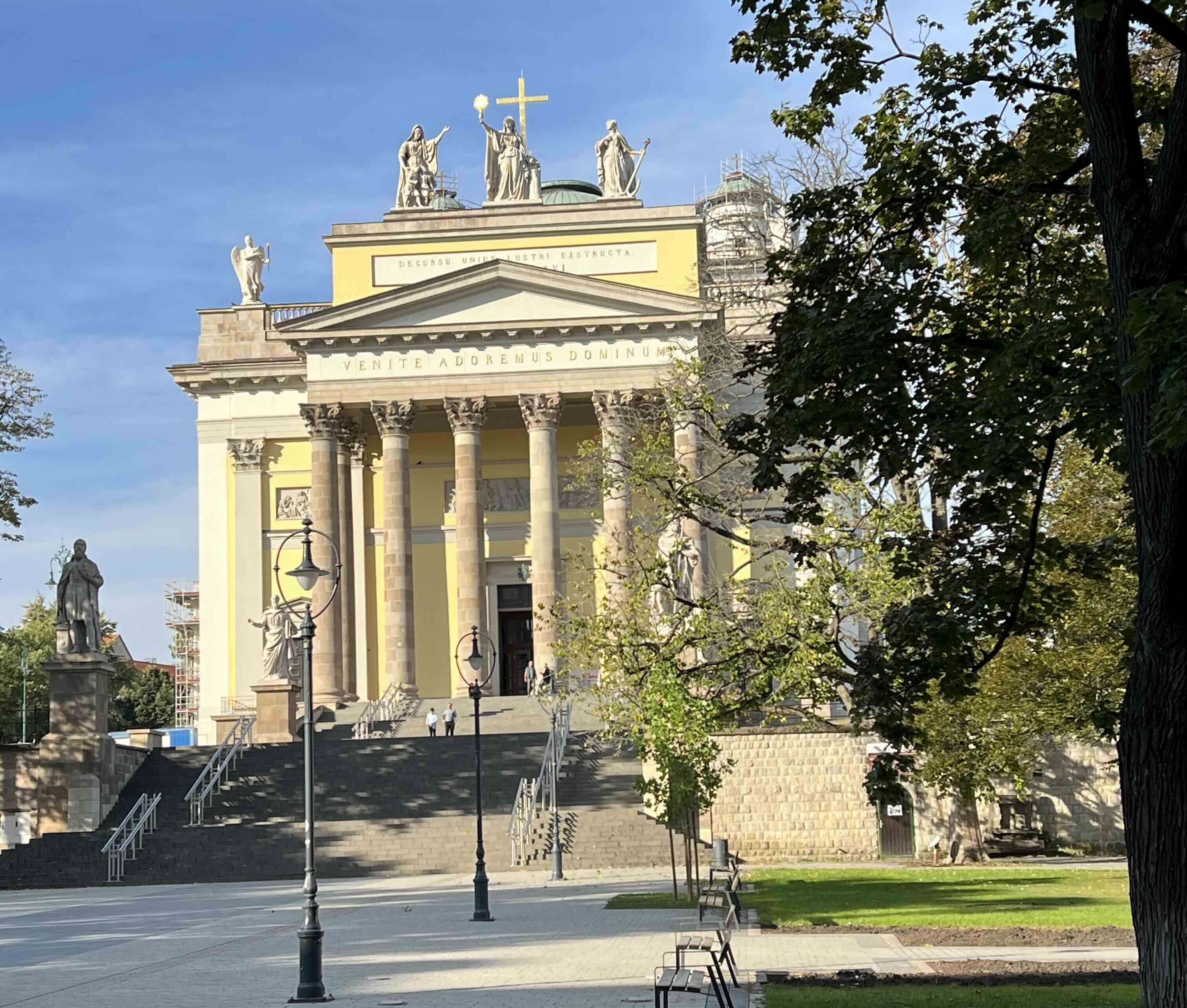 We tasted 13 wines ranging from 2021 back to 2013, none of which showed the slightest hint of being tired and past its best. The 2013 Rhapsody Egri Bikavér from Kovács Nimród, always a very reliable consistent Bikavér, was drinking beautifully now, with a lovely, evolved nose of dried fruit and tobacco and a floral hint. The acidity was still fresh, the tannins nicely resolved, with minty, spicy freshness, leading to a long savoury finish. Mind you, I would probably not wait much longer to drink it. And this was 'just' a classic Bikavér rather than the superior and grand Superior versions requiring longer oak ageing (12 months vs 6 for the classic) and lower yields.
The sweet spot
The sweet spot seemed to be the wines from 2017 and 2018, both balanced years, but with 2018 offering particularly vibrant, fresh acidity, something which is in any case a hallmark of Eger – one of Hungary's coolest climate wine regions. The 3-4 years of time in bottle these wines had benefitted from had really allowed them to come in to their own, with the best still showing fresh primary aromas of black and red fruit and Kékfrankos spice, but now complemented by delicious layers of tertiary dried fruit, tobacco, forest floor and cedar. Bikavér's notoriously firm, sometimes rustic tannins, had resolved and softened, the oak was better integrated, and the wines felt more balanced and mellow and were significantly more enjoyable to drink. Even a more modestly priced Soltész Grand Superior 2018 wine from the Pajados dűlő, made by reliable large-production Ostoros Family Winery, was still drinking well.
These contrasted sharply with the two more youthful wines from 2021 and 2020, which felt significantly grippier on the palate and somehow not quite ready to drink in comparison with their more mature companions.
The blend effect
Egri Bikavér is Hungary's most renowned blend. It must be Kékfrankos dominant (30-65%) at all three levels – classic, superior and grand superior. Moreover, it must comprise minimum four varieties, but those varieties can vary widely depending on the winery and vineyard origin. The Kékfrankos can be complemented by any combination of the following 12 grapes – Kadarka, Portugieser, Zweigelt, Blauburger, Bibor Kadarka, Cabernet Franc, Cabernet Sauvignon, Menoir, Merlot, Pinot Noir, Syrah and Turán. So, as you can imagine the resulting blends can be widely different. For example, Kadarka can contribute finesse, elegance and a floral lift, while Pinot Noir also lends wines greater elegance, something that is noticeable in Tibor Gál's wines. The Bordeaux varieties tend to add body, but can dominate if present in too large a percentage. Some wines with Cabernet Franc may show a clear green pepper note, which I noted in the Thummerer Mezey-Öreg Grand Superior wine. Whereas relatively rare Blauburger often results in more aggressive tannins and a clear anise character, even a note of Ribena, as seen in Gergő Böjt's Superior Egri Bikavér.
Nagy-Eged Hill – Eger's Grand Cru terroir
And what of terroir? We tasted predominantly superior and grand superior wines, which generally express terroir more clearly than the entry-level classic wines, tending to have more distinctive minerality. Grand superior wines are the ultimate expression of Eger's terroir, in that these must be single vineyard wines. The region has quite diverse soils with lots of volcanic soils, including rhyolite tuff and dacite, so the differing terroir can result in considerable stylistic differences in the wines. However, there is one place that truly stands out.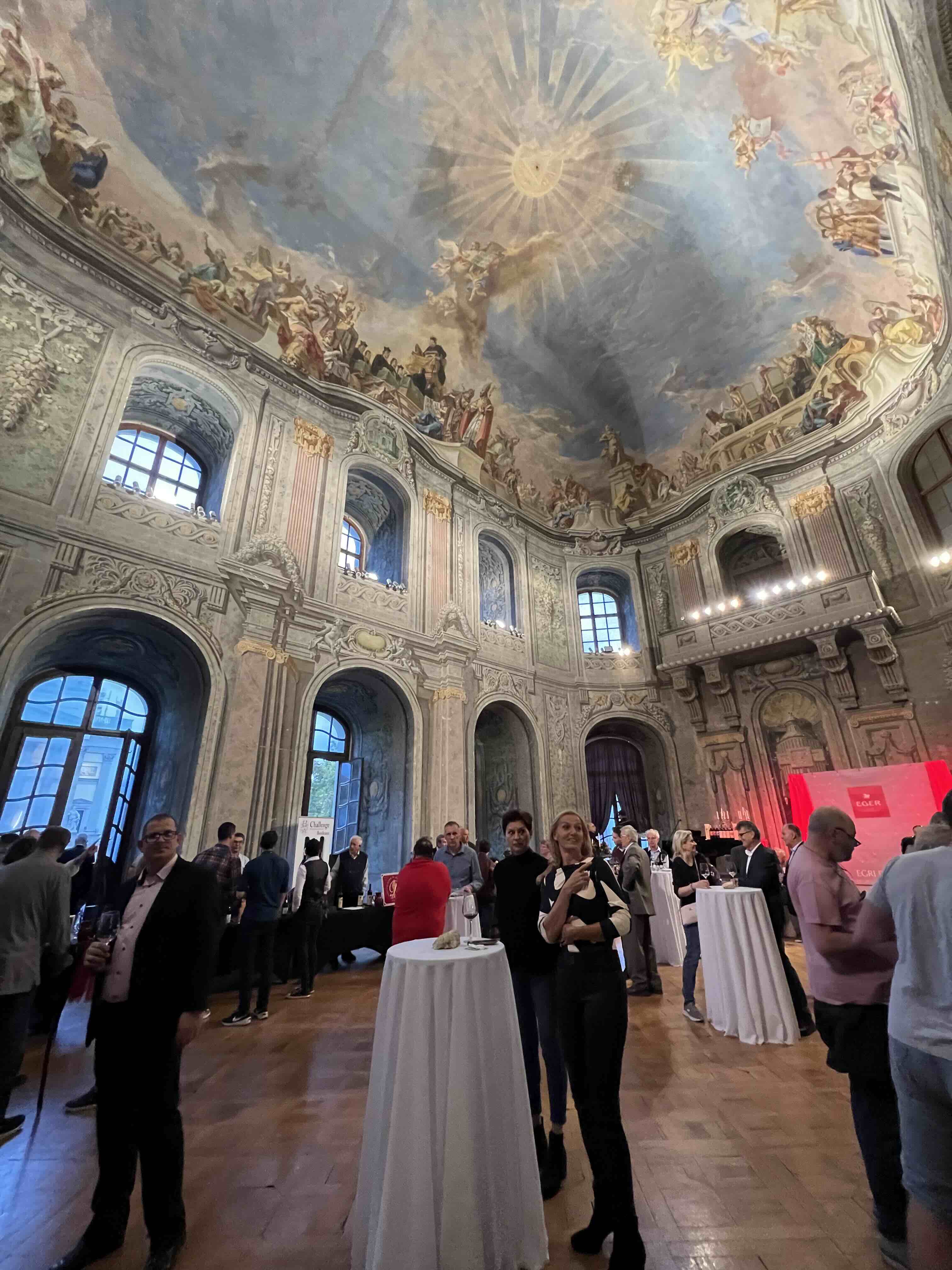 Standing at over 500 metres and Hungary's highest vineyard, Nagy-Eged Hill is considered Eger's most emblematic vineyard and were the region to have official premier and grand cru vineyards, it would surely be the grand cru site. Unlike much of the wine region, its soils are not rhyolite (tuff) but rather grey Triassic limestone with calcareous sediments, and this lends its wines a somewhat different character. The white or grey limestone rocks on its steep sides reflect the sun's rays, resulting in very ripe grapes, while its limestone subsoil combined with altitude mean that wines boast delicate, crisp acidity. The hill is divided into two dűlő – Nagy-Eged, comprising the lower slopes, and Nagy-Eged-hegy, comprising the upper parts above 250 m, where the steepest parts are terraced. This is the best-performing terroir, with poor soils, meaning vines which struggle to survive. All this results in smaller yields and more concentrated, structured wines, which despite the very ripe grapes, always retain their fresh fruitiness and vibrant acidity.
Thus, it's no surprise that 4 of my 6 top-scoring wines came from Nagy-Eged Hill! The top-scoring wine clearly belied its 2018 birthyear and was still almost purple in colour, demonstrating the power of Nagy-Eged-hegy!
Top 6 wines
St Andrea Szőlőbirtok, Agapé Nagy-Eged-hegy Egri Bikavér Grand Superior 2018 I 96 points
A blend of Kékfrankos, Kadarka, Pinot Noir and Syrah. Deeply coloured, still almost purple. Intense and chocolatey on the nose with concentrated ripe blue and black fruit, spice and anise. Rich and dense on the palate with plenty of peppery spice and unctuous dark fruit intertwined with minerality, a lovely vibrancy, fine tannins and a fresh herbal streak. Lingering finish with very elegant northern Rhône-like feel. Still has a very long life ahead of it.
St Andrea Szőlőbirtok, Nagy-Eged dűlő Egri Bikavér Grand Superior 2017 I 95 points
A blend of Kékfrankos, Kadarka, Pinot Noir and Cabernet Franc. Intense and smoky on the nose with bountiful dark fruit and some delicate tertiary hints of tobacco and dried fruit. Mellow and resolved on the palate with beautiful balance and lively acidity. Very long. Drinking beautifully now.
(NB – this wine scored 97 points at Decanter World Wine Awards and was also awarded best in show!)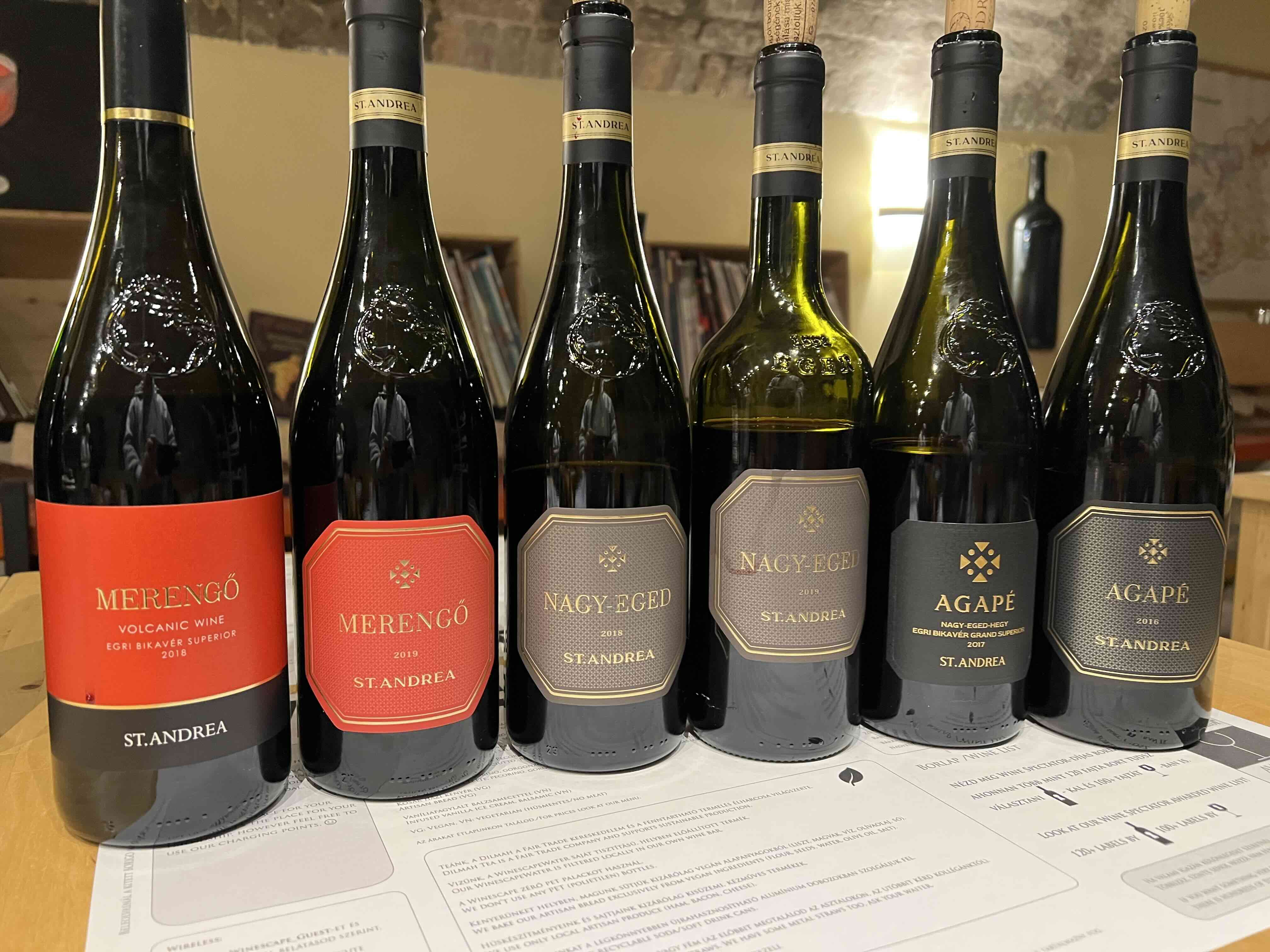 Thummerer Pincészet – Nagy Eged dűlő Grand Superior Egri Bikavér 2018 I 93 points
A blend of Kékfrankos, Cabernet Franc, Merlot, Syrah and Kadarka. Core of dark fruit with dried cherry and prune with a chalky undertow. Smooth, silky tannins and lovely, cool freshness with a hint of green pepper intertwined with the bright, concentrated fruit. Slight alcohol warmth on the long finish, but otherwise impeccable balance.
Gál Tibor Sík-hegy Egri Bikavér Grand Superior 2017 I 92 points
A blend of Kékfrankos, Kadarka, Cabernet Franc, Pinot Noir and Syrah. Spicy dark fruit with a hint of cherry pastille layered with oak spice, cedar, liquorice and truffle. Coolly elegant with silky tannins, lovely fresh lift, beautifully integrated oak and a long savoury finish.
Böjt Gergő Superior Egri Bikavér 2019 I 91 points
A blend of organic Kékfrankos, Cabernet Sauvignon, Pinot Noir, Zweigelt and Blauburger. Ripe nose of dried and fresh cherry and plum with a distinct Ribena, cassis note. Still a little grippy on the palate with concentrated juicy fruit, balanced by lively acidity and a long herbal, eucalyptus finish.
Thummerer Pincészet Mezey-Öreg dúlő Egri Bikavér Grand Superior 2018 I 90 points
A blend of Kékfrankos, Merlot, Cabernet Franc, Syrah and Kadarka. The Mezey-Öreg dűlő lies on the western side of Nagy-Eged Hill. Boasting ripe dark and red cherry fruit, rosehip and a hint of green pepper and herbs, it's freshened up with a chalky, cool menthol touch. Well-integrated alcohol and oak, with some attractive tobacco beginning to appear. Long, savoury finish.
Other Egri Bikavér producers to discover
Even though the masterclass left little time to taste at the walkaround tasting, I managed to make a brief pitstop at several wineries.
You should never miss tasting the wines of St Andrea, whose wines are consistently a cut above the rest. The Nagy-Eged and Agapé wines were the top 2 from the masterclass, but you should also try their Merengő Superior, Hangács Grand Superior and Igazán Grand Superior wines.
I also rediscovered the wines of the Eszterházy Károly Catholic University estate, which have always proved exciting and consistent. Now rebranded as Academia, the name is now somewhat easier on the non-Hungarian memory. I also came across a new winery from Egerszólát, Egersoul, whose initial efforts seemed very promising – one to keep an eye on.
Unfortunately, I didn't have the time to catch up with other old favourites, but the following wineries are also worth noting as consistently high-quality Egri Bikavér producers: Bukolyi Marcell, Bolyki Pincészet, Tóth Ferenc and Gál Lajos.