Many outside Hungary are not aware that Bikavér, aka Bull's Blood, does not only come from Eger, but also from Szekszárd. In fact, the fiery red wine of this name goes back centuries in both communities, although the former is better known. Naturally there is some rivalry between both regions and it is hotly disputed where the name was used first, but the two communities are trying to work together, building on their similarities.
Part of this cooperation is the Bikavér Párbaj held yearly in Budapest with producers from both regions presenting their Bikavér. Each table hosts one winemaker from Eger and one from Szekszárd, as they go head to head. This year, prior to the grand tasting, prominent winemakers from both regions hosted a discussion on the past, present and future of the two regions.
Origins of the name 'Bikavér'
First, the question of the name. Szekszárd believes it can lay claim to the first written mention of this as eminent Hungarian poet János Garai wrote in praise of Szekszárd's red wine that it had a colour like 'bull's blood', whereas Kadarka was paler. Indeed, Bikavér and Kadarka were long the two main wines in Szekszárd. Bikavér was very popular abroad and was also delivered to the Dutch court in Liszt's time. However, following WWII, the authorities denied Szekszárd the right to use the name 'Bikavér', instead they were just permitted to use the term 'óvörös', only regaining the right to use the name after the political changes at the end of the eighties. Nevertheless, the name continued to be closely connected rather with Eger during the nineties.
Eger only saw the start of red wine production in the fifteenth century when people fleeing the Turks brought black grapes. Bishops travelling to Italy and Burgundy also returned with black grapes. Géza Gárdony wrote of bull's blood in his 1899 novel 'Egri csillagok' (Stars of Eger), translated as 'Eclipse of the Crescent Moon', when the Turkish besiegers were repelled from the Eger Citadel during the 1552 siege. Their beards were so stained by the rich red Eger wine they had drunk that the Turks were terrified, believing they had been imbibing bull's blood, and turned and fled – a legendary story in Hungarian history. Although the story takes place in the sixteenth century, the reference to the bull's blood is only detailed in the nineteenth century novel, so Szekszárd lays claim to the name ….
Bikavér and recent history
Hungary's viticulture has seen many changes over the centuries. In the Middle Ages, Hungary produced mostly white wines; although there was some red, such as Csóka, it was not particularly well known. However, the twenty years following the fall of communism perhaps saw the greatest changes.
After phylloxera wreaked its destruction at the end of the nineteenth century, a large percentage of the varieties changed in Eger – Kékfrankos, Oportó, Merlot and Cabernet Sauvignon arrived. Local growers tried these and found them to give wines of better colour, so they took wines produced from these to market under the name Bikavér too. During the 1960s, growers delivered their grapes to Egervin (the local cooperative), who produced Bikavér for the market. However, during this time quantity not quality was the byword, so the wines were generally high in acidity and thin, leading to the poor reputation of Hungarian 'Bull's Blood' some of us may recall. Some good wines were also produced, but that was generally due to the weather and the vintage, rather than good winemaking. Needless to say, such wines were not readily available on the Hungarian market.
Eger's Vilmos Thummerer planted his first vines in 1984. He rented land from the state and put it and the vines back in order. He was one of the first individual winemakers in the country to bottle wine again. He even entered some of his wines into European competitions with his Bikavér winning a gold. He saw the differences between Hungary and Western European regions regarding cultivation, processing, yields etc. Other producers were now also beginning to regain their land, or receive compensation, and to cultivate vines once again. They were now able to think about how to produce and age their wines to achieve greater concentration and saw that they too could make big wines.
On the other hand, Szekszárd a much smaller region, also suffered greatly under communism, with just three big business active. Only at the start of the nineties did people who used to work in these begin to start their own wineries, András Takler recalls. Times were difficult until 1995. One of the first of these was Csaba Vesztergombi who had been producing bulk wines, but in 1995, decided to bottle his last four barrels, which of course did not turn out to be an easy feat. Moreover, Szekszárd's southernly neighbour, Villány had already started to dictate red wine trends, i.e. big, bold, oaky wines, based on their German relationships and thus were difficult to follow given that Szekszárd was rather turning out elegant, spicy wines. Until 2000, only a handful of producers were making Bikavér, instead the majority were following the Villány trends and producing Merlot, Cabernet Sauvignon, etc; few were interested in working with Bikavér. Takler's first big success came in 1997 when they won a medal in an international wine competition, although they had only made 2000 bottles of the Bikavér Selection. 2010 saw a turning point in winemaking history in Hungary, when there were two very different vintages one after the other and a new style was born in both regions.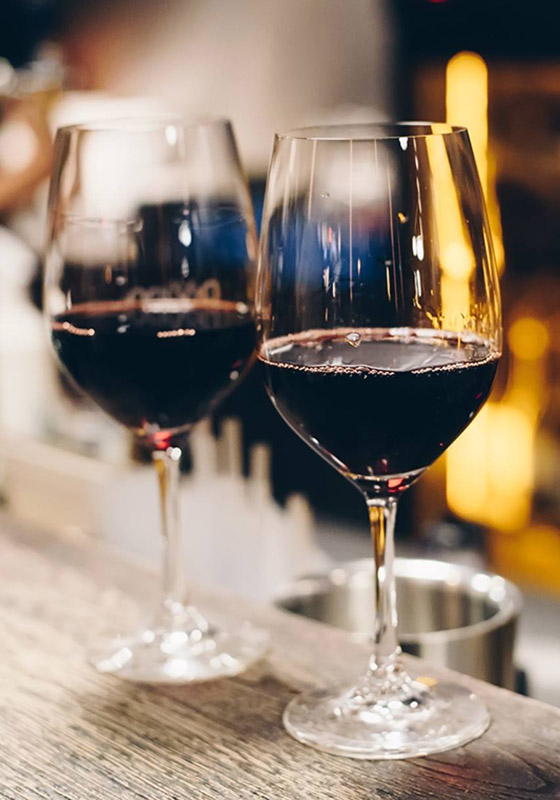 Looking to the future
Csaba Sebestyén points out that the style veered more towards the international, with big, full-bodied red wines at the fore. Only now are they moving away from this expectation that Szekszárd wines are big, alcoholic wines and returning their roots of Kékfrankos and Kadarka. In both regions, blends are made mostly from local varieties, with the gaps being filled with international varieties. Both are seeking a more elegant, lighter style, rather medium bodied. In addition, there are numerous cooperations in the region and the community, for example the Szekszárd bottle, the first regional bottle for red wine in Hungary, can only be used for local varieties. It helps to build the image of the region and is good for marketing. The two regions are also doing joint tastings and have established a joint working position, which can only be good for them both, enabling them to get to know each other better.
Tamás Pók from Eger declares that elegance, which disappeared quickly in the nineties, is key and sees two possible direction for Bikavér wines: harmonic, elegant and fruity with good acidity or oaked, robust and tannic, à la Villány. It is, however, not yet clear where they are heading, although there is a clearly a marked acidity in the wines. So, how did the wines end up with international varieties in what should be a typically Hungarian blend. In the 1980s, Egervin permitted Cabernet Sauvignon, Merlot and Cabernet Franc to add structure. Subsequently, they saw that this was risky as Cabernet is late ripening, not necessarily a good thing in Eger's cooler climate. Now they are trying to substitute this with better suited varieties, perhaps those originating in the east. Syrah was added to the recipe with new aromatics and earlier ripening, thus safer to propagate, although the fact that it's sensitive to frost was given less consideration, Kadarka adds liveliness and hope has not been lost with Kékfrankos as it ripens well and is stable and reliable. Kékfrankos now makes up 30-50% of the blend. A big wine, he says, is not necessarily a full-bodied wine, rather a wine with good acidity, thus permitting a longer life. Barrique certainly also plays a smaller role now too.
Gergő Soltész from the Ostorosbor winery in Eger remarks that Eger is bigger, so it can more homogenous than Szekszárd, producing 4 million bottles annually, 20% of which is Bikavér. Of course, it's impossible to over-focus on the HUF 2000+ market, as there are few people in Hungary who can afford this, therefore a limited market. Hence, they need to focus on improving quality across the board, at the entry level as well as in higher categories. There is actually a large range of quality made under the name of Bikavér, so the categories need to be defined better and the bar raised for the entry-level wines. Producers need to aim to meet consumers' needs with fruity, good quality, clean wines. It is nowadays a sought-after wine, also on export markets.
In Szekszárd, Bikavér has to contain at least four varieties in both the categories of Standard and Premium, with 45-50 Kékfrankos and a minimum of 5%, therefore wines can't be made in a Bordeaux style. Eger has three categories – Classicus, Superior and Grand Superior.
There are currently two conflicts in Eger. Firstly, whether they should make wines suitable for all consumers or just top wines. The basis should be to achieve stable quality with a good price-quality ratio. In the long term, e.g. in twenty years, only excellent quality wines should end up labelled as Bikavér and bottling should take place in the region. Secondly, the difficulty for creative wineries to get create space for themselves in the Superior and Grand Superior categories.
In Szekszárd, Csaba Sebestyén sees two routes. To produce simple, light wines as there is a demand for these and to make these cleaner, better and more understandable, while reducing the quantity of blends that are not Kékfrankos-based. They also need to consider whether to keep Bikavér as a brand name as it doesn't always evoke the most positive reactions. Should they spend a lot of money on keeping and promoting it or should they change it to something new? The other route is to push vineyard-selected Bikavér aiming to show Szekszárd's multi-faceted terroir and making Bikavér the prestige wine of each winery.
Now, to who won the battle of the bulls…
In my eyes both won. Interestingly the wines I liked the best came from Eger, but I had a more positive impression overall of the Szekszárd wines, generally finding them more balanced and elegant.

Photo by Péter Wendl
Here is my top twelve from the Párbaj:
St. Andrea Hangács 2013 I 91 points (Grand Superior - Eger)
Elegant and balanced wine with good acidity, ripe tannnins and a tight, mineral structure. Well extracted with spicy black fruit, in particular red cherry.
Thummerer Grand Selection 2012 I 89 points (Eger)
Full-bodied yet elegant wine with a slight earthy, chalkiness. Packed with smoky, spicy black fruit and liquorice. Perhaps a little warming on the finish.
Gál Lajos Pajados Grand Selection 2012 I 89 points (Eger)
A crunchy wine with sweet fruit, bright cherry and cranberry and some floral notes. Very drinkable.
Heimann Bikavér 2014 I 88 points (Szekszárd)
Attractive black fruit and spice, with a touch of toast. A smooth wine with fine-grained tannins, lively acidity and a long finish.
Tarjányi Borház 2012 I 88 points (Pajados dűlő – Eger)
A light, fruity wine with slightly grippy tannins. Flavours of smoky cherry and other red fruit, anise, spice and flowers.
Gál Tibor Titi 2015 I 88 points (Eger)
A balanced, elegant, fruity wine with fine-grained tannins. Layers of spicy, dark fruit with plenty of blueberry.
Eszterbauer Tüke 2013 I 87 points (Szekszárd)
A smooth, rounded wine with ripe, velvety tannins and fresh acidity. Loads of spicy, black fruit such as blackberry and cherry. Long finish.
Sebestyen Iván-völgy 2012 I 87 points (Szekszárd)
Attractive full-bodied wine with fresh acidity and wonderful spicy, black fruit. Smooth, velvety tannins and a long finish make this a wine to be savoured.
Bodri Faluhely Valogatás 2013 I 87 points (Szekszárd)
An elegant wine with fresh, lively acidity but slightly drying tannins. Tons of attractive bright fruit, including raspberry and cherry.
Bolyki 2015 I 87 points (Eger)
A crowd-pleaser with plenty of smoky black fruit. Spicy yet elegant, with crunchy fresh fruit and lively acidity.
Vida 2013 I 87 points (Szekszárd)
An elegant wine with crisp acidity and smooth tannins. Plenty of dark cherry fruit and a long finish.
Merfelsz Nectar Sexardique 2013 I 87 points (Szekszárd)
A smooth, spicy wine with bright fruit and wonderful fresh acidity. Very quaffable.