Holding a sparkling wine conference in a village just outside Budapest may seem a little strange until you discover that Etyek was once known as the capital's vineyard and indeed much of the fruit destined for bubbly in Hungary is grown on the limestone soils of Etyek! Moreover, just over a century ago, Hungary was second only to France in the production of sparkling wines, centred around Budafok and Etyek. And now, Etyek has gained its own PDO for sparkling wines. So, in fact, what better place to hold such a conference than in Etyek!
The Pezsgőkonferencia was held for the fourth time at the Rokusfalvy Estate on 1 September covering a wide range of themes relating to sparkling wine, not only in Hungary but also other world-renowned European sparkling wines.
After welcomes by Minister of Agriculture István Nagy and Pál Rókusfalvy, owner of the hosting estate and government commissioner responsible for national wine marketing, we got stuck into some technical details. As one of the focuses of the conference was sustainability, István Ipacs Szabó, Head of the Department of Viticulture at PTE Viticulture Research centre in Pécs took participants through some options for making lower alcohol wines in the face of climate change. This can be achieved not only in the winery itself, during and post fermentation, but various measures can also be taken in the vineyard to slow down grape ripening, resulting in lower sugar levels and thus lower alcohol wines.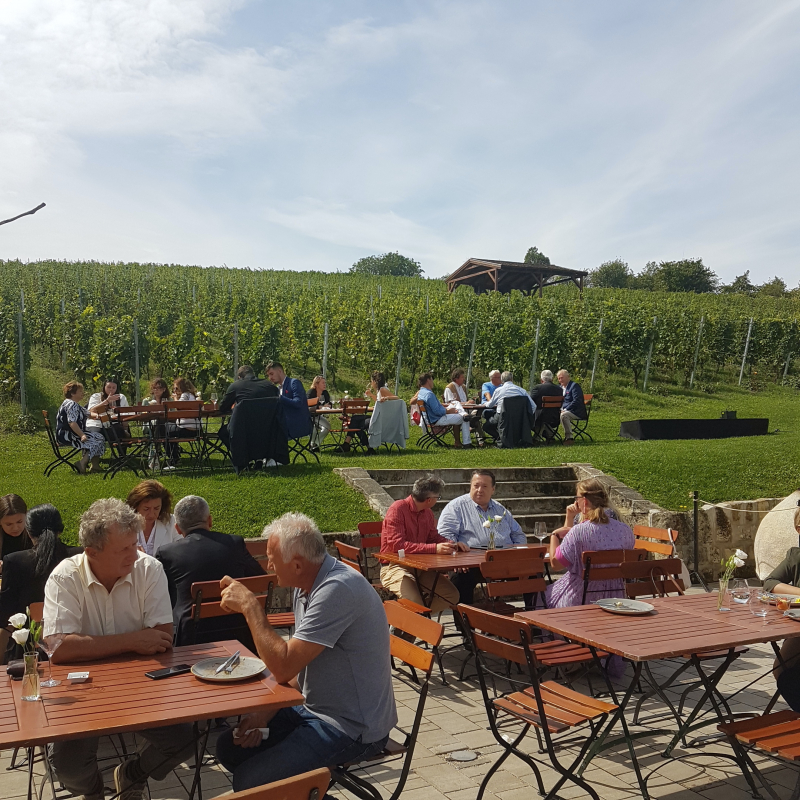 We then moved on to consider two other European regions creating high quality traditional method sparkling wine. Dr Tibor Kovács, Director of the Tokaj Research Institute walked us through the ins and outs of Crémant d'Alsace, one of the eight regions in France that can produce crémant. As only sparkling wine produced in the Champagne region can be called Champagne, other key French sparkling wine regions use the term crémant. They are also produced using the traditional method, but generally spend less time on the lees than Champagne, resulting in fruitier wines with less intense autolytic notes. Relatively unusually for sparkling wine, Crémant d'Alsace is based on Pinot Blanc, a variety less well thought of in the region for still wine than its other key varieties, Riesling, Gewürztraminer and Pinot Gris.
We were then transported across the Pyrenees to Spain and an online presentation by Joan Vendrell of Vendrell Olivella – Mas Gomà, who talked about how things are changing in the world of Cava, Corpinnat and Classic Penedès. Mas Gomà is a small winery trying to implement natural methods in the world of traditional method wines, making low intervention wines with no added sulphites and also experimenting with wild yeasts even for the second fermentation in bottle. They do not use any of the typical DOs for sparkling wines mentioned above, as they are too experimental, dabbling with skin maceration, amphoras, cement eggs, different lengths of lees ageing and other local grapes. Naturally, they are also organic and, since last September, biodynamic.
The world of Prosecco was next up, presented by András Kelemen of Bortársaság Borsuli. In a whirlwind masterclass, we discovered the various denominations where Prosecco can be produced, the different styles of Prosecco and briefly touched on its production method. Unlike the other sparkling wines thus considered, Prosecco is produced using the Martinotti method, better known as the tank or Charmat method, which enables the delicate fruity aroma profile of the Glera variety to be preserved, rather than be overwhelmed by yeasty autolytical notes. Participants could also taste three Proseccos of different quality levels and styles.
After lunch, we moved onto sparkling cocktails, courtesy of Ádám Rédli, head bartender at Múzsa Bar, looking at how the genre had developed over time, from simply the addition of a sugar cube and some bitters through Kir Royale, Aperol and Campari spritz as well as Old Cuban and some of the other concoctions served up today. A total change of direction followed with Dorottya Homoky from Tokaj discussing pétnat and how it differs from traditional method sparkling as well as other trending 'natural' drinks such as piquette, which is undergoing a renaissance in the US and Denmark.
Subsequently, Giorgio Delgrosso, Head of the Statistical Unit of the OIV gave us some wider context considering global sparkling wine consumption and production and its recent evolution. Then we had the chance to dip our toes into the world of Champagne with Arthur Camut, Export Area Manager of Champagne Palmer & Co who presented the company, begun as a cooperative with only grand and premier cru vineyards, and talked about their sustainability measures. Naturally, we also sampled a couple of Champagnes, their Brut Reserve NV and the Rosé Solera, which is not produced by the saigné method, like many, rather includes Pinot Noir red wines from the Côte des Bar stored in a solera system started 40 years ago. So each time you drink a glass of this delicious rosé, some of it, even if only a few drops, is 40 years old.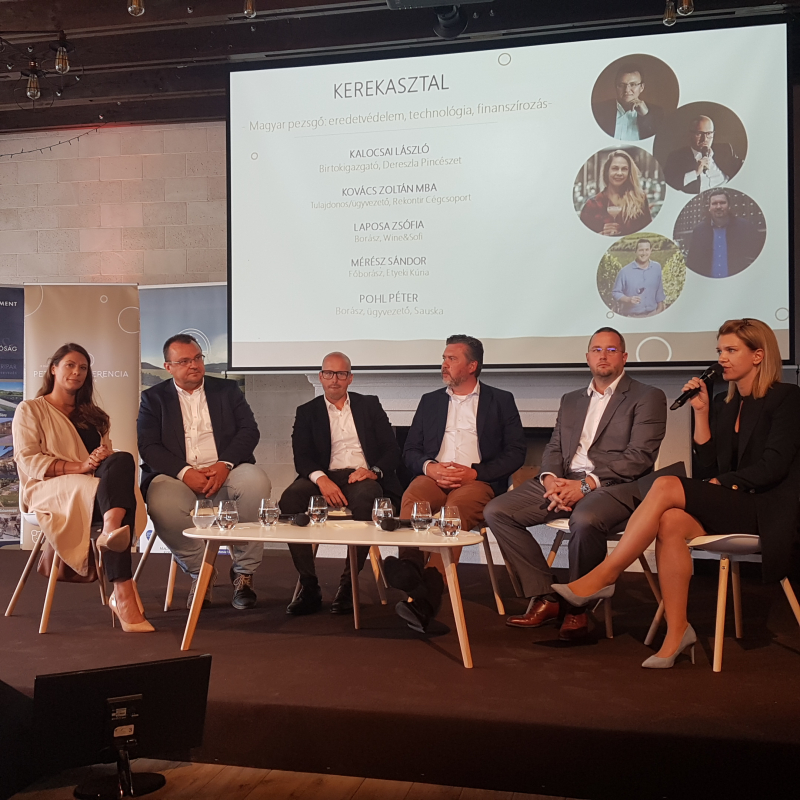 The day's formal proceedings were rounded off by a roundtable discussion considering technology and investment required to make sparkling wine and the question of protection of origin. Sparkling wine made in the Tokaj wine region, like still wine, may only use the Tokaj designation if it is produced from the six authorised Tokaj varieties and is produced using the traditional method. This means that wines using Champagne grapes Pinot Noir and/or Chardonnay, both grown in the area, must be labelled Zemplén or Upper Hungary. As Sauska, whose winemaker Péter Pohl was participating in the discussion, make both a blend including non-Tokaj varieties and a Furmint sparkler, and the former is 95% of their sparkling production, this does not seem to be such a big issue for high-quality sparkling wine in Hungary if the brand name is well-known. Etyek, however, considers origin protection important and has recently been granted its own PDO for sparkling wine, Etyeki Pezsgő. It can only be produced from Chardonnay, Pinot Noir, Pinot Gris (known as Szürkebarát in Hungary) and/or Pinot Blanc, must be traditional method and must spend a minimum of 24 months on the lees.
Once the more 'educational' part of the day was over, guests had a guided tasting of three sparkling wines – a pétnat produced by Homoky Dorottya, a Crémant de Bourgogne and a Cava – led by Péter Tüű, Executive Head Sommelier at Laurel Budapest paired with fine dining nibbles specially composed to pair with the wines.
Then guests were free to enjoy barbecued delights and indulge in traditional method sparkling wines from the Vince stand, including wines from Italy, Germany, Austria, France, South Africa and New Zealand, as well as top Hungarian fizz, of course. I can safely say that a great time was had by all! Roll on the fifth edition.