Last Friday a group of food and wine journalists and bloggers descended on Hilltop winery to sample some of their award-winning wines, including some from the new premium range, and to enjoy a special treat of a tasting of twelve older vintages from the winery's vintage 'museum'.
Perhaps I should more rightly say ascended on Hilltop, since, as the name suggests, it sits on a picturesque hilltop overlooking the Danube in the Neszmély wine region of Hungary. Here, according to Ákos Kamocsay, the head winemaker, you can see the longest stretch of the Danube visible anywhere, about 30km or so. The view certainly was marvellous, rolling vineyards and the Danube glinting in the sunshine meandering as far as the eye can see. Across the Danube, you can already see Slovakia, making it one of the more northerly regions in Hungary, thus better suited to fresh, fruity wines. Indeed, none of the whites see any wood; all are produced entirely in stainless steel. This fact also led to a running joke during the muzeális tasting, regarding what kind of barrel the (white) wine had been matured in.
Hilltop, with its 400 hectares, is one of the largest wineries in Hungary, exporting 50% of its production to the UK. The winery dates back to 1993, shortly after the fall of Communism, when the founders of the winery saw the opportunity to create a place for Hungarian wines on the British market and began crafting wines specifically for the UK, at the beginning mostly from international grapes, as the UK market was not ready for the little-known 'exotic' Hungarian varieties, but later achieving success with Cserszegi Fűszeres, marketed under the more manageable name of 'Woodcutter's White'.
Ákos has been with the winery since its inception, firstly creating wines from bought-in grapes and then after the purchase of the former winery cooperative in Neszmély, from the wineries own vineyards. Now they own vineyards in both Neszmély and Szekszárd, but buy in grapes from other regions around Hungary. The winery produces a wide range of wines from both international and local varieties, such as the perfumed, Irsai Olivér, which is always a best seller - they usually need to buy in additional grapes to meet demand.
Supplying to large supermarket chains, both in the UK and Hungary, whose wine buyers tend to think of them as 'wine factories', given the sheer quantity of bottles supplied per year , which is not necessarily how the winery would like to be seen. Therefore, in April 2014 they launched their award-winning Kamocsay Ákos Premium wine selection, which includes Olaszrizling, vineyard-selected Chardonnay and Pinot Gris, Merlot, Irsai Olivér and Szekszárd Kékfrankos. The investment in a new press means they are able to produce higher quality, purer must and thus fresher, fruitier wine, particularly suited to the creation of a premium quality Irsai Olivér.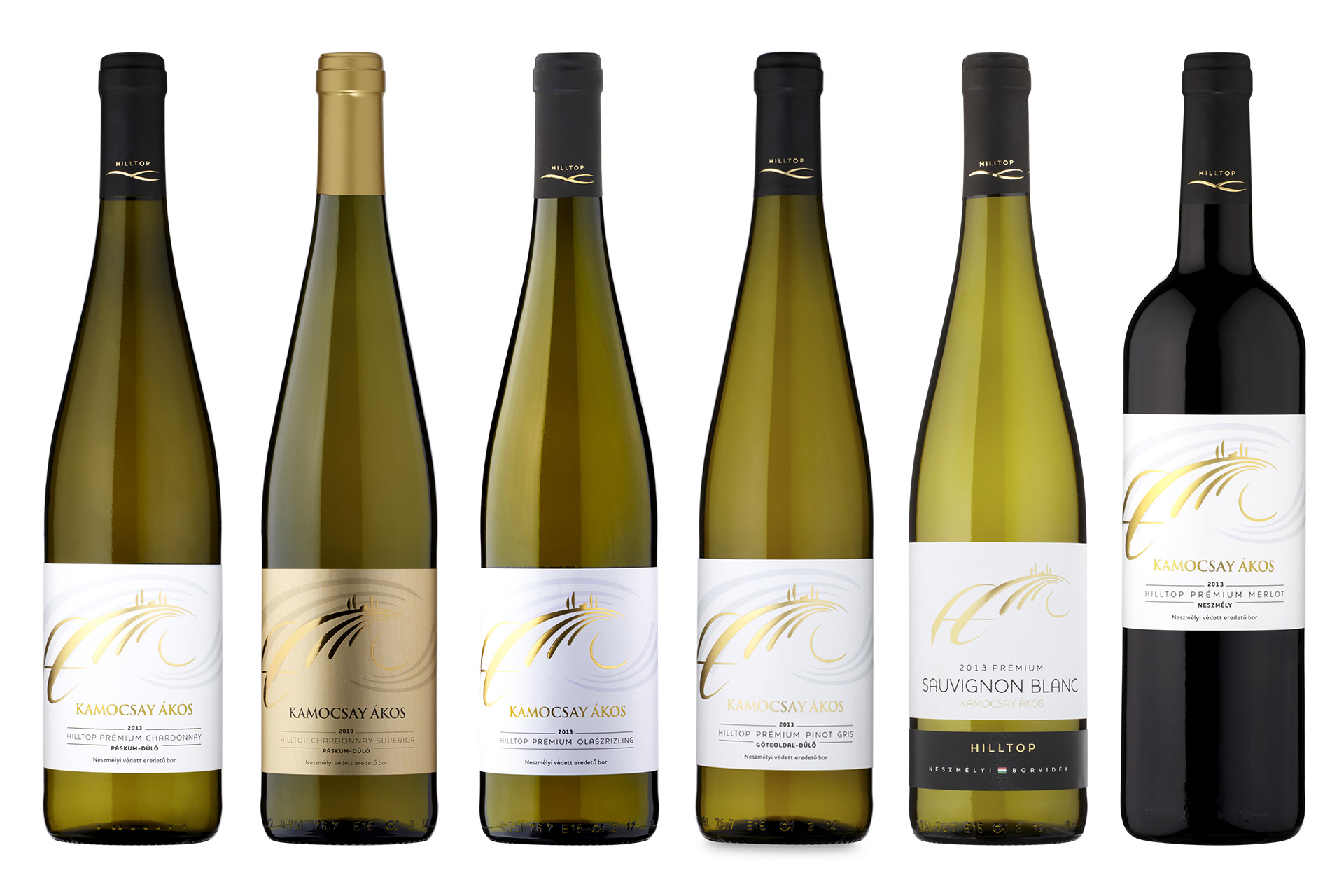 The day saw us sampling twelve wines dating back to 1993 from their wine museum, all still remarkably fresh and with good acidity retention, showing that reductive whites can also age well, learning how to make sour cherry and poppy seed strudel and finally enjoying a food and wine-pairing lunch with some of the currently available vintages.
Muzeális tasting
The winery puts away some bottles every year for its own use and to the delight of people like us. We were lucky enough to have the opportunity to try some of these and were not disappointed.
Chardonnay-Pinot Gris 1995 (Balatonfüred-Csapok)
Aromas of herbs, camomile, spice and ripe stone fruits. On the palate, still retaining its fresh, crisp acidity, well balanced with honeyed notes, creamy stone fruits, some waxiness and petrol notes.
Sauvignon Blanc 2002 (Neszmély)
Aromas of nettle, freshly cut grass, a little smoky stoniness and elderflower. On the palate, still remarkably zesty acidity with flavours of nettle, grapefruit and bitter herbs. Relatively reserved with some honey on the finish.
Sauvignon Blanc 1996 (Sopron)
Intense, full-bodied harmonious wine. Rich, complex aromas and flavours of ripe passion fruit and elderflower, lychee, nettle, herbs and a huge helping of gooseberry jam. Ripe gooseberry and passion fruit linger on the palate.
Furmint 1999 (Tokaj, Hétszőlő estate)
Dense, full-bodied, complex wine. Herbal and petrol aromas with smoky, flinty minerality. The palate also reflects strong herbal and petrol notes, together with dried quince and pear, and a honeyed character. A little residual sweetness balances the acidity.
Chardonnay 2001 (Neszmély)
Herbal notes with a little ripe apple and honey on the nose. Demonstrating some charm and elegance, but a little empty on the middle palate. Flavours of grated apple, honey and wax polish. A little tired with a relatively short finish.
Chardonnay 1999 (Neszmély)
Not an overtly fruity wine, herbal, nutty and petrol notes dominate on the nose. The palate delivers traces of ripe apple and some stone fruit, but rather herbal and honey flavours come to the fore. Tightly structured with still fresh acidity.
Tramini 1995
Dense, rich aromas of dried fruits, such as peach and pear, nuts, caramel, honey and rose oil. Dry, full-bodied and complex with lively acidity. Packed with flavours of dried fruit, rose, lychee, honey and nut. Elegant with a long finish.
Pinot Gris 1993 (Neszmély, 60-70-year-old vines)
A little closed on the nose. Velvety, mouth-filling, complex wine with restrained acidity and flavours of dried stone fruits, smoky, herbal bitter notes akin to Fernet Branca, some slight oxidation, but not unpleasant. Long finish dominated by notes of prune.
Pinot Noir 2000 (Sopron)
A remarkably youthful wine on the nose, with fresh primary aromas of cherry, raspberry and sour cherry. The palate reflects red berry flavours, again dominated by ripe cherry. Lovely light, elegant wine with lingering fresh fruitiness. A revelation.
Cabernet Franc 1997 (Villány)
Fresh primary fruit aromas dominate on the nose, blackcurrant, cherry and blackberry. On the palate, youthful, with vibrant fresh red and blackcurrants, and a touch of green pepper. A lively, yet elegant wine with velvety tannins and refreshing acidity. Still very drinkable.
Ezerjó 1995 (Mór)
A golden, sweet late harvest wine produced like szamorodni. Rich complex nose with slight oxidation. Honeyed notes of mandarin, marmalade, prune and dried apricot. On the palate, quince, dried apricot and peach, honey and spice. Lively bright acid balances the sweetness. Complex and mouth-filling with dried fruit persisting on the finish.
Tokaji Aszú 1993
Deep amber wine with complex rich nose of dried stone fruits, marmalade, vanilla and toffee. Lusciously sweet with restrained, but refreshing acidity. Clear notes of botrytis on the palate, with honey, dried fruit, walnut and sweet spice lingering on the finish. To be savoured.

Food and wine-pairing lunch
Neszmélyi Királyleányka 2014
Elegant, light, fresh wine with zesty acidity. Citrus and floral notes on the nose, reflected on the palate with some ripe stone fruits and crisp ripe apple. Light and easy drinking, perfect as an aperitif.
Cold goose liver, with raisins and figs macerated in aszú
Premium Neszmélyi Pinot Gris 2013
A single vineyard wine from the Göteoldal vineyard. Rounded, full-bodied, oily wine with ripe pear, stone fruits and honey. Some spicy notes on the finish.
Pheasant soup
Neszmélyi Irsai Olivér 2014
Fresh, crisp, aromatic wine with notes of blossom, grape, lychee and lemon. Zesty acidity with a slight pétillance. A light, easy-drinking wine.
Neszmélyi Cserszegi Fűszeres 2014
Youthful, highly aromatic wine. Fresh and light with floral and citrus notes. Slightly spicy with lively acidity. Simple, but very drinkable.
Vegetable pancake with cheese sauce
Premium Neszmélyi Olaszrizling 2013
Rich, honeyed wine, with aromas of white flowers. Mouth-filling with flavours of ripe stone fruits and pear. Balanced wine with its high alcohol well integrated.
Neszmélyi Pinot Noir Rosé 2014
An elegant salmon-pink wine. Fruity nose of strawberries and cherries. Refreshing acidity, with flavours of strawberry jam. A light fruity wine perfect for the summer.
Catfish in paprika sauce with curd cheese pasta
Premium Neszmélyi Chardonnay Superior 2013
An intense, fruit-driven wine with aromas of ripe apple and stone fruit. Some slightly smoky notes. Rich and mouth-filling with flavours of ripe apple, peach and honey. Smooth and elegant finish.
Premium Neszmélyi Merlot 2013
Intense ruby red wine. Dominated by aromas of red berries, such as cherry and plum. The red fruit character is reflected on the palate, with some notes of chocolate and spice. Velvety tannins.
Marinated venison fillet with blueberry and Kékfrankos sauce, served with crisp pear
Válogatás Szekszárdi Kékfrankos 2009
A rich, mouth-filling wine with flavours of cherry and sweet spice. Balanced and smooth with well-integrated restrained tannins.
Premium Neszmélyi Chardonnay 2013
Honey, stone fruits and pear on the nose. A rich, full-bodied wine with great intensity of fruit. Fresh acidity balances the richness of the fruit. A harmonious, fruit-driven wine.
Flódni (Apple, poppy seed and walnut pie)
Válogatás Neszmélyi Hárslevelű 2008
Late harvested grapes create a luscious honey and dried fruit-driven dessert wine. Sultanas, citrus peel, almond, mandarin and a touch of honeysuckle tease the taste buds. The wine's fresh acidity balances perfectly with the sweetness, preventing it from being too cloying.