Our first port of call was Eszterbauer Borház, where we were greeted by Ildi Eszterbauer, who updated us on some of the things going on at the winery. They've recently pulled out some Chardonnay to make way for some Rhine Riesling, a very atypical grape for the wine region, so it will be interesting to see how this performs. Ildi brings out a couple of bottles of Kadarka for us to try. The winery usually produces Kadarka in two different styles from its 4-5 hectares of this variety, the Sógor (totally reductive) and the Nagyapám; however, 2015 was not the most ideal year for Kadarka, the grapes had to be harvested early due to the weather, so they are not yet sure whether the 1000 bottles of Nagyapám will actually be called this or not as they don't feel it's distinct enough from the Sógor – so this is still in an unlabelled bottle for now. They have many different clones of Kadarka, most of which is about 4-5 years old. The Sógor is produced mainly from the P9 clone and generally 75% of the Kadarka will be released under this name.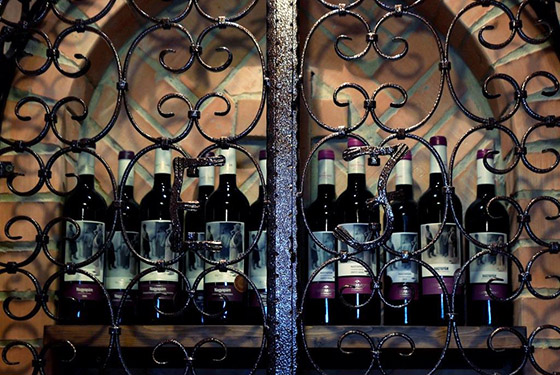 Bottles in hand, we with glasses, Ildi leads us downstairs to a room lined with display cabinets of wine. A gothic creaking nose, and a secret door behind one of them slowly opens, leading to the cellar which culminates in a round chapel-like room, with barrels on three sides - their ageing cellar. Here Ildi pours us the Tanyamacska Kékfrankos 2014, followed by the Tüke Bikavér 2013. Having been unfashionable for some time, due to the trendiness of French grapes, Ildi points out how nice it is to see a growing trend of people wanting the traditional grapes, such as Kadarka and Kékfrankos.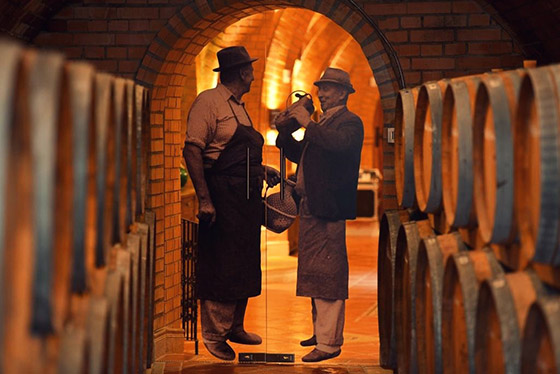 Upstairs, we learn, there is an apartment with eight-person capacity and we also take a look at the large new restaurant which they plan to use mainly for functions rather than as a permanent restaurant.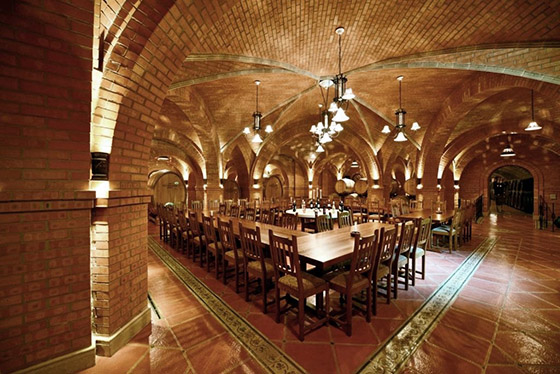 As we have some time to spare before our next appointment, we get to try two vintages of the region's interlopers, Cabernet Sauvignon, which clearly demonstrate the difference between a hot and a cool vintage.
Sógor Kadarka 2015 I 88 points
Beautiful pale ruby wine bursting with aromas of violets, sour cherry, raspberry and spice. Bright fruit on the palate too with a slight note of cherry stone bitterness. Lively acidity and smooth tannins. A light, elegant, balanced wine with a pleasant finish. A good example of a classic Kadarka.
'Nagyapám' Kadarka 2015 I 90 points
An attractive pale wine. Highly perfumed on the nose with violets, pomegranate, sour cherry, raspberry and spice. Beautiful fresh fruit on the palate with a touch of nuttiness and a very slightly bitter, but definitely not unattractive, finish, complemented by a salty note. Vibrant acidity and fine-grained tannins make this an elegant and very attractive Kadarka.
Tanyamacska Kékfrankos 2014 I 87 points
Rich and spicy on the nose with bright sour cherry and plum fruit. On the palate, light and very drinkable with dried raspberry, dried tomato, tomato leaf, green and white pepper. The leafiness is most likely due to the wet vintage. Lovely round acidity and zippy tannins, and perhaps a touch of bitterness and some slightly toasty notes. Slightly dilute but still an attractive wine.
Tüke Bikavér 2013 (Kékfrankos, Kadarka, Cabernet Sauvignon, Cabernet Franc and Merlot) I 88 points
A real dark fruit bomb with plenty of black cherry, blackberry, blackcurrant and raspberry. Pronounced on the nose and equally intense on the palate. The fruit is complemented with vanilla, toast, smoke, some spicy pepper and a slight floral note. Fresh, fine-grained tannins and crisp acidity. Quite a dose of alcohol, but nonetheless a well-balanced, elegant wine with a long, spicy finish.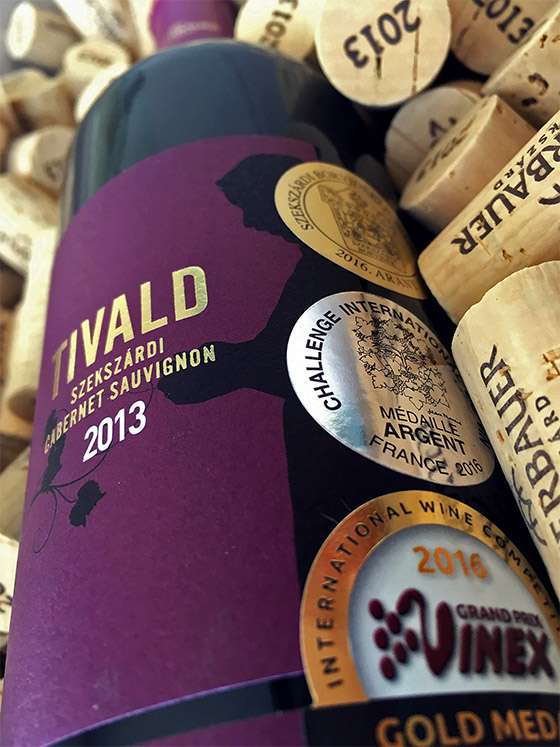 Tivald Cabernet Sauvignon 2013 I 90 points
An intense nose of blackcurrant, dark cherry, blackberry, vanilla, toast and liquorice. These follow through on the palate, together with a charcoal note and a touch of blackcurrant leaf. The sweet fruit is balanced by fresh acidity and slightly grippy, drying tannins which still need to soften and integrate. The 14.5% alcohol is noticeable but does not detract unduly from the elegance and balance of the wine. A taut structure and a long finish.
Tivald Cabernet Sauvignon 2012 I 92 points
A powerful wine with ripe, jammy fruit and plenty of alcohol at 15% ABV. Blackcurrant jam, blueberry, bramble, prune and cassis. Along with the fruit, there is a distinct meatiness, some liquorice and cedar. Chewy tannins and vibrant acidity. Long smoky finish.
Photos by Levente Bajnok