A new report from the European Union Intellectual Property Office (EUIPO) shows that 4.4% of legitimate sales of spirits and 2.3% of legitimate sales of wine are lost each year due to counterfeiting of alcoholic drinks.
Those lost sales translate into 4,800 jobs directly lost across the spirits and wine sectors in the EU, as legitimate manufacturers employ fewer people than they would have done in the absence of counterfeiting.
When the knock-on effects of counterfeit wines and spirits in the marketplace are taken into account, 18,500 additional jobs are lost in the EU economy, of which notably 8,600 jobs are in agriculture and 1,300 jobs in the food industry. The total yearly loss of government revenue as a result of counterfeit products in these sectors across the EU-28 in terms of household income taxes, social security contributions, corporate income taxes, VAT and excise duties is estimated at €1.2 billion.
The spirits and wine manufacture sector in the EU is overwhelmingly made up of small and medium enterprises, with an average of 10 workers per firm. This report shows the economic impact of counterfeiting on this industry, and its consequences for the EU economy as a whole. Our findings are intended to help policy makers as they respond to the challenges of counterfeiting in this crucial economic sector - said António Campinos (The Executive Director of the EUIPO)
Top 6 countries for absolute sales lost:
Spain €90 million
Italy €83 million
United Kingdom €62 million
Germany €60 million
France €36 million
Romania €32 million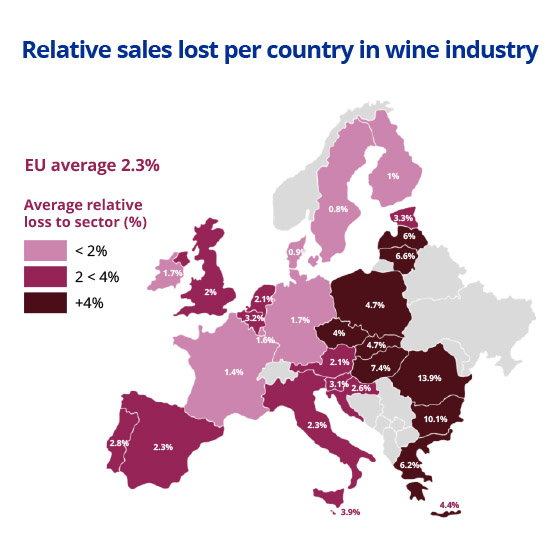 United Kingdom: Total lost sales in the wine and spirit manufacturing sectors are estimated as €87 million each year (€25 million for spirits and €62 million for wine). The UK loses an estimated €197 million each year in excise duties due to counterfeit wines and spirits.