Christmas should be a time of peace and goodwill, of family and togetherness, of rest and contemplation, of enjoyment of customs and tradition, and abundant good food and drink. Our traditions are deeply ingrained in us, the traditions of the country we grew up in, the country we live in and those of our own families. How many of us, who most likely celebrate every Christmas in our own home country, give much thought to how others might be spending these days, what centuries-old habits they may be reinforcing, what they may be eating and drinking and when they celebrate?
Given my rather gypsy-like existence of the last twenty years, I've celebrated Christmas in various European countries, including Germany, Hungary and Poland, whereas I'll be spending this Christmas in Wales. Whenever I'm in the UK around Christmas time, I'm struck by the sheer commercialism of the whole 'event', the Christmas aisles of the supermarkets stacked high with decorations and superfluous, silly items, which incidentally seem to appear shortly after 'back to school' has ended at the beginning of September, staff wearing ridiculous Christmas jumpers or dressed up as elves, the houses lit up like Christmas trees, to use an appropriately festive metaphor, with charging reindeers and Santas, flashing lights and flickering neon, the blaring TV commercials tempting to you to indulge yourself and your family even more, the emphasis on presents and cards, and the shops which no longer allow their employees any rest on Boxing Day (26th December), when the crowds descend on their doors seeking bargains in the sales, all in the worship of Mammon. No wonder there are those who seek to escape this by taking refuge in a yoga retreat or by fasting.
My thoughts then return to Central and Eastern Europe, where although there is of course commercialism, it is not on this scale and the focus still seems to be on family, togetherness, rest and the maintenance of traditions.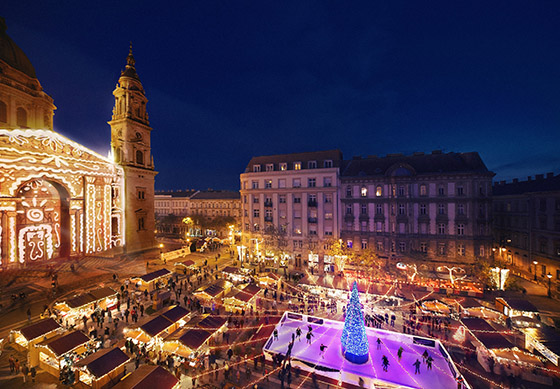 When I first spent Christmas in Budapest in 1997, public transport ceased entirely early in the afternoon on Christmas Eve, and if you were not at home, then you were stranded. Even now, although a night services runs, the city is dominated by calm and there is hardly a soul on the street. Everyone is at home with their family, celebrating the 'Holy Evening', decorating the Christmas tree, opening gifts and enjoying a meal of fish, usually carp or fish soup. It's similar in Poland too, where the celebratory family meal also takes place on the 24th. Straw or hay is placed under a white table cloth and an extra place is set for an unexpected guest. This is a reminder that those without shelter are welcome on this evening. One year, I also benefitted from this extra place when a friend invited me to spend the 'Wigilia' (Vigil) with her and her family. Twelve meatless dishes are served, one for each of the apostles, although fish is permitted. When the first star appears in the sky, the family will break symbolic wafers before sitting down to eat. Later, they will likely attend Midnight Mass, as we did, climbing out of the window and down a stepladder to do so, as we were locked in (my friend had only recently moved and had no key to the main door of the building, which was locked nightly!).
Most of Central Europe celebrates Christmas on 24th December, rather than the 25th as in Anglo-Saxon countries. The tree, a real one, is decorated this evening, gifts are given and fish, generally carp or fish soup, is the typical centrepiece of the festive meal. The carp has probably been purchased a few days before and kept in the bathtub, alive, until the big day. In the Czech Republic breaded carp and homemade potato salad are eaten, whereas in Slovakia, there may also be cabbage soup and hand-made gnocchi with poppy seeds. Christmas Eve is a fast day, with no meat being consumed in most countries. Bulgaria and Romania, despite being Orthodox also celebrate Christmas now, with the festive feast also taking place on 24th, whereas Serbs keep to the Julian calendar and celebrate in January. Bulgarians prepare an odd number of Lenten dishes, whereas Romanians generally eat pork; a pig is traditionally slaughtered on 20 December and this will form the basis of the Christmas feast. Similarly, in Slovenia, pork may also be the centrepiece of the Christmas feast.
In many countries in the region, greetings are exchanged by sharing a piece of Christmas wafer. It is not Santa Claus who brings the gifts this evening, rather the 'Christ Child' or baby Jesus, who rings a little bell to announce to the children that the Christmas tree is ready and the gifts have arrived. In Croatia, families plant wheat seeds in bowls of water on St Lucy's Day, 13th December, which will grow several inches by Christmas, symbolising the new bread of the Eucharist. These sprouts are then tied together with a red, blue and white ribbon, representing the colours of the Croatian flag and placed under the tree together with three lit candles representing the Trinity. Families sprinkle holy water on their yule log which they light and watch over. Slovenes also sprinkle holy water and tell fortunes. In Bulgaria, walnuts are placed on the table and cracked to predict success or failure for the following year and they do not usually clear the dinner table until the next morning, to leave some food for the spirits of their ancestors.
Singing of carols is still an honoured tradition; in Romania, for example noisemakers, such as bells and whips to scare away evil spirits, also form part of this, harking back to the pagan traditions of the winter solstice; some may even dress up as shaggy beasts like at carnival time. Carollers are rewarded for their music with pastries and sweets. Many pagan traditions persist, such as in Slovakia for example, where it's believed that carp scales bring good luck and garlic on the Christmas table ensures good health.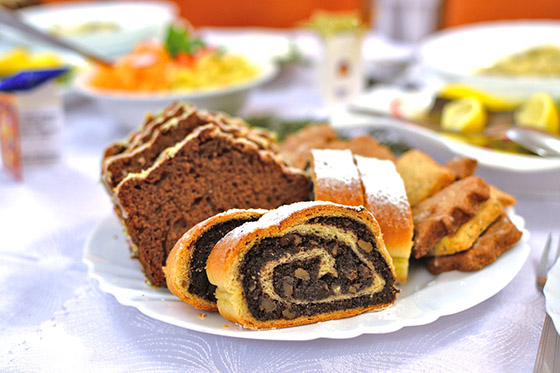 Naturally, feasting together is a vital part of these days, just like in the UK, with cooking and baking galore. However, the persistence of customs and traditional foods is what makes Christmas in this part of the world so appealing. I'm not sure that leaving out some mince pies and glass of sherry for Santa has quite the same magic.
Of course, there are those who shun this festive period entirely and jet off to spend their days sprawled on a distant sun-drenched beach. There are also those who are not able to enjoy this period, or should they be of a different faith, the celebration of their religious beliefs at a different time of year, as they live in a war-torn country or region, have no home to go to, are refugees, or live in abusive circumstances of any kind. There are those who keep our countries running, those in the emergency services, those who work in restaurants, bars and hotels, those who drive buses and trains, and those who care for others. We should also give a thought to them and their families and hope they have at least some moments for rest and contemplation and to spend with their families and loved ones.
I also fall partly into this camp this year, as my loved one will be working on Boxing Day. However, I shall console myself with some walnut beigli and Tokaji Aszú brought with me from Hungary, and give thanks that we can spend the rest of Christmas together.