I'm sure everyone has tried Vinho Verde at some time. That often slightly sweet, rather acidic, neutral, light white wine with a touch of spritz that you can find at the supermarket from the big brands. However, in recent decades Vinho Verde has been upping its game and the region has far more to give than the supermarket offerings.
Actually, Vinho Verde, 'green wine', is so called due to the youthful state in which it is consumed; it has nothing to do with its colour. Vinho Verde can be white, rosé or even red. In fact, until 1992 Vinho Verde produced predominantly red wine, although little of this was exported. The raspingly acidic, spritzy wine was generally consumed locally, interestingly from white porcelain bowls to show off its dark red colour. It's usually produced from Azal, Vinhão and Espadeiro. Although now things have changed and only about 10% of Vinho Verde is red. We tried some examples from Vinhão and contrary to expectations, it was very quaffable.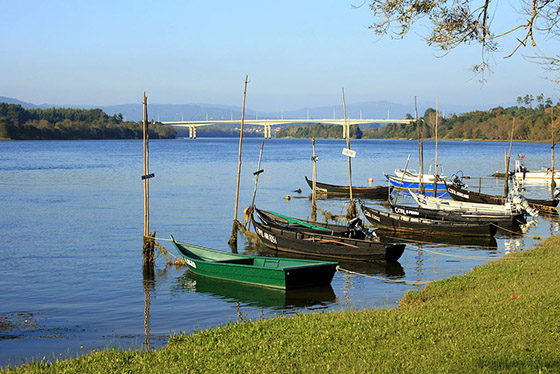 A bit of background, Vinho Verde is produced in the north-west of Portugal in the Minho region stretching from the Minho river in the north to south of the river Douro. Much of the production is near to the coast, big brands and intensive cultivation, but further inland some interesting things are going on.
Traditionally, vineyards in the region resembled back gardens with vines grown high in pergola leaving space for other crops to be grown underneath and also helping to reduce the risk of grey rot in this warm, damp climate or even planted around the edge of corn fields. Plenty of these can still be seen, but new vineyards are trained lower, resulting in higher quality grapes.
So, what is Vinho Verde, if it's not just the familiar supermarket spritz? Well, the region is composed of nine subregions, each with climatic differences due to influence from ocean or river valley tempering and which focus on different varieties. Monção and Melgaço in the north produces perhaps the best but least typical wine, generally from Alvarinho, which is usually more alcoholic than most Vinho Verde. Further south the dominant varieties change to Loureiro, Trajadura and Pedernã (Arinto), whereas inland towards the Douro, Avesso and Azal are king. The most traditional blend is 60% Loureiro, 20% Alvarino and 20% Trajadura, which produces a refreshing, fruity, floral wine with good acidity. However, varietal bottlings are becoming increasingly common.
A quick whizz around the region in September allowed us to experience for ourselves some of the incarnations that Vinho Verde can take. From more traditional styles, through barrel fermented wines and varietals, to biodynamic and aged wines, and red and rosé.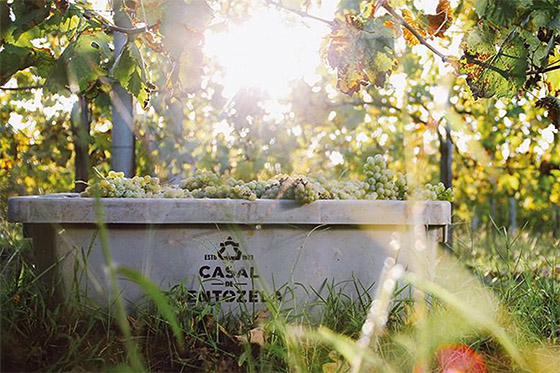 A visit to Casal de Ventozela at harvest time afforded us the possibility to not only taste their range of blends and varietals but also to sample some of the Loureiro grapes as they were coming in. They are trying out a new process this year, making the first selection in the vineyards, then blending and fermenting together, whereas until now they have fermented separately. They're also trying to make new wines, but in the old style, to achieve something new. Some wines are being barrel fermented to give more body and complexity, allowing the wines to remain in the winery longer before release. Typically, of course, Vinho Verde is bottled and then straight out onto the shelves.
A sixteenth-century farmhouse in the Alto Lima Valley on the border with Galicia, in Vasco Croft's family since the seventeenth century, houses the Aphros winery. This is where Vinho Verde starts to get funky. Vasco started a wine project in the semi-abandoned building in 2003. He sold his wines locally at first, but then things got out of hand, in his words, and he had to buy an additional property about 10 km away to expand and continue his work. He is making radical artisan wines, as he puts it, in this activated 'medieval cellar', aiming to express the place that nourishes us, and even has some locally-made amphoras in the cellar. This is Loureiro country and Vasco focusses on this variety along with the red Vinhão, which he says people believe they have to drink from childhood to enjoy. When he came to the area, it was totally rural, complete with cows and carts, and small plots with Vinhão in Pergola. This was the peasant way of life. He has about 4.5 hectares, a further 1.5 hectares behind the trees on the horizon and 12 hectares where his new cellar is located. He uses cover crops – cereals and legumes to structure the soil, fix the nitrogen and aid water retention.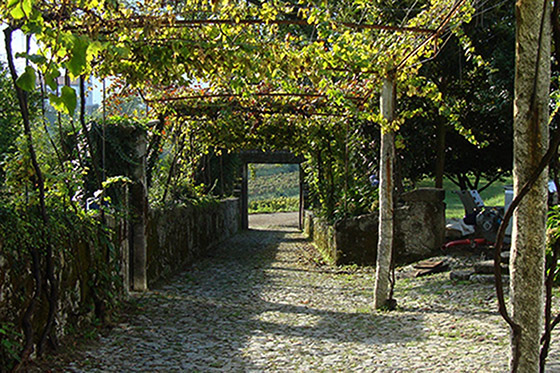 It's been a dry, hot year, and as we walk near to the pool, we can smell mint strongly in the air, there's mint everywhere, and some of the tallest trees I've ever seen, they're about 100-200 years old, says Vasco. He believes there is a strong polarity here. It can rain heavily here and the sandy, granitic soil is irrigated from springs in the mountains. He's built a hut to make, manage and store his biodynamic preparations, hydraulic extracts and some decoctions. He uses silica and cow manure on all plots, horsetail for mildew, copper and sulphur, essential oils, tea tree and orange to combat mildew. He also has an old barn previously used to dry corn which they'll transform into an apartment. There are lagares for foot-treading the red wines in the 'harvest room' and a 1300 litre capacity in the amphora room. The fermentation lasts two weeks, then he starts the settle, racks to another amphora, puts on a layer of olive oil to prevent oxidation and finally bottles unfiltered in March. He does everything manually, doesn't even use electricity, so he bought a vacuum pump for €180 on ebay and even made his own destemmer from an encyclopaedia image.
Based on this, something other than standard Vinho Verde should be expected here. There was a relatively classic young Vinho Verde and a Loureiro, but we also tried a Loureiro from 2009, which proved a hit with everyone; on the nose, a little like Riesling, lemon, lime, apple and petrol notes with a nutty, waxy, mushroom character, proving that Vinho Verde doesn't necessarily have to be drunk young. Other revelations were a Pet Nat from Loureiro and his 'medieval wine', Phaunus 2015 Palhete, a co-ferment of 80% white and 20% red in amphora, with wonderful flavours of cherry, iron, smoke, flint and strawberry jam.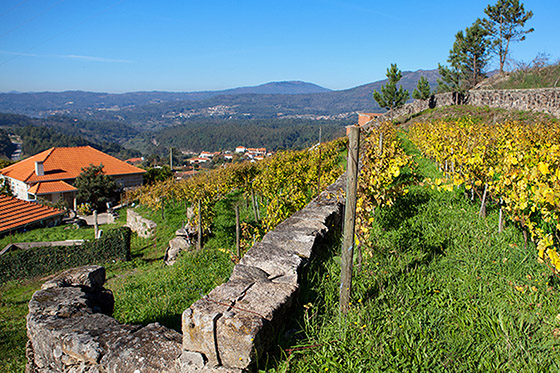 Another winery proving that Vinho Verde is not all you think is Anselmo Mendes. The main variety used here is Alvarinho, which Anselmo has been working with since 1998. Born in Monção, his main characteristic is curiosity, trying to find new things in this one variety, although he does also work with Loureiro in the Monção area and Avesso in the Baião area, close to the Douro. 'My life is about experiments, always looking to make the best wine I can, but for me the best is to be able to share my wine with those who love it as much as I do,' says Anselmo. He's trying to make a path with a new style, less sugar and no carbon dioxide, slow, gentle low-temperature fermentation, as little sulphur as possible, aiming to be as organic, biodynamic as he can. He experiments with microvinification from separate plots of land, wishing to show that they are close, but different; he experiments with barrel fermentation and maturation, adding layers of flavour to the wine; he experiments with ageing his wine, not only releasing it young; he experiments with skin fermentation, both moderate and full until all the sugar is converted; and he's the first to export the region's reds to England. The results of these experiments are wines that you would never have imagined were Vinho Verde, multi-layered, concentrated wines, wines with exotic fruit, nuts, caramel and spice underlain by a distinct saltiness.
Other wineries worth checking out are Quinta do Reguengo de Melgaço, within spitting distance of the Spanish border, where we did a vertical tasting of Alvarinho to see how it evolves, developing honey, spice, dried and tropical fruit flavours as it ages, Quinta dos Curvos, with its English-folly-style estate and grotto, Quinta d'Amares, overlooking an aqueduct and Benedictine monastery, founded in the eleventh century, whose monks tended the vines in the past, and the award-winning Quinta de Soalheiro in the Melgaço area.
So, this is Vinho Verde, but not the Vinho Verde of the supermarket shelf. It's worth taking the time to discover if you get the chance.