The first documentary evidence of the wine estate Quinta do Crasto dates back 400 years, to 1615; and in 1918, in other words, exactly a hundred years ago, the Roquette family became the proprietors of this picturesque wine estate in Portugal's Douro Valley. Reason enough for the owners Jorge and Leonor Roquette and their children (Tomás, Miguel and Rita) to create two exceptional wines in honour of the many individuals who tended the vineyards, vines and traditions over four centuries.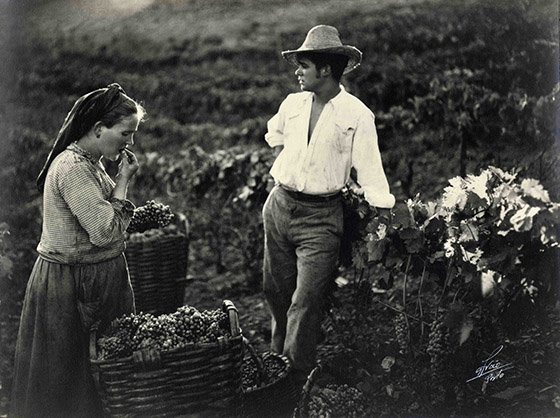 Historical record in the vineyards of the Quinta do Crasto © Quinta do Crasto
The jubilee wines are – as one would expect in the Douro – a Port and a red wine. Both carry the name "Honore", meaning "honour".
The name Honore was chosen by the Roquette family in remembrance of Leonor Roquette's grandfather, Constantino de Almeida. By acquiring the wine estate Quinta do Crasto in 1918, he lay the cornerstone of the family estate, which today is a household name for wine experts and enthusiasts from all over the world, and is considered to be one of Portugal's best wineries. Constantino's life motto was "Honore et Labore" (Honour and Work) – a saying which still features in the family's crest adorning the bottles of the Quinta do Crasto. "Honore expresses deep gratitude. When we look back on 400 years of history, our hope is that the future generations will also keep the fire and passion for wine burning," explains Jorge Roquette.
Honore Very Old Tawny Port
This Port is over a hundred years old. It is a blend of wines that were produced before 1918 and formed part of Constantino de Almeida's private collection. For three generations, the barrels containing these rare Port wines were carefully stored at Quinta do Crasto. Only 400 bottles of this special wine were filled, each one numbered with a year of the wine estate's history. Not only is this an historical, but also a great wine, as shown by its first review which was recently published in the Portuguese Revista de Vinhos: it was awarded a legendary 20 points!
It goes without saying that the Roquette family selected some very special packaging for this valuable Tawny, combining the best Portuguese craftsmanship with beautifully finished silver and the purest crystal in order to ensure the finest sparkle and transparency. Every bottle comes in an oak wood case with hand-sewn leather. Each one of the 400 decanters was hand-blown by the masters of the world-renowned Portuguese company Atlantis. 400 unique pieces, exclusively designed and crafted for the Honore Port series. In addition, each bottle is encircled by a hand-engraved sterling silver band designed by Topazio, a century-old business known for its outstanding pieces made from this precious metal.
The "Honore Very Old Tawny Port" in artistic Portuguese design © Quinta do Crasto
Honore Douro DOC
The 400th anniversary of Quinta do Crasto happened to coincide with the excellent 2015 vintage – very fitting for the creation of an exceptional red wine! The Honore Douro is a blend of 71.2% Vinha Maria Teresa 2015 and 28.8% Vinha da Ponte 2015, the top two vineyards of the Quinta. After maturing for 20 months in oak barrels, 1615 magnums were bottled and numbered in honour of four centuries of Quinta do Crasto history (1615 – 2015). This wine also received a first grand score of 19.5 points in the Revista de Vinhos.
Availability and prices:
The precious decanters of Honore Very Old Tawny Port are priced at 5500 euro each.
The Honore Douro DOC red wine is priced at 1000 euro per magnum bottle.
Limited editions are available by arrangement.
For purchases or further questions, please contact: honore@quintadocrasto.pt
Click here to view a video about the wines.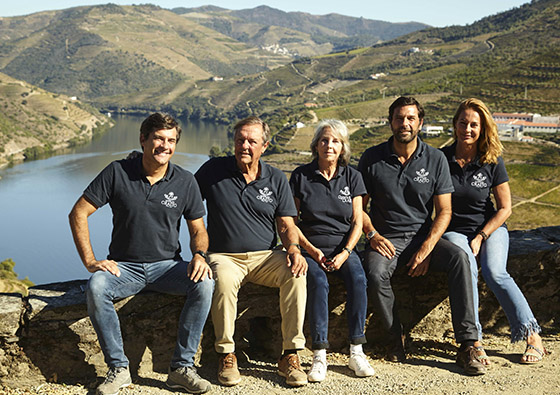 The Roquette family (Quinta do Crasto): Miguel Roquette, Jorge Roquette, Leonor Roquette, Tomás Roquette, Rita Roquette © Quinta do Crasto
About Quinta do Crasto:
Quinta do Crasto is located in a first-class site of the Douro region in northern Portugal and has been in the family of Leonor and Jorge Roquette for more than a century. Quinta do Crasto, much like all other large Douro estates, dates back to ancient times. The name "Crasto" stems from the Latin term "Castrum", which means "Roman fortress".
The oldest recordings of Quinta do Crasto and its wine production date back to 1615. Later, the estate was awarded the Feitoria status, the highest vineyard classification of that time.
In the early 20thcentury, Quinta do Crasto was purchased by Constantino de Almeida, the founder of the renowned Constantino wine house, which was dedicated to exporting and producing Port wines and brandies. The slogan "A fama do Constantino já vem de longe" ("The fame of Constantino goes far back") was so popular that it is still known today. After Constantino de Almeida's death in 1923, his son Fernando Moreira d'Almeida took over the reins of Quinta do Crasto, and continued the tradition of producing Ports of the highest quality. Today the wine estate is run by the family's fourth generation, Tomás und Miguel Roquette.
Quinta do Crasto offers a comprehensive selection of products, from white and red Douro wines to premium Ports and top olive oil. Since 2003, the estate has been one of the founding members of the famous winemaker group Douro Boys. (Quinta do Crasto, Quinta do Vallado, Niepoort, Quinta Vale D. Maria and Quinta do Vallado)
For further information about Quinta do Crasto please contact Andrea Schultes, Wine & Partners: a.schultes@wine-partners.at