Chateau Phélan Ségur's history dates back to 1860 when Bernard Phélan bought the estates of Clos de Garramey and Ségur in Saint- Estèphe and changed his new estate's name to that of today. It seems the property was badly managed by its previous owner, namely Nicolas Alexandre de Ségur, who was known by his contemporaries as 'the prince of vineyards'. At one time, he owned the estates of today's Mouton Rothschild, Lafite Rothschild and Latour; such a miracle has not been seen in Bordeaux since then!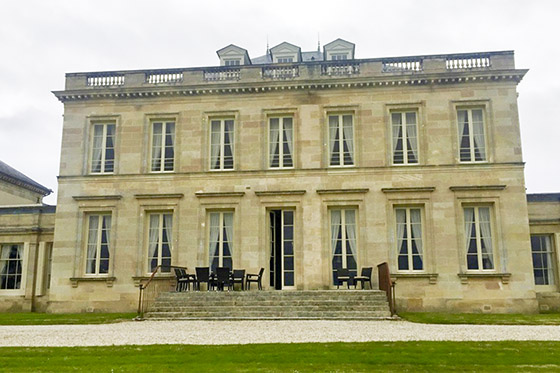 The estate changed hands again in 1883 and the Delon family (who today own Chateau Leoville Las Cases) became the new owners, but they also sold it on in 1984. It then ended up with its current owners, the Gardinier family, whose first decision was to skip three vintages (including the 1983, which they recalled immediately) as they were not satisfied with the quality.
Twenty-five hectares were bought from Chateau Houissant and added to the estate in 2002, and then in 2010, twenty-two hectares were sold to the neighbouring Chateau Montrose estate (a second growth chateau!) for a price of €900,000/ha, a record at that time. They now farm 68 hectares and the winery's modernisation was completed in 2011. They cultivate 58% Cabernet Sauvignon, 39% Merlot, 1.5% Cabernet Franc and 1.5% Petit Verdot, with a vine density of 8500/ha. Half of the malolactic fermentation takes place in new French barrique, the other half depends on the vintage. Their wines are generally aged in lightly toasted barrels.
It just so happened that I was there during the en primeur week, so I couldn't say no to their kind invitation to try their recent vintages, although my greatest regret was that we didn't get to taste the 2014, as this is considered to be one of the best vintages of the last decade:
2016 | 91-92 points
Aromas of red and black berries, raspberry, blackberry and strawberry. Full-bodied on the palate with a dense structure, smooth acidity and intensive tannins. Lovely fruit, elegant execution and a long finish. (no price as yet)
2015 | 90-91 points
Vanilla, orange, clove and blackberry on the nose. Full-bodied, firm structure, dense tannins, long and fruity with some toast on the finish. (€34)
2013 | 88-90 points
Ripe blackberry, cedar and other black berries on the nose. Medium to full-bodied on the palate, with marzipan, sour cherry, fresh acidity and silky tannins. Cedar, cappuccino and vanilla on the finish. (€38)
2012 | 86-87 points
Restrained, rather spicy on the nose. The fruit remains in the background of the rather spicy palate. Tight structure with firm tannins and medium acidity. (€35)
2011 | 85-86 points
Restrained nose of eucalyptus and plums. The tannins appear a little unripe, the acidity lively, and unfortunately the palate is a little lacking in fruit. (€38)
2010 | 92-93 points
Elegant aromas of ripe fruit. Silky tannins, elegant acidity and good balance. Flavours of sour cherry and cherry. Exuberant and long with plenty of finesse. (€51)
2009 | 90-92 points
Toast and black berry fruit on the nose. Rounded acidity, silky tannins, dense body and serious concentration. Flavours of black berries, chocolate and cedar. A serious wine. (€47.50)
The author's trip to Bordeaux was sponsored by Millésima.