The largest wine festival in Southern Transdanubia will be held on 10 June in Pécs. Visitors can taste the top wines of more than 50 wineries, including the winners chosen in the competition held on 22 May.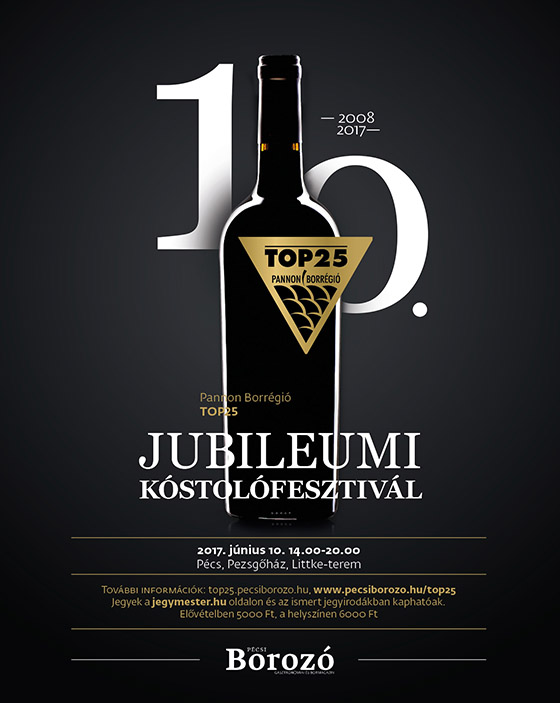 The main event of the Pannon Wine Region is the annual TOP25 wine competition which aims to select the best 25 bottled wines from its four wine districts – Pécs, Szekszárd, Tolna and Villány. However, the competition itself is not the primary goal, rather it is instrumental in popularising the wineries of the region and is also an opportunity to introduce and raise awareness of smaller wineries. It was first organised in June 2008 by Pannon Wine Region and the Pécsi Borozó wine magazine with the intention of becoming an annual event. Right from the start it has constituted the largest indoor tasting festival in the region.
This year the event moves to a new location - the beautifully refurbished Littke conference room in the Pécs sparkling wine cellar. To celebrate the anniversary, all the previous winners have been invited to present their winning wines or a new vintage, meaning 62 cellars are already taking part automatically. Naturally, this year's winners will be presenting their wines too. Thus, the event offers the best opportunity in the region to taste a range of top wines selected by a professional jury.
Jazzimpair and Trio Afium will also entertain visitors on the jazz stage from 2pm to 8pm.
According to the preliminary registration, more wineries than ever before have entered this year's contest, making the jury's task of selecting wines for the prestigious Pannon Region Top25 more difficult than ever.
Advance tickets are available at jegymester.hu or from regional ticket offices.
Further information:
Győrffy Zoltán +36 70 311 9835
or gyz@pecsiborozo.hu