Photo by Total Croatia News
Jo (Joanne) Ahearne MW is a winemaker and winemaking consultant. In 1998 she completed Oenology Degree in Australia where she has worked with iconic boutique wineries such as Charles Melton and Pipers Brook, as well as making wine for global brands such as Jacobs Creek and Hardy's. In Europe she has had a variety of consultancies in Spain, France, Italy and other countries, working with wineries to refine and improve the quality of their wines to fit the UK market. She worked for UK wine merchant Oddbins, influential supermarket chain Marks & Spencer and as a Head Wine Buyer for Harrods. Master of Wine title has since 2008. Before two years she started to produce her own wine in Dalmatia, Croatia, on the Adriatic island of Hvar, famous about its red wines from Plavac mali variety. First vintage of rosé called Rosina by the local variety Drnekuša enter the market last spring and in next few months is to be expected her first red Dalmatian wine from Plavac mali. We bring you an insight into her exciting biography, her thoughts on wine in general and motives which stand behind decision to found her recent Croatian project.
When did you realize that wine is your life's calling and what was the occasion?
Gosh that's a big question. I always was interested in flavours. I cooked a lot even from a young age. My mum bought me a weekly 'cordon bleu' installment-cooking book and I'd pick something out to cook that looked exotic to an eight-year-old Londoner! Where I come from very little wine was drunk when I was growing up - maybe more as it became more accessible in my late teens. But it was never part of everyday life.
Tim Atkin was a friend of a friend from university and I met him at her diner party. I remember thinking what an amazing job he had and wishing I knew more about wine. So instead of wishing, I got a job as a sales assistant in Oddbins which was then really trying to democratise wine. It sort of ended up being the 'university of wine' for so many people in the UK wine trade.
After a few years there I wanted to do vintage to improve my knowledge so I could start the MW programme and I was lucky enough to meet Charles Melton and Bob McLean at the Australian Wine stand at the London Trade Show. Bob offered me a vintage job at St Hallets and then had to rescind as his marketing manager had promised one to his girlfriend! So Charlie and Virginia stepped up and let me do vintage with them. It was the best place to start learning as I got to do everything as it was just Charlie and me. I must have spent two weeks just scrubbing tanks and presses.
After vintage I helped Charlie do the blends for Nine Popes et al and I was tasting barrels that had all come from one plot and one tank and they all tasted different. And that was the moment I was hooked. I HAD to find out why that happened. Obviously to this day I don't know EXACTLY why it happens but I'm nearer to understanding than I was back then. I was unsure if I should start all over again and go to winemaking school so I talked it through with Charlie. He was very clear and concise and said 'you can do what you like for the rest of your life or do what you love - it's up to you - and but the way it's your turn to make the coffee' and that was it!
You worked both in wine sale and wine production, now you are a consultant. Can you told us which period did you enjoy the most? And why?
I think they were all important in different ways. Working in wine sales is important because you learn what customers want and some of the barriers to buying wines. I was at the beginning of my wine exploration and everything was new. I was like a sponge. I can remember the first time I could taste pencil shavings in a red Bordeaux. Everyone had talked about it and I just couldn't see it. Then I went to a Rothschild tasting and there it was in a 1974. Once your brain has the taste imprinted you can then recognize it in other wines. I bought my first 'serious bottle of Australian wine' for the princely sum of £7 (bearing in mind I was earning £2 per hour before tax at the time...). Weirdly it was a Charles Melton Shiraz so maybe it was fate that I went on to work for him? Working for a luxury retailer like Harrods gave me exposure to such amazing wines and spirits.
The heady aromas of a winery in vintage captivated me and have stayed with me. In production you have to be part scientist, part artist and part commercial. For me that's a good mix. Taking something and producing something else, nurturing it through the years and then seeing it in bottle is amazingly satisfying. I loved blending for Marks and Spencer, working all over the world with every variety imaginable and bringing new wines to the UK. It's made me a better winemaker as I spent 7 years deconstructing and reconstructing wines from all terroirs. Consulting now is very much like the work I did then but in much more depth with fewer clients!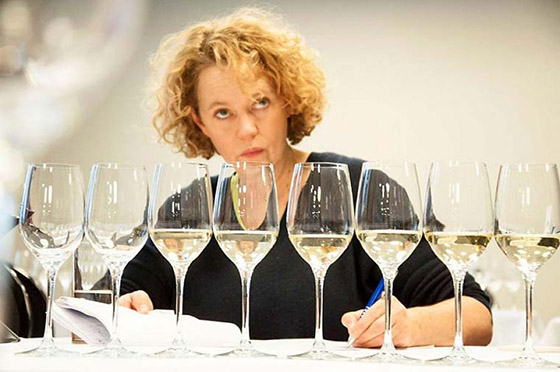 Doing the MW and judging has made me more critical of my own wines as well as those of others.
So it all builds a picture really. But my true love is production. Working with growers, tasting grapes to find the right vineyard to buy the grapes and when to pick them, the physicality of the winemaking process, the aromas and the tastes as the fermentation process takes hold, trying to balance the structure and the tannins, the phenolic a and the freshness. It's magical.
Master of wine title brings respect in wine world at the first place. What else it brought to you?
A rather large hole in my bank balance! No seriously, I mentioned it a little in the question above. It gives you a rigorous disciplined approach to assessing wine in a short timescale with no extraneous thoughts or additional notes. If an element is not required to assess the wine then it cannot be committed to paper else you run out of time. It's quite yogi-like in that respect. But also it gives you the opportunity to meet amazing people who work in other parts of the world or the wine trade in general.
You've been all over the world in your career. What did you find in Plavac mali and island Hvar so interesting and distinctive to make such a big decision to come here from megapolis as London is and make your own wine of it?
I find Plavac fascinating. You can make something akin to Nebbiolo as well as Amarone from the same variety in the same region. Forgive my Italian comparison but it's the easiest way to describe it. I don't think I quite understood what a difficult variety it was till I started making it.
As a Londoner I was always going to make wine somewhere that was not my natural habitat! When I came to the Dalmatian Wine Expo in 2014 and then went on the tour with the journalists I kept hearing that producers were planting their own vineyards and soon they would not be so reliant on growers. From an Australian perspective, buying from growers is the norm it's not that people don't have their own vineyards but they also buy grapes and have close relationships with growers, working together to produce the grapes that are needed for that particular wine. I'd been involved with this model at Charles Melton as well as with Jacobs Creek.
So I started thinking that there would be growers who maybe needed to sell their grapes. The whole of Croatia is beautiful but Hvar especially so and I think trying to get to grips with an island that has a defined space for an outsider seemed easier? And then the Tomić family offered me some space for my first vintage so the voice was made.
Croatian producers of Plavac mali often find British wine people not easy to explain this most important Dalmatian variety. Taste developed on cool climate Pinots and red Bordeaux is obviously not used to big reds. How will you cope with that?
I'm not sure the whole of the wine drinking public have been brought up on Pinot and Bordeaux. Maybe a lot of the older wine trade have but a huge chunk of the UK customers have been brought up on big Aussie reds. I think sometimes the way people describe their own wine (in Spain and Italy as well as in Croatia) can be confusing to outsiders. And there is a tannic aspect to Plavac that can be an issue not the alcohol per se.
You've made a rose from native Drnekuša. Is this ideal form for that rare and endangered gently coloured variety to your opinion? If yes, why, if not what is?
I was looking for a variety that had good acidity for the rosé so I asked my growers about any local variety that may fit this profile. They were adamant that Darnekuša didn't have enough alcohol or colour to be of interest until I explained that it was perfect for rosé. I think it could make beautiful light bodied red as well. Duboković makes one. I'm not sure if it's 100%, maybe a bit of another variety in it as the colour isn't that light. You'd have to check with him but it's a lovely wine. Traditionally people expect big alcohol from Dalmatia so it's seen as an issue. I'm all for flavour and balance at whatever alcohol makes the wine good be it 11.5% or 16.5%.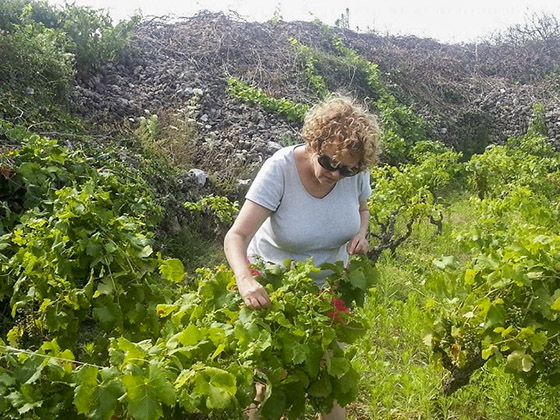 You probably until now met many Hvar islanders and other Dalmatians and their Mediterranean slow life philosophy. How that looks from your perspective?
One of the first words I learnt on Hvar was 'sutra' (tommorow). And as we know sutra never comes. It's a challenge but so is life! I'm not saying I don't get frustrated but I am learning patience.
But weirdly so many people think I'm only here for a year or two. It'll take 5 years to get anywhere. All the money I earn as a consultant gets ploughed back into grapes, barrels, pumps etc. The investment is huge so why would I do this just for a year or two? It's not a hobby it's a business that I intend to make successful so I can live a decent life doing what I love in a beautiful place which is full of passionate, inquisitive people.
Can you comment or score Croatian wine scene and wine production in general, especially in comparison with other regions. Where are we now?
When I first came to Croatia in 2003 I drank mostly beer as the wine I had was not so great. I know understand that I was drinking wine from "Konoba" made in the back shed but as a tourist I did not understand this and so thought that is what Croatian wine was all about. Unfortunately for many tourists this is still the case. Many "Konoba" do make decent, drinkable wine but it is far from universal and it's never the best of the region.
There are some great wines in Croatia and now there are more restaurants and wine bars where people can explore them by the glass. Anything that is wrong with Croatian wine is the same thing that is wrong with all wine - lack of balance, over-extracted, over-oaked, lack of freshness.
Probably the one disadvantage you have is a lack of larger, mechanized vineyards from which to make good, fresh entry point wine to drive export volumes. And maybe a lack of understanding of how expensive a wine becomes as it gets exported. For instance a wine that sold for 70 kuna here maybe £25 in the UK and what competition there is for that £25 spot on the shelf.
At the moment there is this huge interest for lesser know areas and varieties and Croatia is way up there to take advantage of this. It is one of the factors that persuaded me that I could succeed here. Croatia has so many international tourists but often they don't see the depth of Croatian wines because of the 'domestic' wine sold in many restaurants. Plus there are not that many places to taste and buy wine in the tourist areas unless you want to do a winery tour. People are on holiday, it's hot, lets go to the beach. If we only sell to those who are so interested in wine as to want to go on a tour then we all go out of business. It's great that people want to do tours, but we also need to be able to offer the ability to go and just buy some wine from a selection of local, Croatian and (dare I say it) international regions.