The estate is located in the municipality Siklós in the Hungarian wine region Villány. It was founded in 1995 by Swiss-German couple Evelyne and Erhard Heumann taken on lease and cultivated ever since. Over 20 years ago Evelyne's father, Eric was the first from the family to arrive in Villány.
When we first came here to visit my father-in-law, we were not really charmed by this region, to be completely honest. However, as we came again and again, slowly but surely we fell in love and one time, when we were driving here from Switzerland and crossed the Siklós hills on our way to the house, our hearts opened up all at once.
Finally, they came to like to place so much that in 1995 they even bought a 40-year-old portugieser vineyard. Erhard was working as a banker in Switzerland but has always been interested in wines and winemaking and has read a lot about the subject. (Although that time it was primarily Italian wine that meant "the wine" for him and loved the wines of Tuscany, Piemont and Bordeaux the most.)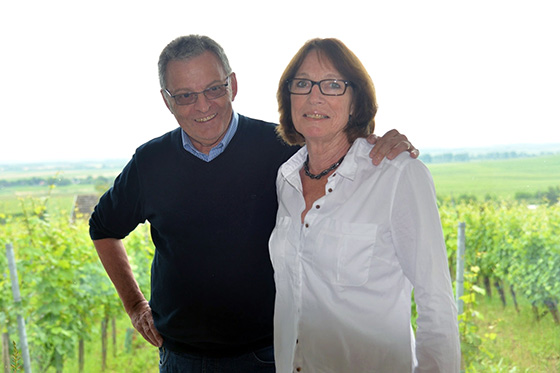 Partly thanks to Eric's experiences, Evelyne and Erhard also realized with time that really excellent wines can be made here and gradually they have "realized" that they have been making wines in Villány. Step by step, they have developed the technology, enlarged the vineyard, converted the variety-structure, increased the quantities and in the end decided to continue winemaking as professionals. "The decision was thus made as a happy accident" – says Erhard.
In 2003, when they started to build a cellar in Siklós, Evelyne – who had worked as an accountant in Switzerland earlier – moved to Hungary. Since then Erhard also retired from the bank and now both of them are living in the house that Eric built, and that is surrounded today by their Rhine Riesling vineyard.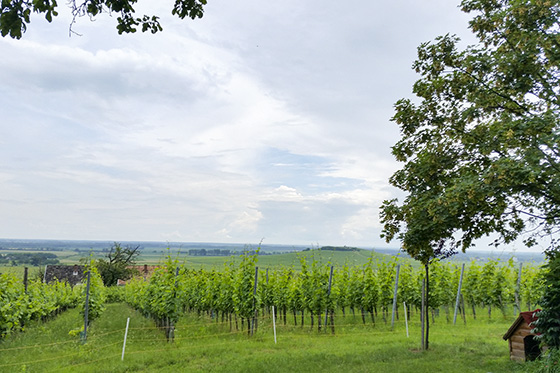 The Heumanns are processing grapes produced in a total of 15 hectares making approximately 50,000 bottles of wine. Most plantations are located in Siklós. From the very beginning they have targeted premium quality because they are convinced that only this attitude can be successful with such a small winery. Their viticulturist, András Theisz is a young expert with relevant foreign experience.
In 1995 the favourite wine in Villány was portugieser, and this is why I bought exactly that. Later on I realized that this wine is not for me, so we planted merlot instead. As time passed, Blaufränkisch has become my favourite local variety and now I consider this the main speciality of Villány, though at first I did not know that. I started to fall for Blaufränkisch having tasted some top-quality Blaufränkisch wines from Burgenland. It was when I planted my own vineyard which is over 15 years old today. I intend to make a wine whose quality matches the best Austrian Blaufränkisch wines! – says Erhard.
The wine styles of this winery are not typical of Villány; they are fruitier with fresh acids, more elegant items without too much barrel treatment. (These fresh acids are partly due to the soil in Siklós with higher lime content.) 90% of their wines are sold outside Hungary, mostly in Switzerland and Germany with the rest typically ending up in restaurants in Budapest.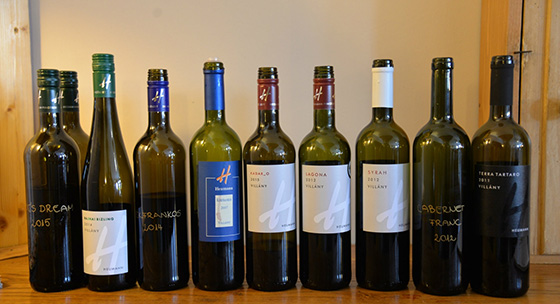 Tasting notes:
Rosé 2015 I 83-85 points
Salmon colour. Wild strawberry, citrus and spice meld in wine amply endowed with fruit, acidity and chalky minerality. Relativly long aftertaste.
Eric's dream 2015 I 82-84 points
A smell of apple and peaches with a hint of rose petals. On the palate the wine shows deep fruit paired with crisp acidity.
50% Chardonnay, 20% Riesling, 20% Welschriesling, 10% Gewürztraminer
Chardonnay 2015 I 84-86 points
Intensive flavours of green apple and apricots. Nice texture and weight marked by fresh, saline acidity. Well integrated in the creamy body.
Rajnai Rizling 2014 I 87-89 points
Vibrant, stony nose. Full-bodied, concentrated and dry, this is a classic dry Riesling that balances fruit and minerality. Structured and long. Just love it!
Kadar_O 2015 I 86-88 points
Aromas of blackberry, blueberry and rubus. Medium-bodied, velvety tannins and good balance. Flavours of pepper, blackberry, blueberry, plum and chocolate. Bitter notes on the finish.
Lagona 2012 I 89-91 points
Aromas of blackberry, blackcurrant, sour cherry, chocolate, marzipan and cherry. On the palate round, warm, dark red fruit with nice acidity and velvet tannins. Beautiful.
Blaufränkisch (Kékfrankos) Reserve 2014 I 88-90 points
Charmingly floral and elegant raspberry nose. Full-bodied, supple and delicate palate which is not that concentrated, but balanced and accessible. Quite long.
Blaufränkisch (Kékfrankos) Reserve 2007 I 90-92 points
Warm, red berry fruit with a touch of paprika. Rich red, black fruits and a full-bodied, pungent and assertive palate. Perfect choice!
Syrah 2012 I 89-91 points
Old leather and clotted cream aromas; vivid floral, blackberry, black cherry and blueberry fruit. Smooth tannins, well integrated oak and a long finish.
Cabernet Franc 2012 I 89-91 points
Silky texture, mouth-filling structure and smooth tannins. Flavours of wild cherry, blackberry with a hint of orange zest. Very stylish and elegant.
Terra Tartaro 2011 I 89-91 points
On the palate, full-bodied, lovely acidity and serious, muscular tannins. Sour cherry due to the acidity, with tertiary characteristics of earth, coffee bean and spices in the background. Graceful.
50% Cabernet Sauvignon, 30% Merlot, 20% Cabernet Franc
Terra Tartaro 2007 I 90-92 points
It's smooth and displays characters of blackcurrant, sour cherry, star anise a little dried leaves and animality with hint of mint. Full-bodied, silky structure, massive tannins and rounded acidity. Flavours of blackberry and blueberry, a little jamminess, vanilla and chocolate. Long finish. Super!