A select group of tasters eagerly anticipated the unique opportunity to taste the winery's aszú from 1993 through to 2013 at the Apropó wine bar in Budapest's trendy Király utca.
On 10 December this year, Tokaj's Hétszőlő winery will celebrate its 25th anniversary. Thus, it is planning to produce a commemorative book about the company and how it came into being, its vineyards and parcels, and their history. It also wishes to showcase ten to twelve top vintages of aszú in this book, hence the opportunity to try all aszú vintages going back to the company's inception and gather the opinions of the participants. This will be presented at a press conference November this year.
Unusually, we started the tasting from the oldest vintage and worked our way to the youngest, thus enabling us to look at the wines from a different perspective to normal.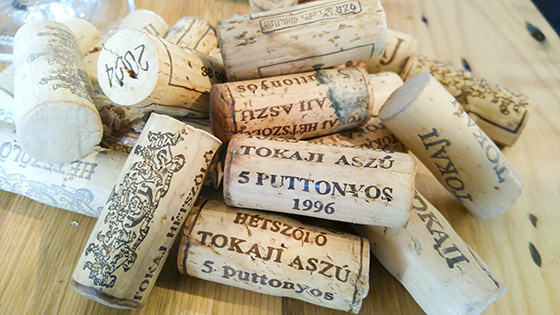 Hétszőlő Aszú 1993, 5 puttonyos I 93-95 points
Attractive amber colour. Pronounced aromas of forest floor, tobacco, walnut, treacle, mandarin, marmalade, dried apricot, spice and smoke. A slightly burnt sugar character, grainy tannic feel with acidity remaining remarkably fresh. Well balanced with some herbal notes. An elegant, complex and incredibly long wine.
1993 was a good year, with plenty of botrytised berries. However, at that time, the winery only had young Hárslevelű vines, so they also had to buy in a lot of aszú berries. The wine was fermented in stainless steel and matured the required three years in 225l used French oak, acquired from Sauternes.
Hétszőlő Aszú 1994, 5 puttonyos I 89-91 points
Deep amber, almost brown in colour. Forest floor, tobacco and toasty notes dominant, along with some caramel brittle. Less evident fruit on the palate with more tertiary notes of dried apricot, fig, raisins, chunky dark marmalade and walnut more prominent. Fresh, citrus acidity perseveres on the finish.
Fairly average year, with fewer aszú berries. The base wine was comprised mainly of Hárslevelű with Furmint aszú berries.
Hétszőlő Aszú 1995, 6 puttonyos I 92-94 points
Attractive amber colour. Plenty of butterscotch on the nose. Dried fruit character with fig, dried apricot, raisin, tropical fruit, citrus peel and walnuts. Slightly oxidised aroma. Also flavours of toffee, bitter coffee, tobacco and sun-dried tomatoes. Pleasant fresh zesty citrus acidity with a long finish of dried fruit.
Good year with plenty of aszú berries. Aszú berries macerated in must and wine fermented in used French oak from Sauternes.
Hétszőlő Aszú 1996, 5 puttonyos I 91-93 points
Attractive amber hue. Relatively restrained on the nose, but more fruit character than the previous two wines. Dried apricot and peach, smoky, floral and a slightly herbal note. Attractive dried orange character. Perhaps a little less concentrated than the 1995. Balanced, intense and elegant with a long finish.
Good year with plenty of aszú berries. Fermented and matured in used French oak.
Hétszőlő Aszú 1997, 6 puttonyos I 90-92 points
Bright amber. Fresher fruit character with marmalade, dried orange, peach and apricot. A touch floral. Tertiary notes of dried leaves, nuts and toffee. Rather piercing acidity with zesty crisp lemon finish. Less complex, but light, delicate and elegant.
A dry, cool year with a cold, dry autumn. Not the best conditions for development of aszú berries, but acidity was conserved.
Hétszőlő Aszú 1998, 5 puttonyos I 87-89 points
Medium amber in colour. Rather restrained with a perfumed, herbal nose. Light, fruity and fresh on the palate, with fresh herbal and grassy notes. Attractive dried fruit character of peach, fig, sultana, spicy orange peel, tropical fruit and fresh tobacco leaf. Delicate and elegant.
Late rains brought rot, not so good for aszú berries. It was rather dried berries that were used.
Hétszőlő Aszú 1999, 5 puttonyos I 89-90 points
Deep golden with a somewhat restrained nose. Creamy caramel and fudge, peach, tropical fruit, dried stone and citrus fruit, sultanas and dried leaves with plenty of honeyed richness. Zesty acidity but a rather short finish.
The year gave high acidity and the long dry autumn ensured plenty of aszú berries although the wines lacked the usual Hétszőlő intensity.
Hétszőlő Aszú 2000, 5 puttonyos I 90-92 points
Pale amber in colour. Perfumed aromas of stone fruits and quince with some caramel. Very fruity on the palate with peach, dried apricot, fig, tropical fruit and lemon zest. Acidity balances luscious sweetness nicely, despite lower acidity than normal. Long fruity finish with a touch of orange marmalade. Very youthful wine, but full-bodied and rich.
Very hot year with almost overripe Furmint berries. Good quantity of aszú berries, but a little lacking in acidity.
Hétszőlő Aszú 2001, 5 puttonyos I 92-94 points
Perfumed and fruity on the nose. Dried pear and peach, sultanas, fig, orange marmalade, butterscotch, acacia honey and marzipan on the palate. Elegant, fruity and floral with a long citrus finish. Elegant, fresh and still very youthful.
Very cold, wet year, making it hard for grapes to ripen; it was already cold in September. However, Furmint both ripened and botrytised. Hétszőlő wines often seem to perform better in cooler years. From 2001, new barrels were used for fermentation and then racked into used barrels for maturation.
Hétszőlő Aszú 2002, 5 puttonyos I 87-89 points
Restrained fruit on nose. A buttery palate, with flavours of pear, ripe yellow apple, stewed quince, white peach, ginger and dried apricot. A little lacking in intensity and finish.
Not too many aszú berries, so thinner, lighter aszú produced this year.
Hétszőlő Aszú 2003, 5 puttonyos I 90-92 points
Not overly complex with stone fruits, dried apricot, orange and subdued marmalade. Toast, honey, barrel spice and some dried citrus zest. Light, elegant and fruity with fresh acidity. Lacking a little in intensity.
Very good year with sufficient botrytis. Classic aszú year.
Hétszőlő Aszú 2004, 5 puttonyos I 90-92 points
Youthful and golden in colour. Smoky on the nose with citrus fruits and spice. Marmalade, dried apricots, sultanas and acacia honey with some herbal notes. Crisp acidity and a long refreshing finish. Light and elegant.
Very cold year, although Hétszőlő's south-facing aspect ensured a reasonable development of botrytis.
Hétszőlő Aszú 2005, 5 puttonyos I 88-90 points
Golden in colour. Restrained on the nose, yet rich, intense and complex with ripe stone fruits, citrus, orange zest and some floral notes once it opens a little. Vanilla and spice with more dominant oak. Some tobacco leaf and butterscotch add complexity. Long zesty lemon finish.
Very few aszú berries.
Hétszőlő Aszú 2006, 5 puttonyos I 89-91 points
Golden wine with tropical fruit, pineapple, peach and apricot with some zesty dried citrus peel and floral notes. Marzipan and spicy vanilla complement the wine's bright fruit character. High fresh acidity, light and elegant. Sweetness much more to the fore than in the older vintages; still lacking a little in complexity.
Reasonable amount of aszú.
Hétszőlő Aszú 2007, 5 puttonyos I 89-91 points
A little closed on the nose. Smoky, mineral with some stone fruit. Sweet ripe tropical fruit on the palate with honey, marmalade and spice. Luscious sweetness balanced by zesty, spicy acidity. Elegant and light.
Hétszőlő Aszú 2008 5 puttonyos I 92-94 points
Intense stone and tropical fruit, zesty lemon peel and perfumed quince complemented by acacia honey, the nuttiness of marzipan and some floral notes. Fresh acidity and a long, lingering finish. A well-balanced, fresh, light and elegant aszú.
Very good year. Some difficulties with rot due to the damp, but it was possible to produce sufficient quantities of aszú.
Hétszőlő Aszú 2009, 5 puttonyos I 90-92 points
Golden wine with an intense nose. Perfumed stone fruits, spicy tropical fruit with orange and lemon zest, and some camomile. Light, crisp and elegant.
Hot dry year, with very little botrytis.
Hétszőlő Aszú 2010, 5 puttonyos I 90-92 points
Stone and mineral dominate on the nose with peach, citrus, sweet spice, a touch of honey and some vegetal notes. Flavours of crisp, zesty citrus fruit and peach, underpinned with sweet honey. A long citrus finish with a touch of saltiness and butterscotch. Acidity piercingly high.
Poor year producing wines with high acidity. Not much aszú was made.
Hétszőlő Aszú 2011, 5 puttonyos I 87-89 points
Rather light intensity on the nose, predominantly fresh fruit and honey. Perfumed quince, pineapple and peach. Seems more like a late harvest wine than an aszú.
Not many aszú berries, hard and time-consuming to find. Rather shrivelled grapes than botrytised berries were a result of the dry autumn.
Hétszőlő Aszú 2012, 5 puttonyos I 87-89 points
Medium lemon in colour. Fresh fruit character of pineapple, quince, apple and white peach. Good body, but rather lacking in complexity. Sweetness persists on finish due to a lack of acidity.
Another hot, dry year with very few aszú berries. Only made four barrels of aszú. Harvest took place really early as the grapes ripened so quickly, thus losing acidity. Rather shrivelled berries than aszú berries.
Hétszőlő Aszú 2013, 5 puttonyos (barrel sample) I 91-93 points
Intense on nose. Attractive fruit, specifically grapefruit, quince and dried apricot with a touch of marmalade bitterness. Rich and creamy with the sweetness of honey and some almond nuttiness. Elegant, balanced and long with racy acidity.
Good year in terms of both quantity and quality. Attractive vineyard-selected dry wines produced as well as late harvest and aszú. A hot, dry year. In the end, a classic aszú year, enabling several tries through the vineyard.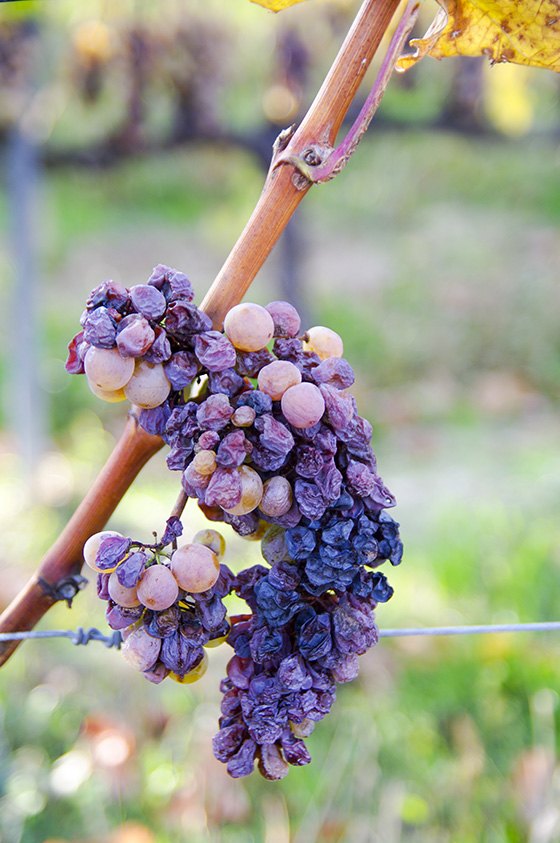 Many thanks to Hétszőlő and Edit Szabó for giving us the opportunity to see not only how aszú develops slowly over time, but how it can also be a clear barometer of the vintage in question. For someone who has not had the opportunity to make such a vertical tasting of aszú or indeed to taste slightly older aszú, one thing was clear from the tasting – that aszú is a master at retaining its freshness and acidity as it ages, whilst seeming a little less sweet and gaining enormously in complexity. Wines over twenty-three years' old conserve their youthful acidity and still have remarkable ageing potential. Hence, aszú is more than deserving of its reputation of 'Wine of kings and king of wines'!