Cover pic: solera at Perez Barquero
There are surely few wine lovers who will not have heard of Sherry and the styles of fortified wine produced in the 'Sherry Triangle' of Jerez, Sanlúcar de Barrameda and El Puerto de Santa María. However, there are doubtless far fewer who have heard of Montilla-Moriles, Andalusia's most northerly DO, and fewer still who have tried its wines. Yet this fascinating region producing very similar wines deserves to be better known, so I jumped at the chance to visit in early May.
A long history of winemaking
Winemaking in the region goes back to the 8th century BC, but has long been overshadowed by its more famous relative Jerez. Indeed, until the mid-20th century, much of the wine made here was used in the production of Sherry or Malaga wine, which were better known than their landlocked cousins, the towns of Montilla and Moriles. Around 90% of all PX produced comes from here, much of which ends up as PX Sherry or to sweeten cream sherries, but rarely do you hear mention of it. Most styles of Sherry are produced using the rather neutral Palomino variety, and most people are familiar with the Sherry styles of Fino, Amontillado, Oloroso, Palo Cortado and various cream styles. The neutrality of Palomino enables the wines to showcase their production methods – whether it be the bone dry, saline biologically aged styles of Fino and Manzanilla, oxidatively aged Oloroso, or Amontillado and Palo Cortado, which combine elements of both.
Like Sherry but not quite
Montilla-Moriles produces much the same categories of wine, with the exception of Manzanilla, which can only be produced in Sanlúcar de Barrameda. Parts of the region have the same white albariza soils as in Jerez, and it boasts two grand crus – Moriles Alto and Sierra de Montilla, which, as the names suggest, are higher than much of the region, thus benefitting from greater diurnal range. So, if you are a sherry lover, you should also be a Montilla-Moriles lover! However, there are some key differences. The wines here are made from Pedro Ximénez (the sweet style of which is known as PX), and they are generally not fortified. As the area is one of the hottest places on the Iberian Peninsula (I can attest to that, as the mercury was pushing over the mid-thirties when we visited in early May!) and Pedro Ximénez itself is a real sugar pump, wines can achieve 15% abv naturally and thus generally do not need fortifying. The only wine fortified at Bodegas La Aurora, says director Antonio López Pérez-Barquero, is the lusciously sweet PX. All the other (dry) styles achieve their high alcohol naturally.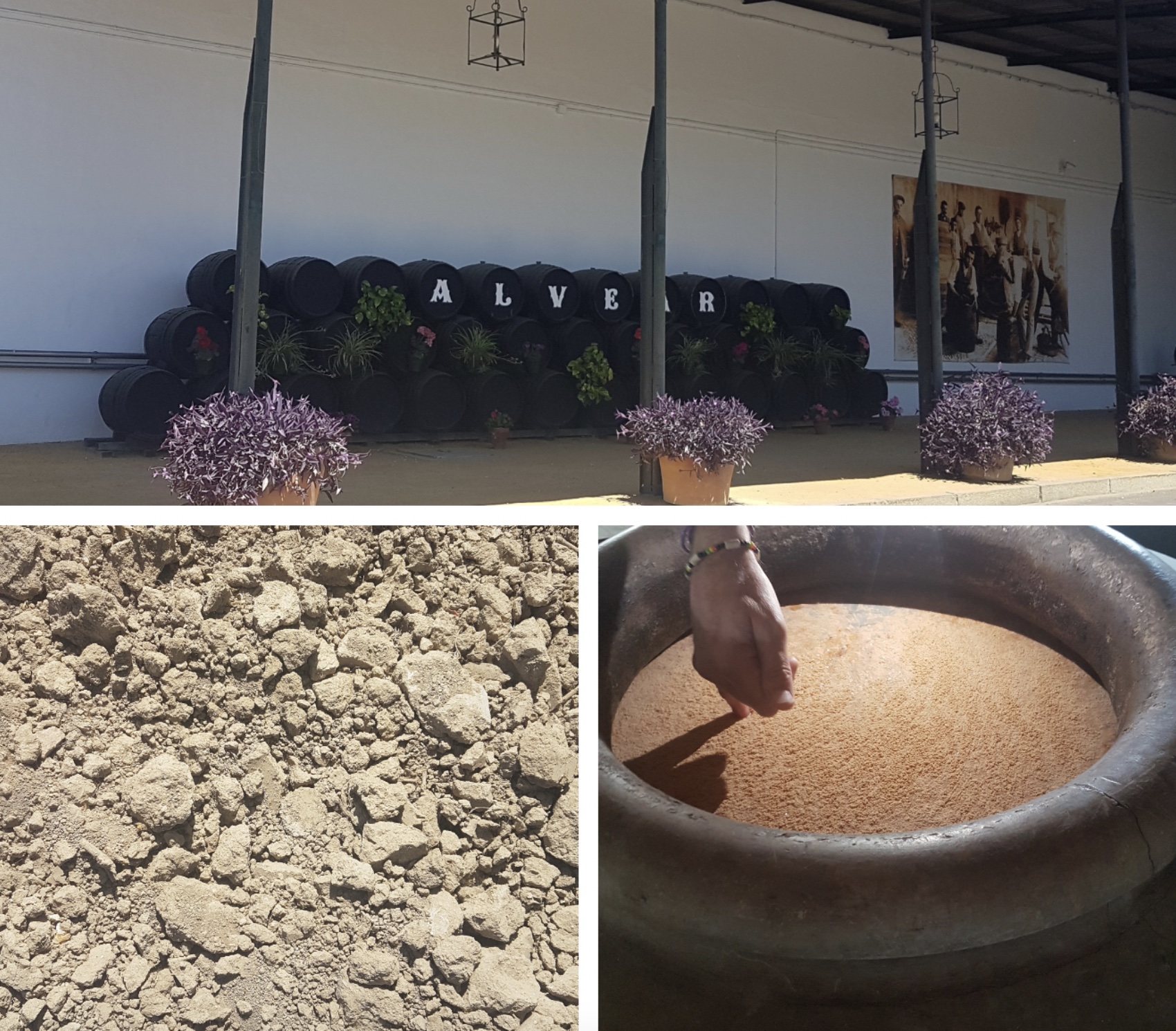 Tinajas, flor and more
Moreover, when entering a Montilla-Moriles bodega, you not only encounter vast cellars with rows of stacked old barrels – the ageing soleras for the wines familiar from Jerez – you are also greeted by incredible armies of tinajas. Bodegas La Aurora has 1,000 of these, the most in the world, each with a capacity of 8,000 litres! The must ferments and then develops its 'veil of flor' in these enormous concrete vessels over the winter. This layer of yeast keeps the wine fresh and adds notes of yeast, brine and almond, creating a fino style of wine. Young wines may be bottled directly from the tinajas, but aged styles will undergo further ageing in cask, either under flor or oxidatively, creating Amontillado or Palo Cortado, just like in Jerez. Incidentally, the term 'Amontillado' means from Montilla. It can be created naturally by letting the flor die or by fortifying by 1.5% abv. Oloroso will spend all its life in cask with no contact with flor – usually in the hottest part of the bodega or even outside.
A shrinking region
Unfortunately, Montilla-Moriles has shrunk from around 20,000 hectares under vine 30-40 years ago to around 4,500 now, with many people converting to farming olives, as it's less work and brings in more money. There are over 50 wineries, with most selling their wines locally. Only a handful, such as Alvear, Pérez Barquero, Toro Albalá and Bodegas Robles, sell nationally, and even fewer internationally, so it's not so easy to get your hands on a bottle outside Spain, but our visit to the region demonstrated that it's well worth seeking out these wines.
Styles of wine
Montilla-Moriles produces Fino, which must be minimum two years old, Oloroso, likewise two years old, and Amontillado, which must undergo minimum five years biological and three years oxidative ageing. Pasado styles of Fino must have at least ten years of biological ageing. They have also introduced the categories of Viejo (minimum 15 years ageing) and Viejísimo (minimum 25 years ageing). Its most renowned product, the lusciously sweet PX is produced from late harvested grapes that have already begun to raisin on the vine and then are further dried in the sun (asoleo) for another 4-5 days. The whole bunches of grapes are pressed in old olive oil presses, with the must going straight into tinajas to begin fermentation. It is the only style that is routinely fortified at Bodegas La Aurora, in two stages to allow the alcohol to better integrate, bringing the abv up to 16%.
Other varieties, such as Sauvignon Blanc, Moscatel de Grano Menudo, Moscatel de Alejandría and Verdejo are also authorised and may comprise up to 15% of any other permitted variety. Indeed, 'alternative varieties' are often used to bring down the high alcohol of sugar pump Pedro Ximénez. Still wines are also made from Sauvignon Blanc and Verdejo, which is incidentally Spain's go-to by-the-glass variety.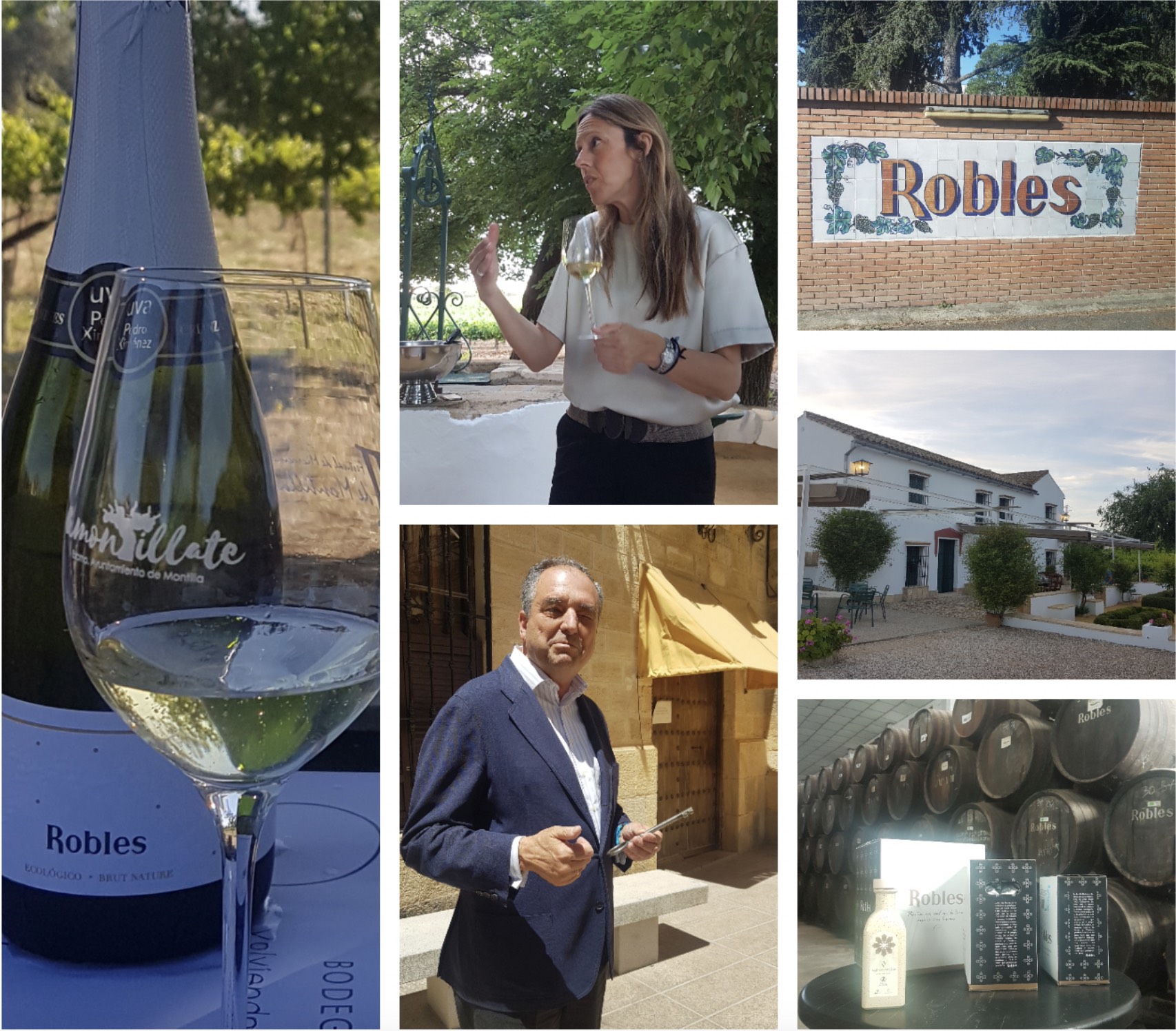 Adapting to trends
In the past, wines had to reach 15% to be entitled to the Fino category. In line with lower alcohol trends, this has now been lowered to 14.5% - much lower and the flor which characterises its style would not be able to exist. Early drinking styles aged under flor, with similar yeasty characteristics to fino but without its power, are produced. These are known as 'fino chiquito' and make a refreshing, youthful alternative to more aged styles. Some wineries, such as Bodegas Robles, are experimenting with traditional method sparkling wine, producing innovative vermouths and creating new styles of vintage rather than dynamically aged wines. Let's take a quick look at three of them.
Oldest winery in Andalusia, Bodegas Alvear
Bodegas Alvear, the oldest winery in Andalusia and the fourth oldest in Spain, is responsible for 55% of all the Fino produced in the area. However, this is not holding them back from trying out new things. After a brief tour of their well-kept, traditional cellars in Montilla, CEO, 8th generation Fernando Giménez Alvear leads us through a comprehensive tasting of their wines. As well as the traditional styles, including an incredibly complex and textured Palo Cortado, which, as Fernando aptly puts it, is an old Fino that wants to be a Fino but just can't achieve its biological ageing capacity, they have introduced a range of wine called 3 miradas (3 looks). These are vintage still wines that come from selected parcels of old vines producing grapes with less sugar, hence wine with lower alcohol (13-13.5%). Although they are not aged in a solera, the new wines still spend time under flor in tinaja, giving them characteristic yeasty aromas. The wines come from different parcels at different altitudes, with different ages and different types of ageing – in cask, cement or stainless steel, or a combination thereof. For example, the Carro Macho is fermented in oak and then spends 24 months ageing in oak, while the Vino do Pueblo spends only 8 months in tinaja. Worth seeking out if you can find them.
Fernando also takes us to lunch in their old bodega right in the centre of town, previously their family home. They still maintain a bodega there, the oldest in use, which houses, amongst other things, a barrel of delicious 100-year-old Palo Cortado (which may also be called Oloroso Fino, we learn), which his great grandfather made. We also try the oldest Amontillado in Montilla, from 1890, highly complex and bone dry, yet still incredibly fresh. As black grapes are not currently permitted in Montilla, the bodega is also making some red wines in Extramadura, close to the Portuguese border, to add further variety to its range.
Women and innovation – Bodegas Robles
Technical Director Rocio Márquez Ortega, one of the many women in the management team at innovative, organic Bodegas Robles, underlines what a flexible grape Pedro Ximénez is. They make 21 different styles of wine at the winery, depending on harvest, type of ageing and use of dried grapes. They were the first in the region to produce traditional method sparkling wine and now have versions spending 18, 24 and 36 months on the lees. Rocio would like to extend this to see how the wines will develop. It has been successful enough for them to invest in their own sparkling wine bottling line. Also first to convert to organic, they have been growing cover crops for the last 23 years and calculating their carbon footprint from vine to shelf has resulted in innovative packaging of many of their wines. They sell pretty much everything in bag-in-box along with a painted pint refill bottle with a different design for each wine to present the wines at table, resulting in a reduction of ½ kg of carbon each time the bottle is refilled. Fino, Amontillado or Oloroso from BiB anyone? Their comer del vino project has resulted in a range of delicious wine vinegars, jellies and jams, while a collaboration with high-profile Andalusian chef Paco Morales has resulted in two unusual vermouths based on Arabic flavours and spice, one of which, VRMT, is also sold in his Madrid restaurant.
And Rocio doesn't rest in her free time either. She and her husband run boutique Finca Buytrón too, where she produces organic Fino, Palo Cortado and PX. You can stay in the beautiful old farmhouse surrounded by vines, as we did, dine on the patio, take a dip in the outdoor pool and enjoy the tranquil countryside. Sleeps 16, so you'll need a bigger group to make it worthwhile.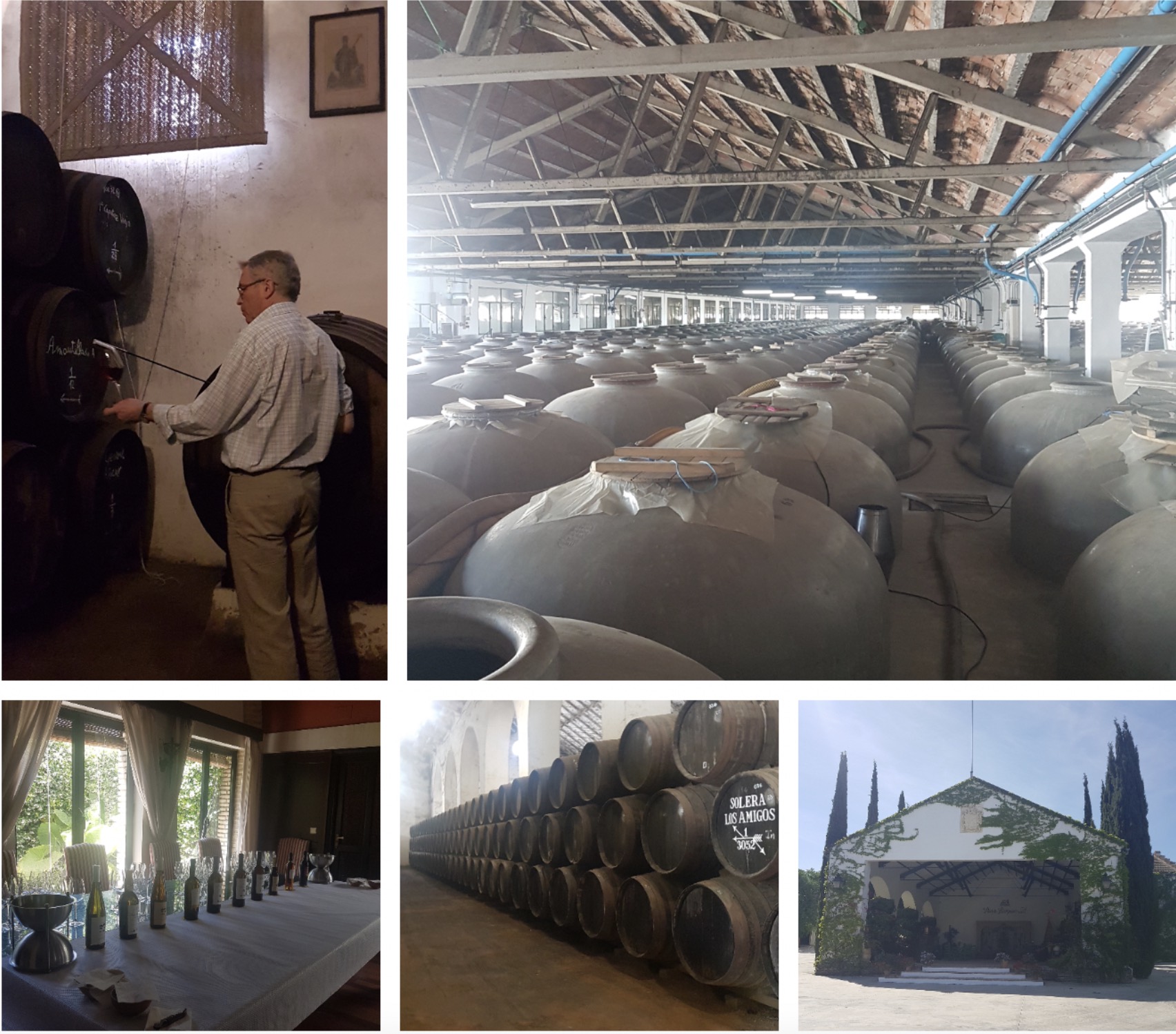 Montilla's leading exporter Pérez Barquero
Our final visit was to Pérez Barquero, producer of Spain's most popular Fino, Gracia (1 million bottles per year) and Montilla's leading exporter, with 200 hectares of vines. We visit the vineyards with marketing director Adela Córdoba Ruz and see the white albariza soils close up. When replanting vines, they are changing from traditional bush to guyot training, enabling them to machine harvest and bring the grapes into the winery cool. Montilla is the earliest place in Spain to harvest so this is increasingly important for quality wines, given that the harvest has moved forward considerably too, compared with her grandfather's time. There is a small winery too here at the vineyard, where we escape the heat, so the must can go straight into tinajas here, as quickly as possible, to begin its transformation into Fino. The wine can be drunk as vino de tinaja at the end of May, with the wine at the top of the tinaja more influenced by the flor. They produce a range of early-drinking fresquito wines, as well as vino de pasto, which needs a bit more ageing – 9 months in tinaja and 12 in cask. They can only be marketed as Fino if they have been aged for 2 years.
Back at the large bodega in town, we see the different environments in which the varied styles of wines are made – Fino and Amontillado require more stable, cooler conditions, with Finos over 14 years old sometimes needing help with flor from tinajas. Oloroso, vinegar and brandy can endure hotter conditions, with some soleras even exposed to the elements. The hot conditions result in a large angels' share – with 3-4% evaporating annually for wines and 7-8% for brandies. Walking around, it's easy to see why Pedro Ballesteros MW has said that the barrels in Sherry and Montilla bodegas should be considered part of terroir, given their huge influence on the development of the wine depending on where they are located! Moreover, as we taste through a considerable line-up of wines, brandies and vermouths, accompanied by delicious local snacks, we learn that the en rama versions of their Finos are labelled with the season they are bottled in, as this also affects the flor. So flor also contributes to terroir in this case!
Visiting Montilla was a truly wonderful and eye-opening experience. If you are in Andalusia, don't limit yourself to visiting its wonderful cities, relaxing on its beaches and exploring the Sherry Triangle, but head to the bodegas of Montilla too – it's just a 45-minute drive from Cordoba! And visitors are welcome with advance booking at the three highlighted bodegas.
We visited Montilla-Moriles as part of the joint Spanish-Portuguese project 'A shared passion'. Many thanks to them for a fabulous and educational time in Madrid and Andalusia.