One of the many ways of naming grape varieties in the past was for the attributes or shape of their bunch and Hungarian Juhfark fits into this group. Juhfark vines boast long curved bunches which are said to resemble the curvy tail of a sheep, or in this case, juh, Hungarian for ewe, hence its name.
Juhfark is one of the world's and Hungary's best-kept secrets, at least in the 20th century. Once widespread in Hungary, it is now predominantly cultivated in tiny Somló, Hungary's smallest wine region, a characteristically shaped hill, a flat-topped volcanic butte covered with vineyards, punctuated with stone terraces and tiny white press houses, protruding majestically from the flat surroundings of the Kisalföld. This is where we were heading for a day in celebration of said Juhfark.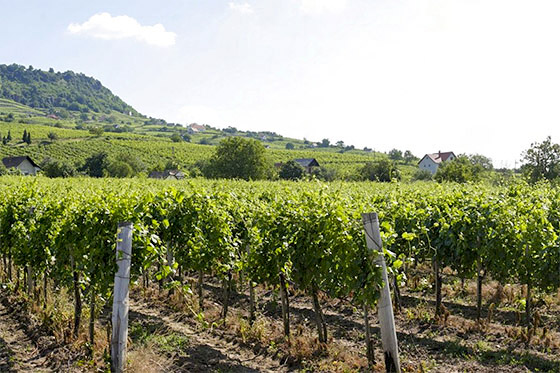 Second Somló Juhfark celebration
The Somló winemakers had collaborated for the second time to showcase their most iconic variety in the 2nd Somló Juhfark celebration, held at the Tornai Winery at the base of the hill. Visitors had the chance to sample 27 Juhfark wines from 16 wineries in a walkaround tasting and find out what makes this unique Somló variety special. Some of the best wines from recent vintages had to pass a tasting panel in order to make it into this selection of top Juhfarks
You may not have heard of Juhfark or indeed Somló. But this basalt hill, which once spewed out lava under the Pannonian Sea and now sits in splendid isolation on a flat plain, produced wine that was coveted by royalty and is said to have rivalled the more famous Tokaj in renown. Not only do Somló wines generally boast piercingly high acidity, which helped preserve them when transported afar, but they were believed to possess another incredible characteristic. Consumption of Somló wine, which generally contained Juhfark as part of a field blend, was believed to guarantee the blessing of a male heir, so became a popular wedding night drink and was the favoured wine of the Habsburgs to ensure their succession. British Queen Victoria was also said to be partial to a glass or two of Somlói. Indeed, Somló wines could also cure all manner of ills – from anaemia, high blood pressure and liver complaints right through to paralysis – so actually used to be stocked by Hungarian pharmacists to ensure everyone remained in good health.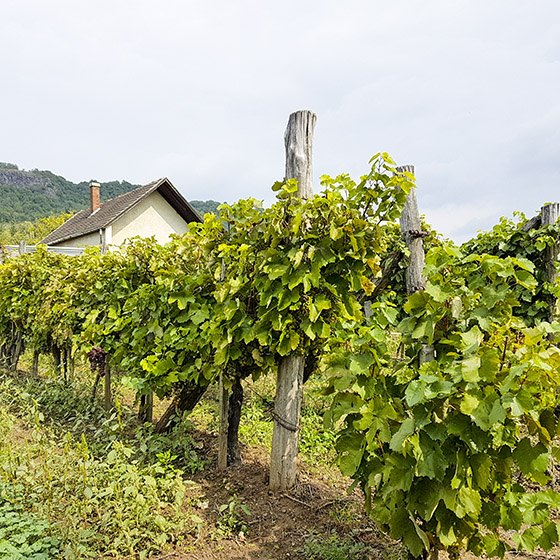 So, medicinal properties aside, what does Somló have to offer to the world now? Well, Somló has a unique terroir of volcanic basalt, loess and marine sediment – the area was once covered by the Pannonian Sea – and a disticntive local variety, Juhfark, which coupled together give an exciting, original wine that cannot be reproduced elsewhere. Curious international consumers are in search of unusual local varieties, uniqueness, terroir and provenance, so Somlói Juhfark fits the bill perfectly. It's a relatively restrained variety with a great ability to showcase the distinctive Somló climate and soil, and it falls to winemakers to produce just such wines. Rather than the full-bodied, concentrated, somewhat oxidised wines of old that many are familiar with, modern Somló wines should be fresh, light and fruity with clearly recognisable Somló character.
Its winemakers need to work together to determine together just what kind of well-identifiable, unified wine style should be their brand and how to position it. For it to be successful, everyone needs to understand what Juhfark is and to make wines that correspond to that image. So, this event was a step in the right direction with numerous winemakers, both large and small, showing their wines and enthusiastically tasting each other's'. Somló's many small winemakers, working together can achieve synergy, something bigger that will hopefully make the world sit up and take notice of the new wines of Somló. One of Decanter's contributing editors has already remarked that Juhfark 'may be even more interesting a grape variety than Furmint and Hárslevelű'...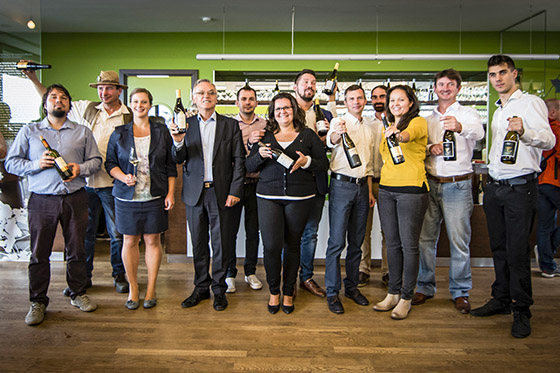 Photo by Gábriel Nyulasi
Tasting top ten
Barcza J4 2015 I 92 points
One of the afternoon's revelations. A semi-orange wine, having spent four days fermenting on its skins. A beautiful deep yellow with intense, perfumed aromas of honey and caramel, spicy orange and frankincense. A complex wine with buttery notes and plenty of ripe stone fruits, citrus and orange zest. Rich, mineral and long with plenty of refreshing acidity.
Fekete Juhfark 2012 I 90 points
A balanced, complex wine with great intensity. Aromas of honey, almond and dried fruit with some vanilla and butterscotch on the palate along with attractive fresh mandarin and rhubarb. Wonderfully long mineral finish.
Spiegelberg Juhfark 2012 I 89 points
A ripe, concentrated wine with bags of honeyed fruit, apricot, caramel and nut. Just a touch of residual sugar balances out the racy acidity. Complex and mineral with a long, saline finish.
Tornai Top Selection Grófi Juhfark 2015 I 89 points
A beautiful fruit cocktail of ripe apple, apricot, mandarin, grapefruit and rhubarb. Fresh and dried fruit balanced with spicy caramel and fragrant honey with a good dose of saline minerality. Zesty acidity keeps the explosion of flavours in check.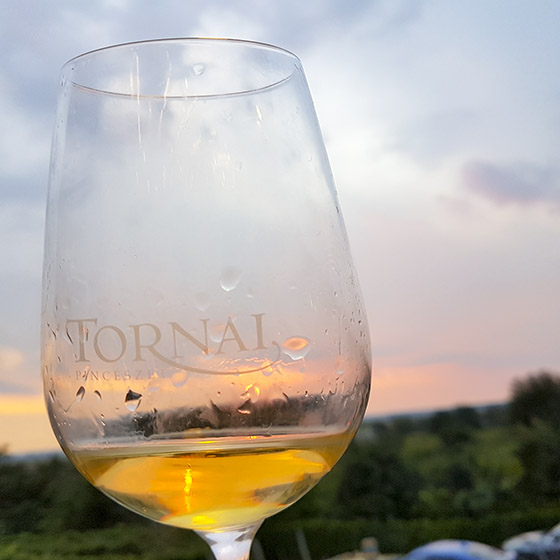 Kolonics Juhfark 2015 I 88 points
A smooth, rounded wine with ripe citrus, grapefruit and apricot fruit complemented with a touch of smoky, caramelised hazelnut and honey. Complex and full bodied with lively acidity cutting through the rich body and keeping the whole thing in balance.
Kőfejtő Pince Juhfark 2016 I 87 points
A fresh, clean fruit forward wine with plenty of apricot, lemon, peach, grapefruit and sour apple. Characteristic Somló minerality with a hint of wet stone and a touch of oakiness. Creamy, honeyed wine perked up with zesty acidity. Still very young, but inherently drinkable.
Barcza J F Selection 2015 I 87 points
Attractive, smoky wine with invigorating grapefruit notes. Nutty and buttery with a hint of salted caramel. Complex and intense with a smooth, long mineral finish.
Tornai Top Selection Aranyhegy Juhfark 2015 I 87 points
A beautiful golden wine with a good splash of vanilla, honey and nuts. Zesty citrus and grapefruit notes with refreshing acidity, tight structure and a long finish.
Kreinbacher Juhfark Selection 2015 I 86 points
A juicy balanced wine with notes of grapefruit and lemon curd. Racy acidity balanced by rich creamy vanilla and honey. Long, lingering finish.