The Volcanic Festival also organised a masterclass, enabling visitors to taste wines selected by the participating wineries.
Kékhegy, Ami Úrrá Tesz 2014 I 82 points
(A blend of Tramini and Cserszegi Fűszeres) Mátra, Hungary
An attractive wine, demonstrating the spicy character of the Cserszegi Fűszeres along with rose notes of the Tramini. Citrus, yellow apple, mineral with a touch of saltiness on the finish. Zippy acidity makes the wine extremely refreshing.
Káli Kövek, Rezeda 2015 I 89 points
(Olaszrizling selection) Káli Basin, Balaton Uplands, Hungary
Pale straw in colour. Plenty of ripe fruit on the nose. Pear, quince, yellow apple and some floral and spicy notes. Bone dry with fresh acidity, lemon, almond bitterness and some saltiness on the palate. Medium-bodied with a slightly oily, honeyed character. Long finish.
Bencze, Olaszrizling 2013 I 84 points
St György Hill, Badacsony, Hungary
Plenty of ripe apple, pear, peach and citrus fruit on the nose, complemented by spice and tobacco leaf. Flinty on the palate with crisp, restrained acidity, a touch of almond butter and a hint of tannic grip. Medium-bodied and balanced, although the alcohol is perhaps a little dominant. Long finish with herbal and mineral notes.
Somlói Vándor, Kabar 2013 I 90 points
(Kabar = Bouvier x Hárslevelű) Somló, Hungary
Full-bodied wine with some almond bitterness on the nose. Bags of ripe fruit, yellow apple, pear, peach, apricot, grapefruit and quince with just a touch of floral character. Salty, stony minerality dominates the finish, with perhaps a hint of tannins. Long and complex.
Kaláka, Tokaji Cuvee Tökösmál 2015 I 92 points
(70% Hárslevelű, 30% Furmint) Tállya, Tokaj, Hungary
Floral on the nose with ripe quince, peach, pear and yellow apple. Multi-layered on the palate with almond bitterness, tobacco and a flinty, slaty character. Complex, well-balanced wine, with some residual sugar to balance the high acidity. Long finish with a touch of salt at the end.
Laczkó, Zenit 2012 I 86 points
(late harvest) Mátra, Hungary
Abundant perfume on the nose, with floral, honey and peach dominant. On the palate, there is certainly plenty of alcohol. Dry and full-bodied with plenty of ripe yellow apple fruit, honey, toast, toffee brittle, caramel and some stoniness. Long finish.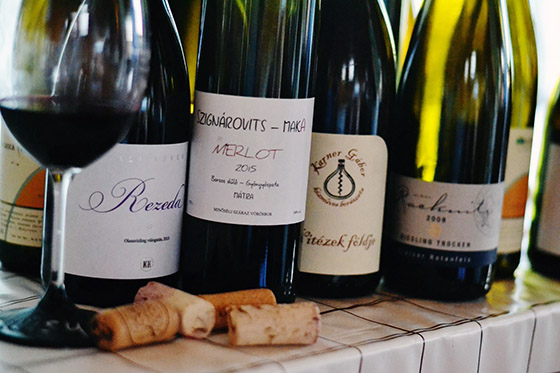 Geönczeöl, Karcsa 2012 I 85 points
(Zöldveltelini and Rhine Riesling) Mužla, Slovakia
Loads of apple and pear fruit on the nose, with some wax and polish. Citrus fruit, yellow apple, white pepper, some floral notes and a touch of toffee. The high, fresh acidity is balanced by some residual sugar.
Weingut von Racknitz, Riesling 2008 I 92 points
(the odd one out in the flight, an example of a German wine) Nahe, Germany
Aromas of petrol dominate the nose, along with citrus fruit, white blossom and some leafiness. High, crisp acidity balanced by a touch of residual sugar. Saltiness and flint are dominant on the palate, particularly on the finish. This minerality is complemented by lovely honeyed grapefruit. Persistent finish.
Renee's Wine Heaven, Bibor Kadarka 2015 I 80 points
Mátra, Hungary
Bibor Kadarka is a teinturier variety, so very deep purple in colour with flavours of cherry and plum. A little one-dimensional, bitter and tannic, with a stony characteristic.
3fuochi, Merlot 2015 I 90 points
Mátra, Hungary
An elegant, bright wine with plenty of fresh fruit character. Has not seen any oak yet and the cherry, plum, raspberry, violet and some spice shine through. Fresh acidity balances the attractive fruit. Still very young, will be interesting to see how it develops.
Szignárovits, Merlot 2015 I 80 points
(tank sample) Mátra, Hungary
Bright fresh cherry, plum and raspberry with a touch of pepper. Well balanced and fruity. Silky tannins and fresh acidity. Still a bit young, with a lingering flavour of yeast and a touch of CO2.
Karner, Vitézek földje Kékfrankos 2012 I 94 points
Mátra, Hungary
Cherry and sour cherry bomb on the nose, with plenty of spice. Elegant fruity wine with fresh acidity and slightly grippy tannins. Some stone, flint and saltiness, which is also present on the long finish.