Cover pic: @katoboglar
Hidden away down in a side street in the depths of the ninth district of Budapest is a wine bar different to most of the others in town. It's not chic, it's not trendy, it's natural.
Craft beer fans will already know about Élesztőház. Well, VinoPiano shares its summer outdoor space with this craft beer hotspot and in the winter has a cosy cellar downstairs and a space upstairs where they hold regular 'wine cinemas' and 'taste with the winemaker' events.
It has much in common with Budapest's popular ruin pubs; however, most of these are a disaster for wine lovers as the choice of wine is so limited. Here you can enjoy the atmosphere of a ruin pub and the Budapest summer courtyard life with a great choice of wines at your disposal.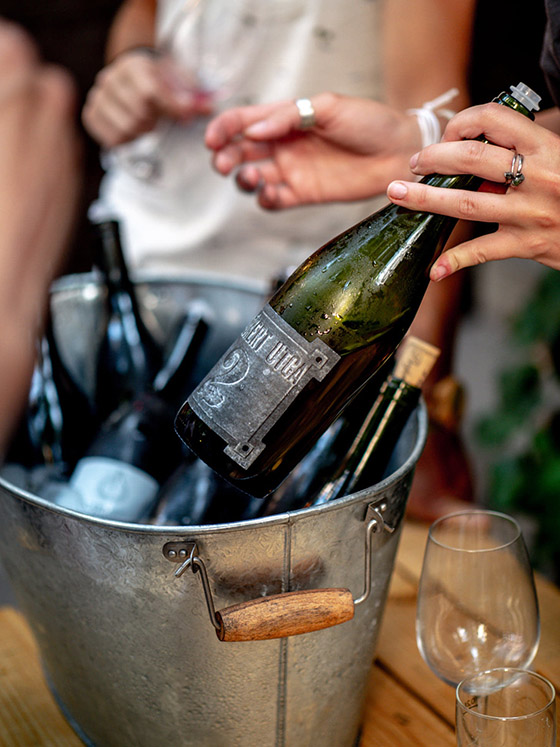 Photo: @katoboglar
VinoPiano has always been all about small, artisanal producers and you'd certainly be hard-pressed to find some of the wines they offer elsewhere in town. Now, Balázs Vajas, the owner, tells me that they are aiming not only to focus on small producers, but also predominantly on natural winemakers, making them a unique venue in Budapest.
I recently attended one of the walkaround tastings they have been organising this summer in the courtyard. Unfortunately, it was during the 30°C+ heatwave, so I had little desire to taste wine when I set off. However, once in the relative cool of the courtyard and in the company of three natural winemakers from the Mátra, I soon changed my mind.
I was already familiar with two of the winemakers – Bálint Losonci and Gábor Karner – but not with the third, Levente Major, so I'll begin with him.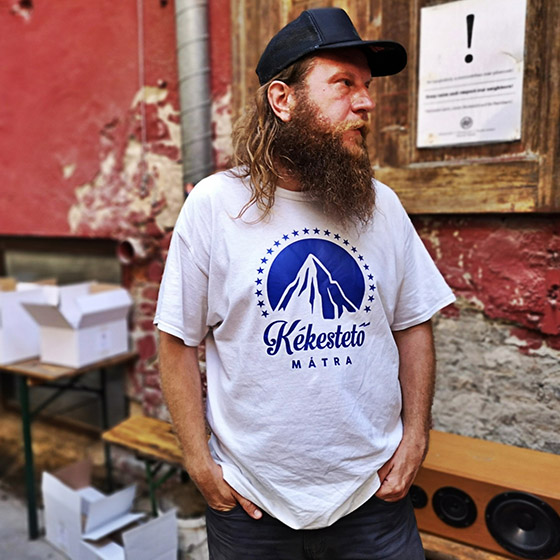 Levente Major (photo: Gabriel István Nyulasi)
Those sceptical about natural wines should certainly try Levente's wines. He'd brought along two Olaszrizlings named Szentanna and Sáar from 2015 made from low-yielding 60-year-old wines. Both were clean, pure, creamy, textured fruit-driven wines that lingered on the palate. His 2015 Riesling was a lemon and lime bomb with just a touch of residual sugar to keep the acidity in check while his tank samples from 2016 and 2017 showed equal promise. He also poured an Irsai Olivér, an aromatic Hungarian variety that many wine lovers would scorn as 'girly' and 'floral', explaining that he wanted to make a non-industrial Irsai Olivér – unfortunately many of these thin wines come from over-cropped, high-yielding vines, whereas his vines are low yielding. The 2016 was the second time he'd made it – hail destroyed the crop in 2017 – and it was certainly in a different class – aromatic and heady, yet not over the top, with plenty of creamy peach and lychee.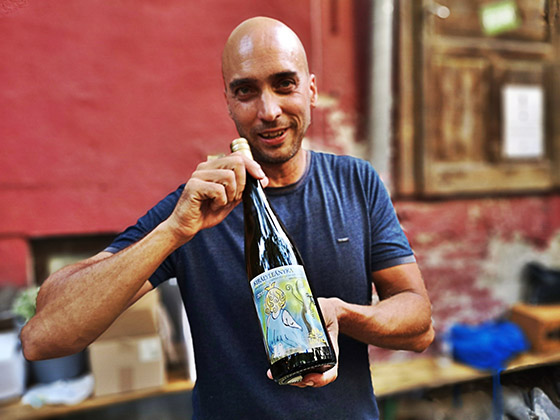 Bálint Losonci (photo: Gabriel István Nyulasi)
Bálint Losonci also had some innovative wines. Although skin-contact wines, or 'orange' wines are not to everyone's taste, I must admit to liking them when well-made, and Bálint's were. The 2017 Riesling had seven days skin contact and was a zippy mix of honeyed lemon and lime, textured, long and complex, while the 2017 Királyleányka, the produce of 30-year-old vines they've recently bought, was soft and spicy with lovely notes of orange zest and the texture I love in orange wine. His tank sample of an orange wine from 80% Chasselas and Müller-Thurgau, made as the result of a bet was less of a hit, but in Hungary, Chasselas is generally grown only as table grape. He also makes the only wine in the world from Magyarfrankos (Kékfrankos x Muscat Bouschet), a juicy, slightly aromatic wine with flavours of dark berries. He's now planted some other unusual varieties too - Purcin (grown historically in Tokaj) and Tihanyikék.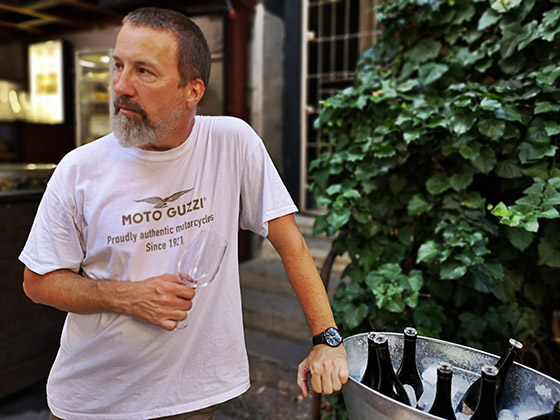 Gábor Karner (photo: Gabriel István Nyulasi)
Even on this hot day, Gábor Karner's Kékfrankos didn't disappoint either. The 2017 Vitézföld, aged only in steel, was bright and balanced with plenty of crunchy cherry fruit, while the 2017 Tavaszföld with 1.5 years in oak was also wonderfully fresh and youthful with plenty of red fruit and a touch of coffee.
And if you want to taste with the winemakers themselves, make sure you check out the 'Borozz a Borásszal' events every Wednesday from October at VinoPiano.
VinoPiano, Tűzoltó utca 22., H-1092 Budapest