Millesima created its Blog Awards in 2013 to honor the American wine blogging community and to share outstanding wine writing with its 90,000+ clients around the world.
In 2017, we are thrilled to add a new dimension to the contest: it is even more international, as it has opened to include Asia.
This year, the Blog Awards will cover three zones: the USA, Europe, and Asia. The three areas will have the same three categories each with separate winners and prizes.
New Categories
Wine & Food Pairing Award (The category is based on the combination of wine with complementary food)
Wine Travel Award (The article can be about a winery, interesting, oenotouristic travel experiences or recommended wine growing discoveries)
Wine Reporter Award (The article will be judged according to the writing style, originality and creativity. This category is very open, the only criterion is to report on wine)
Bloggers may submit multiple entries to more than one category, but the same article may not be submitted to multiple categories. The categories are the same for the USA, Europe, and for Asia
Public Voting
First Round (from the 2nd to 13th of January): Three international wine professionals will select the 21 finalists (of which the list will be released on the 16th of January), with three finalists in each category in each country, with one exception. For example, in the category « Wine Travel Award » will have 9 finalists: 3 in the USA, 3 in Europe, 3 in Asia.
The second round will be put to a public vote! The 21 finalists as selected by our jury will be voted on by the public on our Facebook page (from the 16th of January to the close of voting on the 27th of January 2017). The public will chose one winner in each of the three categories in each country. The seven winners will be announced on the 6th of February , 2017.
The public vote on our Facebook pages ended on Friday 27 January at 23:59, after a very large participation of the voters – over 4,000 votes, compared to 1,190 in 2016. Our Grand Jury selected 18 finalists by the quality and originality of the submitted articles. These 18 individuals won a magnum from Château Pichon Baron 2011 (second growth in 1855 in Pauillac) and a magnum from Château Suduiraut (Classified First Growth in 1855 in Sauternes).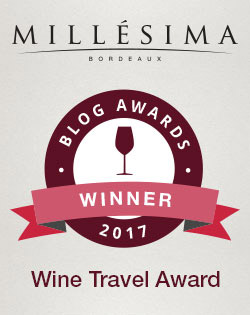 To see the 2017 winners (included 1 article from WineSofa) click here.