I was recently offered the opportunity to taste some big, older Hungarian reds from prominent Hungarian producers at an informal tasting arranged by Edit Szabó, Editor-in-chief of Borsmenta. Given that I only had to stagger around the corner, and it's not so often that you have the chance to taste some of these 'museum pieces', I jumped at the chance. Admittedly, I was a little sceptical as to how these wines would have held up, since wine-making in Hungary at that time was rather dominated by oak and indeed by high alcohol, as it can be now. The wines we were to taste originated from the south of Hungary, from Villány and Szekszárd, so there was a good chance that my suspicions might well have been upheld.
As our select little gang arrived, I learnt the background of this tasting. Gábor Robotka, Sommelier at Budapest's Olimpia restaurant, had put together a selection from a friend's wine cellar. Said friend was curious to know what kind of state these wines were currently in. As he had quite a stash of some of the wines, he wanted an expert opinion on what he should do with them. Should he keep them? If so, for how long? Should he drink them now, or gift them to friends in cases where the quantities warranted this? Or, in the worst case, should they simply end up down the drain? Edit and Gábor had gathered together a small group to support them in this task. Other tasters were Sára Megyeri of Flavor.hu, Ágnes Zacsek (writer), Norbert Csányi (Horeca consultant and trainer) and József Kling of Gusto magazine. Oh yes, and occasionally Edit's husband László who, when he heard noises of appreciation emanating from the tasting group, broke off his work in the next room to join us in tasting those wines we were audibly evaluating positively.
Our task was simply to evaluate the drinkability of the wines. Of the twelve wines, amazingly only one was corked. As expected, the majority of the wines did indeed feature high alcohol, generally 14% or 14.5%, with a few exceptions, and most were rather oaky. We were, however, delighted to discover that some of the wines were still very drinkable indeed, thus undermining our preconceptions, although one or two were clearly past their peak. After we had finished tasting, we were more than happy to continue to sip several of them too!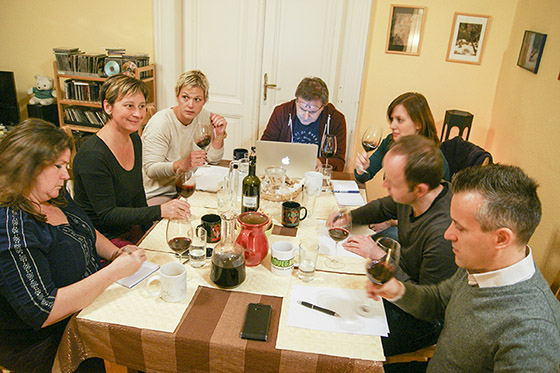 Tiffán's, Elysium 2006 (Merlot, Ördögárok vineyard)
Jammy cherry, toast and some earthy tertiary notes on nose, which is unfortunately drowned out by the 15% alcohol. Powerful on the palate, rather reminiscent of a fortified wine, with overripe fruit, chocolate, leather and spice and grippy tannins which become even more dominant on the second taste. Beginning to fall apart. Drink now with some hearty food. Verdict – drink now!
Gere, Merlot Válogatás 2005 (Kopár vineyard)
Ruby turning garnet with mostly tertiary aromas on the nose, rather lacking in fruit. On the palate, some sour cherry, blood orange, plain chocolate, tobacco, toast, mushroom, herbs and sweet spices. Feels a little grainy and the alcohol is somewhat high again. Complex and quite drinkable, but won't last much longer. Verdict – drink now, at most within a year
Vida, La Vida Merlot 2003
Rather restrained on the nose with some spicy liquorice and toast. Complex with still relatively fresh black fruit, herbs and plenty of chocolate on the palate. Noticeable alcohol which lingers with a slight bitterness on the shortish finish. Needs drinking up as it won't improve with keeping. Verdict – drink now!
Vincze Béla, Arcanum Cabernet Sauvignon 2003
Verdict – corked
Jekl, Villányi Merlot 2003 (Fekete-hegy vineyard)
Still maintaining an attractive ruby colour. Wonderful spicy aromas of ginger and cardamom, vanilla and liquorice with plenty of ripe cherry, plum and raspberry fruit. Full-bodied yet elegant with vibrant acidity and velvety tannins. Balanced, fresh and still very drinkable. As well as the succulent, ripe fruit, there is a touch of mint and some anise on the long finish. Verdict – should continue to hold for another 3-4 years.
Jekl, Villányi Cabernet Sauvignon 2003
Bright colour. Wonderful herbal nose with aromas of sandalwood, cedar, liquorice, pepper, coffee and blackcurrant. Balanced and elegant with slightly grippy tannins and plenty of ripe cassis and blackberry. Some coffee and polish in the background and a relatively long finish. Still very drinkable indeed. Verdict – should continue to hold for another 4-5 years.
Vida, La Vida Cabernet Sauvignon 2003
Deep colour, just beginning to turn garnet on the rim. Cool and elegant on the nose with cassis, cedar, liquorice, coffee and a hint of mint. Tightly structured with bright acidity and silky tannins. A balanced wine with juicy fruit, pepper and some tertiary notes including a touch of leather. Very international in style with lovely varietal character. Verdict – should continue to hold for another 4-5 years.
Vida, La Vida Kékfrankos 2003
Still bright ruby in colour. Black fruit and sour cherry on the nose with some chocolate, liquorice and coffee. Fresh acidity and fine-grained tannins yet a little dry and dusty, with a slight meatiness complementing the slightly jammy fruit. The nose promises more than the palate delivers. Relatively short. Still drinking well now, but probably not worth keeping any longer. Verdict – drink now!
Konyári, Sessio 2003 (100% Merlot)
Somewhat medicinal on the nose with notes of leather, stable, cappuccino, mushroom and prune. Rather over the hill. Verdict – taste out of curiosity or pour down the sink
Bock, Cappella Cuvée 2000 (Cabernet Sauvignon and Cabernet Franc)
Coffee, toast, liquorice and spice on the nose with a touch of fruit compote. Slightly more vibrant on the palate with some plum jam, forest floor, tobacco and floral notes. The acidity is holding it together. Won't hold out for long! Verdict – drink now!
Tiffán's, Cabernet Sauvignon Barrique 2000
Alcohol rather dominant on the nose with berry jam, liquorice and leather. Still quite fresh on the palate with delicate acidity and slightly grippy tannins. Complex and elegant with flavours of blood orange, cedar, forest fruit and mushroom. Relatively short finish. Has aged quite well, but won't last much longer. Verdict – drink now, at most within a year.
Gere & Weninger, Phoenix Cuvée 1999 (Kékfrankos, Cabernet Sauvignon and Cabernet Franc)
Earthy nose of leather, cherry, dried fruit and dates. Rather bitter on the palate with grainy tannins and a slight sweetness on the lips. A little empty on the mid-palate. Sour, tired and past its best. Verdict – Pour away or taste out of curiosity.
---
Another opportunity arose within the framework of the Pannon Bormíves Christmas celebration to taste a trio of older wines from Bock. Here are my impressions.
Bock, Syrah 2004
Oozes cherry, black fruit and spice. Attractive smoky wine with plum, cherry and spice complemented with some leafy tertiary notes. Long finish with lovely fresh acidity. Still drinking well.
Bock, Villányi Cuvée 2002
Smoky and oaky with plenty of black fruit and liquorice. Complex and surprisingly fresh with slightly drying tannins and attractive tertiary flavours. Still very drinkable.
Bock, Cabernet Sauvignon and Cabernet Franc 1995
Bock's 1990s style is different to his current style. Very Bordeaux in character. Cooler and earthier, with coffee, mushroom and green pepper. Elegant and complex, but rather thin on the fruit now. Needs drinking up.