József Szentesi's atmospheric cellar is located in an incongruous residential street in Budaörs. In the late 19th century, Budaörs was almost as big as Szekszárd with 408 hectares under vine and this street was full of cellars; however, these have now been swallowed up by expanding urbanisation and there is perhaps only about one hectare of vines left in the area.
József's father had half a hectare of vines and a cellar in Budaörs and when he was a child he resented having to work in the vineyards in the summer when his friends were out having fun. His father pushed him to learn about wine, but, he told us frankly, he really had no interest in this at that time. His attitude has done an about turn since then and he is now championing the revival of the Hungarian sparkling wine tradition and the reintroduction of largely forgotten local varieties. He was awarded the Winemakers' Winemaker prize in 2013 in recognition of his work and the name 'mad professor of wines' was coined in his honour.
In 1998, after the death of his father in 1993, his love for wine-making took root when he decided to make a couple of hundred litres of wine each year for the family and to drink with friends. He bought half a hectare of vines on the granite soils near Lake Velence, the oldest granite landscape in Europe. He ripped out the Királyleányka he found there and planted Cabernet Sauvignon, Merlot and Olaszrizling. With the help of his father's friends and books he began to learn, and the size of his plantings grew, as did his passion, and is currently around 14 hectares.
In 2005 he visited Burgundy and was surprised by the wine culture he found there. This type of culture was non-existent in the Hungary of his childhood, where under Socialism the vines were often replanted on flatter land and with greater spacing to accommodate wider tractors; the slopes, the better sites were often abandoned as they were too hard to work and mechanisation was not possible. Thus, centuries old traditions and quality viticultural practices were largely abandoned.
Visiting some of the leading estates, such as Romanée-Conti, he learnt that wine is made in the vineyards, not in the winery. He makes his wines in this way – with no cutting edge technology in the winery, no chemicals bar sulphur, his wines are spontaneously fermented, the whites are filtered, but the reds are neither filtered nor fined, and the yields of all varieties are tightly restricted.
He also came to realise that everywhere else people are patriotic to their local varieties, which was not the case in Hungary. He read many specialist books and realised that this had been lost at the time of phylloxera at the end of the 19th century. Before then, the area had produced mostly red wines; indeed Sáshegy was famous for its Kadarka. Moreover, in the past, vast quantities of traditional method sparkling wine were produced in Hungary, in fact at the beginning of the 20th century, Hungary was the world's second largest sparkling wine producer, producing wines from traditional Hungarian varieties. Now it produces about 250,000 bottles per year, compared to Italy's 40 million and Champagne's 350 million. However, József believes that traditional method sparkling wine has a big future in Hungary. Moreover, if those local varieties were good at the time of the Austro-Hungarian Empire, why wouldn't they be now?
So he began to plant old forgotten varieties using clones from the Pécs Research Institute: ten white (Fehér Balafánt, Fehér Góhér, Hamvas, Kolontár, Kovácsi, Lisztes, Piros Bakator, Sárfehér, Szerémi Zöld,Vörös Dinka) and 10 black (Csókaszőlő, Fekete Muskotály, Feketefájú Bajor, Hajnos Kék, Kék Bajor, Kékszilváni, Laska, Purcsin, Tarcali Kék, Tihanyi Kék).
He began his affair with sparkling wine in 2007 and since 2010 has made sparkling wine for over 50 wineries, who bring their base wines to him. Although he is renowned for his skill with sparkling wines, he humbly tells us that the base wine is what is crucial, not who puts the sparkle in it.
There are gallons of cheap sparkling wine on the Hungarian market, as well as more quality offerings, but József thinks sparkling wine culture has all but been lost in Hungary. He compares the type of sparkling wine that you can buy for 800 HUF (approx. €2.60) to the 400 HUF sausages that even the dog would turn its nose up at!
In the past, before Chardonnay reared its ugly head, Hungarian sparkling wine was usually made from local varieties, so research is now being done into which are suitable for sparkling wine production. He has just had his first harvest of Sárfehér, for example, and is starting to get a feeling for what it does well. Csóka is quite a difficult grape, staying very acidic, and is susceptible to many diseases. Gábor Kiss (a winemaker in Villány) apparently very impolitely commented about this grape 'kurva szar' (roughly translated as 'bloody shit'!) Kék Bajor, which most likely got its name from Bavaria, is a thin-skinned variety, which produces a pale wine. József thinks this could make a good base wine for sparkling. He's planning to make a sweet wine from the Laska.
Now, it's not so easy to taste or get your hands on József's wines as he produces them in very small quantities (often only 30 or 40 litres of a particular wine!) to show to people at tastings and here at his cellar, so a very happy band of local wine lovers set off to his cellar one sunny February Saturday afternoon to try his wines, both Hungarian and international varieties, and to experience part of Hungarian wine history in the making.
And of course, the 'mad professor of wines' also regaled us with tales and information as we tasted these Hungaricums along with some wonderful ham, salami and other tasty treats.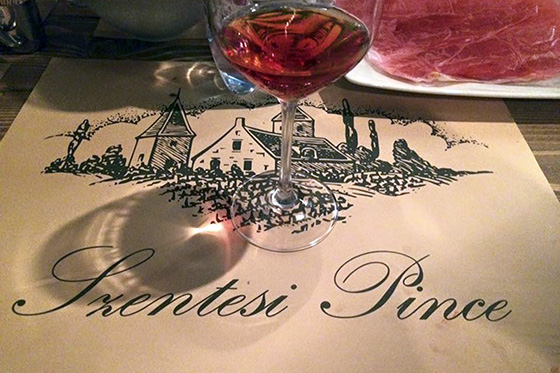 J&J Chardonnay Brut
An elegant, aromatic wine with a creamy mousse and fresh zesty acidity. Plenty of ripe lemon, fresh green apple and a touch of brioche. A real treat.
A Cuvée 2013 (Riesling, Zengő, Zöldveltelini and 1-2% Sauvignon Blanc)
Aromas of peach, green apple, pear, apricot and a little chalkiness. On the palate, soft and well structured, with flavours of green apple, citrus fruits, peach, and a touch of spice and perfume. This is his basic blend.
Kovácsi Szerémi Zöld 2013
Lovely aromas of ripe citrus, peach, green apple and almond nuttiness, with some herbal, floral and perfumed notes. This is reflected on the palate together with lively acidity.
Riesling 2015
A complex, yet cool wine with ripe peach, pear, spicy apple, lemon, grapefruit, mandarin and melon, complemented with some floral, minty notes. Zesty, crisp acidity and a taut structure on the palate. Wonderful.
Riesling 2013
Aromas of sweet citrus, lime, lemon and peach with some sweet spices. Concentrated and oily on the palate, with a good balance between the high acidity and residual sugar.
Zengő 2012
A wonderful burst of sweet spices, peach, orange, caramel, ripe apple, walnut and honey. Full bodied, creamy and buttery on the palate. Its 11g of residual sugar adds a touch of sweetness, which is well balanced by its fresh acidity. Alcohol perhaps a tad high, but well integrated. (Late harvest. 14 months in used oak.)
Kék Bajor 2013
A pale ruby red wine, the colour resembles a siller. A fruit bomb of cherry, raspberry, strawberry, grape and citrus with some floral and spicy notes. Low fine-grained tannins and crisp acidity.
Tihanyi Kék
A light, elegant pale ruby wine with notes of cinnamon, oriental spice and pink pepper. Perfumed with rosewater, violet and lavender. Plenty of bright strawberry, raspberry, cherry, sour cherry and dried cranberries. Intensely flavoured with lively acidity. A real star!
Csóka 2014
Floral, spicy notes of pepper, red berry fruit and some earthiness. On the palate, high acidity and low tannins with flavours of cherry, strawberry, plenty of sweet spice and a slightly vegetal note.
Kékfrankos 2013
Sour cherry, raspberry, sweet spice, blackberry, plum and a touch of almond nuttiness on the nose. Ripe smooth tannins and fresh acidity with flavours of violet, raspberry, plum, blueberry, pepper and cinnamon. Slightly meaty with some earthy notes of forest floor and a rather smoky finish.
Laska 2013
Cherry, sour cherry, raspberry, blackberry, plum, spice and violet with a floral note. An intensely flavoured, concentrated wine with a long finish. Lively acidity and fine-grained tannins. Slightly earthy on the palate with violet, coffee, tobacco and plenty of bright red fruit. Very drinkable.
Velence Cuvée 2012 (Cabernet Sauvignon, Cabernet Franc and Merlot with a touch of Petit Verdot)
A rich, concentrated wine with sweet spice, dark chocolate, nuttiness, blackberry, raspberry, cherry, blackcurrant, plum, tobacco and violet. Well balanced with good acidity with fine grained tannins, but a bit young and grippy.
Cabernet Sauvignon 2012
A dense wine with flavours of blackcurrant, cherry, blackberry, liquorice, chocolate and some sweet spices. Meaty with some earthiness and a touch of mint. Slightly grippy tannins.
Fekete Muskotály 2013
A perfumed, pale ruby wine with flavours and aromas of grape, strawberry, raspberry, lychee, some oriental spice and a touch of rose . Rather acidic on the palate.
Pinot Noir 2013
An elegant, light wine with sweet spice, raspberry, cherry, strawberry, liquorice and some floral notes. Lovely crisp acidity and smooth tannins. Needs bit more time perhaps.
Photos by Steve Erdélyi