Sailing, because the winery is located on the southern shore of the Balaton and Feri, Zsiga and Orsi love to sail, taking part in competitions on the Balaton and the Adriatic as well. Football, because their Katamarán blend of Cabernet Franc and Cabernet Sauvignon has just become the wine of Budapest's Ferenc Város football club, otherwise known as 'Fradi'. Strange that a football team should have a wine, not beer, well, this is Hungary! Wine, well, I think that's obvious...
The family started with just six hectares following the system change in 1990, thinking that they could make a living by selling their wine around the Balaton, to tourists and locals. At that time, it was typical to sell wine in bulk in plastic containers to the local pubs and restaurants, now the picture has changed and more and more quality wine is bottled in the region. Currently, they have approximately 82 hectares, two-thirds of which are white varieties, much of which has been replanted since 2000. Feri points out that they don't want to go above 90 hectares, that's more than enough for a family winery. Four members of the family graduated from the University of Horticulture and Viticulture in Budapest and the family now works as a kind of cooperative, with Feri senior looking after the vines, his wife Klari applications and grants, Feri looking after the wine-making, Orsi organising events and representing the winery at any external events, and Feri's brother, Zsiga, the wine sales and trade. They have a million ideas a year, they say laughingly, some of which are good. They hope the next generation will carry on the good work, so they need at least one viticulturist, one oenologist and one economist from among the kids! They must work efficiently, as they say similar-sized estates have three admin people, whereas they only have one.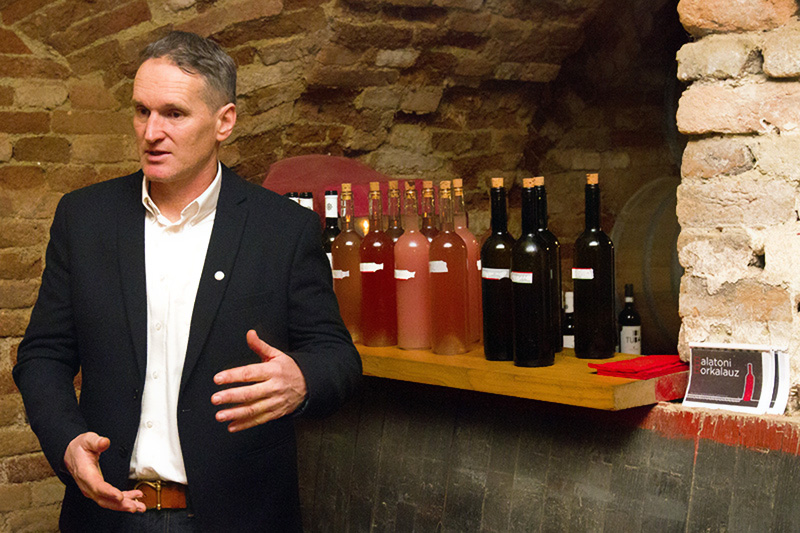 photo by Robert Abai
Feri has been President of the Balatonboglári Hegyközség (Balatonboglár Wine Community) since 2013 and hopes that the recent election of his South Balaton Compatriot, Ottó Légli, as President of its National Council will also help to promote the wine region.
The award-winning family winery is located in Balatonlelle and they also have a cosy cellar, lined with wine-related carvings made from barrel lids, and restaurant in Balatonszemes, where we tried their new wines.
Feri and Orsi welcomed us to the atmospheric Baroque cellar (previously part of an estate of the Hunyadi family) with a glass of mulled wine, as visiting the winery earlier had been a bit nippy. Then we moved onto the business of the day, tasting the new wines. A row of bottles, containing mostly barrel and tank samples were lined up on the bar. The Sauvignon Blanc 2015, packed with gooseberry, elderflower and tropical fruit and nice refreshing, zesty acidity was already bottled and should be on our shelves this coming week. The 2015 Irsai Olivér was a floral, lemon, lime and grape concoction with crisp acidity. A fresh, easy-drinking light wine, which Feri admitted he only drank as 'fröccs' (spritzer), although he proudly told us that he had managed to get this onto the shelves in Lidl in Poland. So, a lorry load of wine off to Poland in January would help to raise the New Year cash flow doldrums.
We also tried a tank sample and a barrel sample of the Chardonnay from new plantings of California clones. These will be used to create a blend, using wines from both tank and barrel, so that they will be able to vary the quantities if the oak is too dominant. They never have a pure oaked Chardonnay – it is generally part of blend with Sauvignon Blanc and Szürkebarát (as Pinot Gris is called in Hungary). This blend is called Nemere. We tried the 2013, an attractive, slightly oaky wine with flavours of pear, apple, honey, toast and almond. The last white was a pure vineyard selected Pinot Gris, Matacs 2013, which had just been bottled. Rather reserved on the nose, but attractive flavours of toast, pear, honey and hazelnut on the palate. Full-bodied, with quite a long finish.
We then worked our way through the rosés - a Pinot Noir, a Kékfrankos, a Merlot and unusually a Cabernet Franc & Cabernet Sauvignon blend, Katamarán - and the reds – a Kékfrankos and a vineyard-selected Merlot, Kokas-hegy. Although most were still cloudy and not really ready to drink, we could get an idea of the quality of the vintage; they all showed good promise. The rosés and the Kékfrankos will be released next year, but the Merlot will now go into oak for three years, so it will only be released in 2018.
We were then treated to a lovely lunch and could try three more mature reds.
Sirocco 2009 I 88 points
A Bordeaux blend, comprising 50% Cabernet Franc, 25% Cabernet Sauvignon and 25% Merlot
A rich, dense, dark wine with bags of black fruit, black cherry and blackberry, liquorice, vanilla, chocolate and a touch of spicy paprika. Smooth, velvety tannins and a long finish. Went perfectly with the melt-in-the-mouth goose breast!
Merlot 2009 (Kokas-hegy vineyard) I 90 points
A complex mix of ripe cherry, plum, prune, blackberry, liquorice, pepper and chocolate, with a zingy minty note. Fresh acidity and fine-grained, but slightly woody, tannins. Full-bodied, with a long finish.
Cabernet Franc 2009 (Farkastanya vineyard) I 91 points
Intense blueberry, cherry fruit, chocolate and violet on the nose, with a touch of smoky paprika. The fruity, floral characteristics combined on the palate with fine-grained tannins and fresh acidity. A smooth, full-bodied, moreish wine.
Feri regaled us with some sailing stories as we ate and tasted. In fact, they are so into sailing and the Balaton that since 2006, they have named many of their wines after something to do with sailing and the labels reflect this too, with pictures of steering wheels (their symbol), anchors, lighthouses, compasses, etc adorning them. The premium wines are named after classical, elegant sailboats of the Balaton, such as Sirocco, Nemere or Tramantana. They were also looking for a name for one of their new wines and offered a case of wine for the person who could come up with a winner. Thinking I was very clever, I decided to offer an English word with a dual meaning – knot, meaning the measurement of the speed of boats and the things you tie to hold ropes in place. Orsi smiled and picked up their 'Csomó', Hungarian for 'knot' – no wine for me.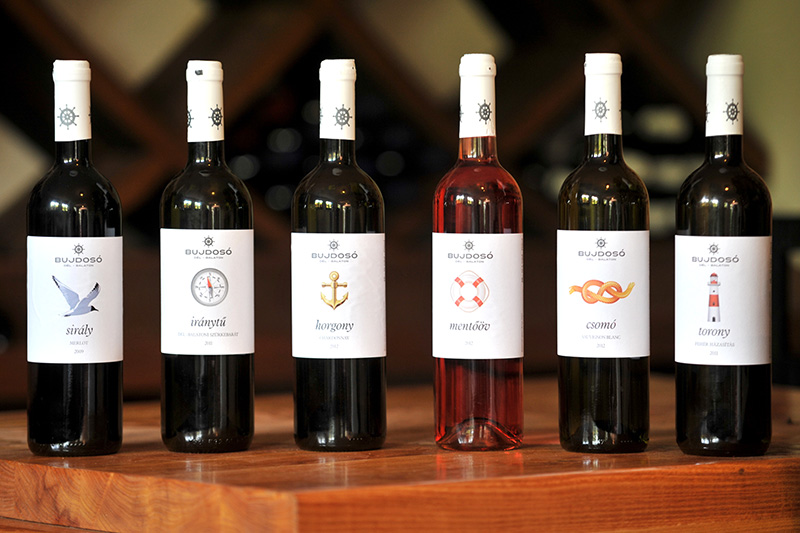 Although they live in a wine region and produce their own wine, unlike the winemaker in the Loire who told me that if he drank something from another region he'd have to hide the bottles so the neighbours wouldn't find out, they won' t be drinking only their own wines at Christmas, but also wines including those from Mészaros and Eszterbauer in Szekszárd, Tiffány in Villány and some Royal Tokaji Aszú. Egészségedre to the Bujdosós!
Bujdosó Szőlőbirtok és Pincészet

Address: H-8638 Balatonlelle, Várszói út - Hungary
Phone: +36 20 982 2315
Email: info@bujdoso.com
Website: www.bujdoso.com