VinCE Budapest, the region's largest wine fair, will take place for the seventh time on 3-5 March at the Corinthia Hotel, this year switching its days to Thursday to Saturday. Thursday is however trade only. Trade visitors can profit from a 50% discount on Thursday and Friday, but need to register for this beforehand at info@vincemagazin.hu.
Tickets will enable visitors to taste over 1000 wines from 182 producers, not only from Hungary but also from elsewhere in the region, such as Slovenia, Turkey and Austria.
Vince are introducing various technical novelties this year, including a wine dispensing system that you can communicate with using your smart phone and the possibility to evaluate the wines you taste with a mobile application.
An ever greater number of winemakers are converting to organic or even biodynamic production, so for those interested in finding out more about organic wine, there will be a 'green' wine trail. If you complete the whole trail, you'll be eligible for a gift pack.
If you want to for example try several Kadarka or Furmint from different producers side by side, you can do that in the By the glass area, using wine-dispensing technology, with 40 wines from Hungarian varieties available for you to sample. You can also then evaluate them using the SmartWine mobile application and share this with friends.
Another new feature is the 'popup webshop' where visitors will be able to order any wine from the fair online and with a discount of 2000 HUF for one week afterwards using a simple application. This will include wines not usually readily available in Hungary.
Vince would not be complete without a range of masterclasses and workshops, presided over by numerous masters of wine. There is a great line up this year, including various workshops on Champagne and sparkling wines, Cognac, Cabernet Franc, the Rhône Valley, Calvados, Tokaj and the world, Washington State, Wine Mosaic and the intriguing Alexander the Great tasting, where you can taste wines from some of the far-flung places that Alexander visited...
Finally, Vince will also be presenting awards this year for the second time, to reward those shaping the wine world with their ideas and work.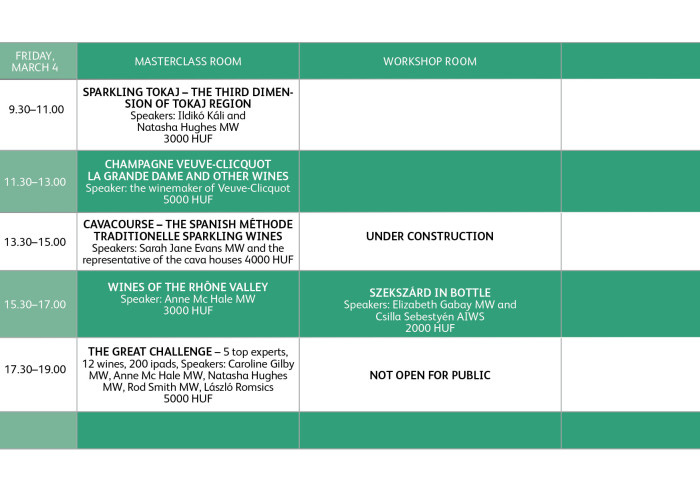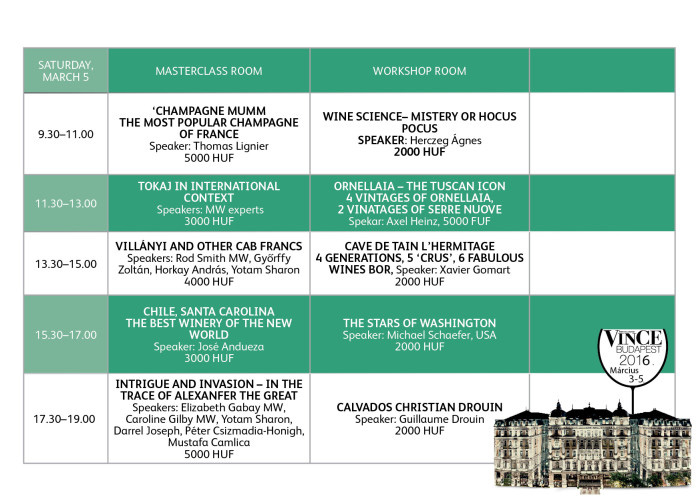 For more details about the event and the masterclasses, and to buy tickets: www.vincebudapest.hu